March 26, 2019
Type 'weddings signs' in to Google and you get 6 billion results! As Pinterest has grown in popularity so too has the presence of the wedding sign. From the informative to the clever, to the downright silly, someone somewhere created a sign for it! With so many hidden wedding expenses, a question we hear all the time is, do we really need wedding signs? The answer is yes.. and no. Allow us to elaborate!
We're big fans of meaningful quotes, song lyrics and other personal faves interwoven with your wedding decor. It's a sure fire way to inject your personalities into your day, and the wide variety of materials and styles available mean that you have so much scope to personalize for your wedding aesthetic. However, there are a few signs that we consider more than a nice to have. As well as adding to your wedding decor, these babies are all gonna serve to ensure your wedding runs smoothly and things happen the way you want them to!
---
The Welcome Sign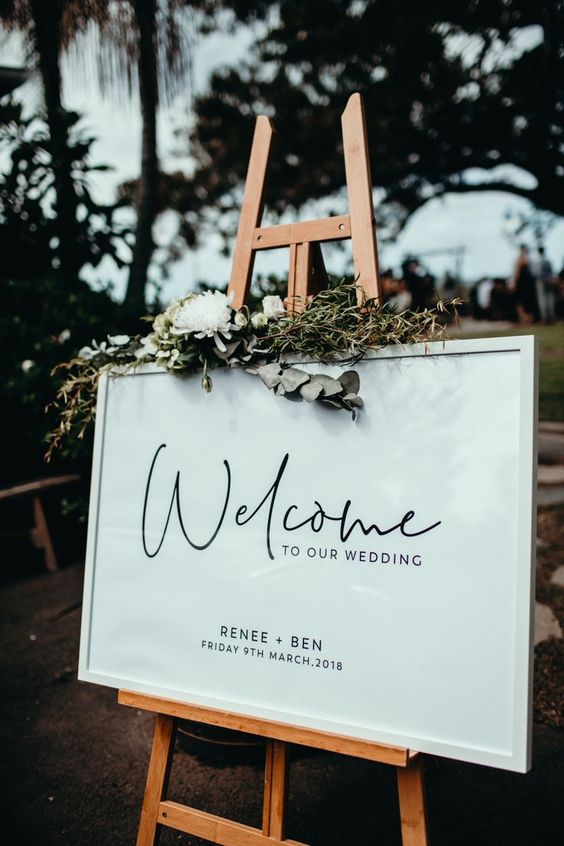 I remember when I first got into the world of wedding planning, this one seemed so unnecessary! I mean, if people have come to your wedding they know it's your wedding, right?! Oh, how naive I was!! As any planner will tell you we lose track of the number of guests who arrive at a wedding and ask, 'is this the right place for the wedding?!' Having a sign that's clearly visible at the entrance to the venue really helps to put guests minds at rest and saves your planner or wedding party having to reassure people over and over again! It's especially helpful if you're getting married at a venue that holds multiple events on one day.
What to include:
Names and date are pretty standard but personalizing your sign with a quote or adding your wedding hashtag are all popular additions.
---
Cards & Gifts
Doesn't matter how many times you told guests their presence is all the gift you need, or that you spent that one Sunday traipsing round Crate & Barrel compiling your registry, there are always gonna be guests who turn up to the wedding with gifts for you and lots who will bring cards. Having somewhere clearly signed close to the entrance will ensure everything gets deposited in one place and will make it much easier for your planner (or designated helper) to pack everything up for you at the end of the night.
---
Ceremony Seating
OK, I'm going to level with you. All those "choose a seat, not a side… " rhyming signs are a little too corny for my liking! But, I have lost track of the number of times I've heard an opinionated Aunt loudly telling guests which side the Bride's family should be on when I know full well that the couple do not want their friends and family divided! Old habits die hard and unless you clearly tell people that they can sit wherever they want to, they will be left to make their own assumptions which just leads to confusion! Same goes if you want certain people sitting in the front row. Make sure your planner or day of coordinator has all this information ahead of time but the easier you make it for your guests, the quicker they'll sit down, so all the good stuff can start!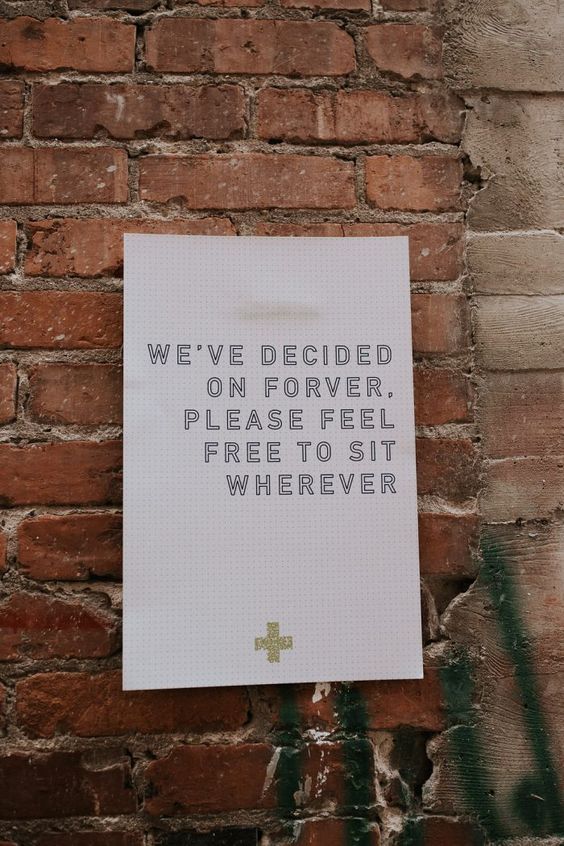 ---
The Unplugged Ceremony Sign
Call it a product of today's social media age, but what's the first thing people do when something really important is about to happen?! Take out their phone! Yep, when they should be turning to look at you in all your breathtaking loveliness and soaking in the opening bars of that perfectly chosen processional song they're actually fiddling with their iPhone trying to get the camera open. If you're lucky they'll manage it pretty seamlessly, if you're unlucky they'll accidentally start playing some 70's punk rock in the middle of your sister's reading.. yeah.. I speak from experience! Either way you're gonna end up with a lot of pictures with an Apple product in them! Having your officiant politely ask people to put their phones away and be present in the moment is always a good idea but this is one of those instances where more is more!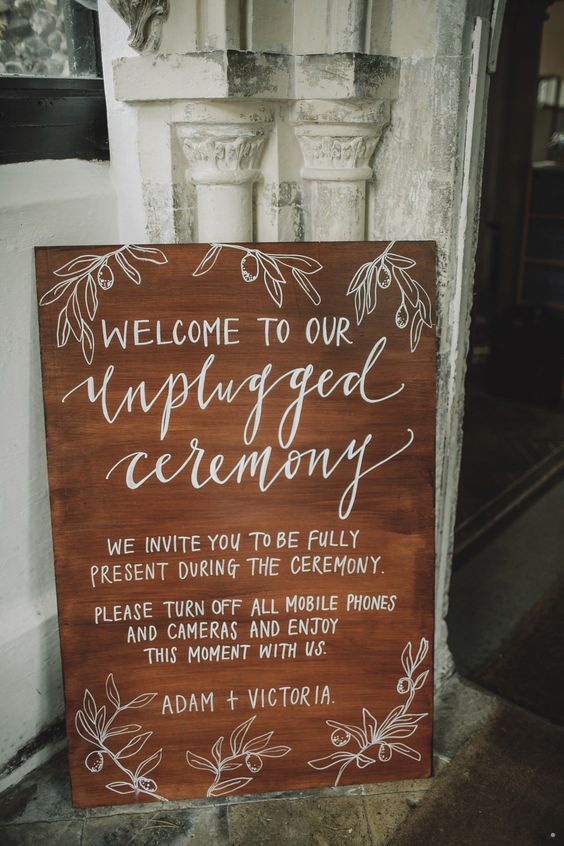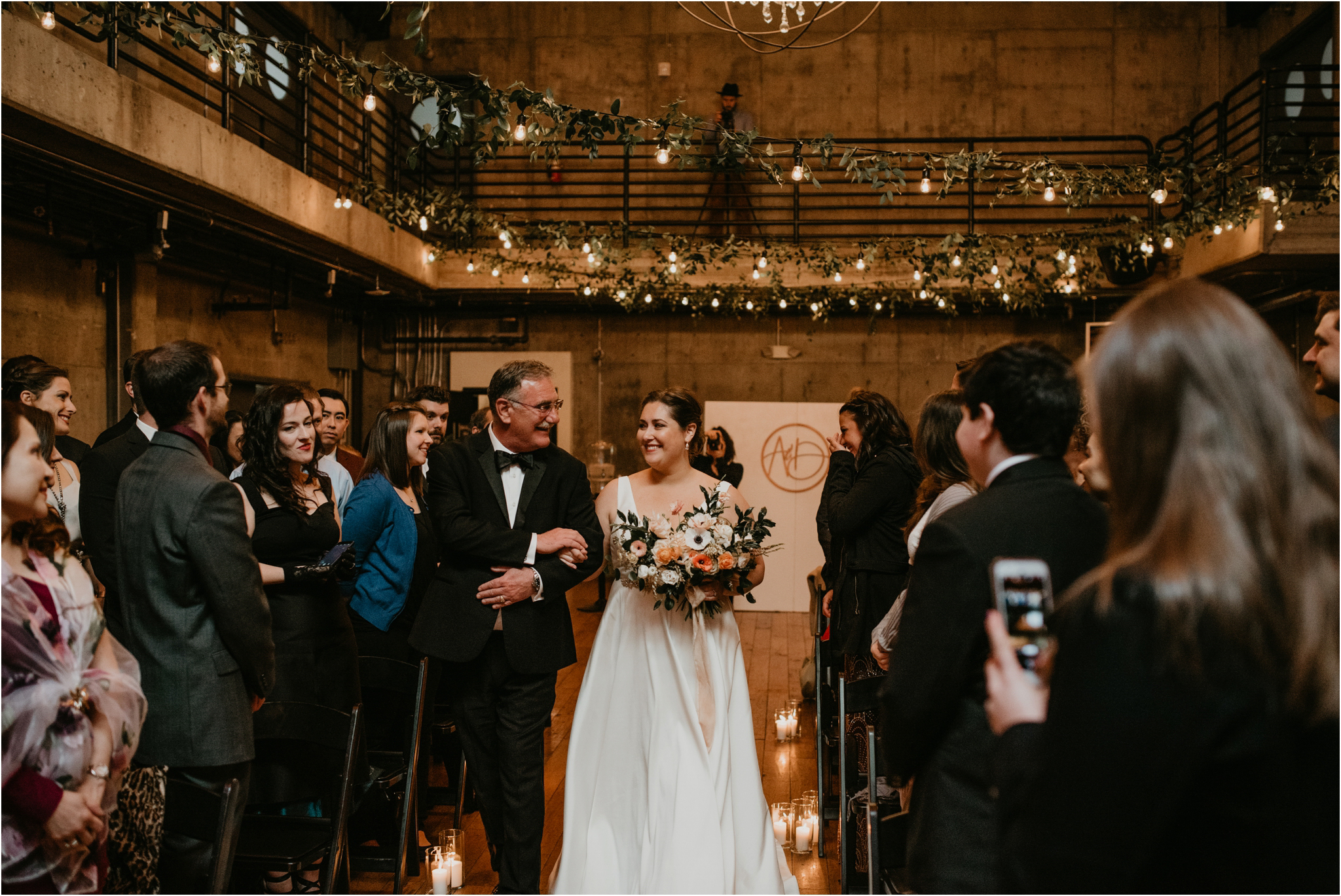 The Seating Chart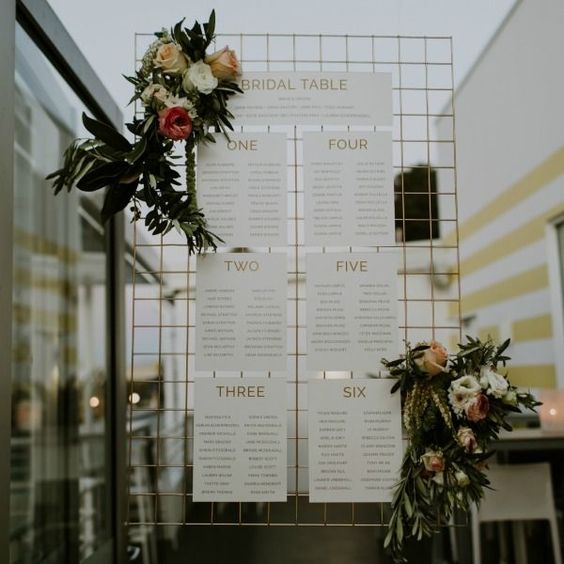 I know, seating charts are no fun! Possibly one of the most annoying parts of wedding planning BUT if your guest list is over 40 and/or you have any potential for family drama, trust us when we say it's worth a little effort! I know it can feel like forced fun, but taking the time to sit friends with people they're going to have something in common with will ensure that the party flows smoothly and that you can look around, relaxed in the knowledge that everyone is enjoying themselves. It also means that guests will just find their seats more quickly; although it's completely counter intuitive, when people don't have a designated seat it takes them more than twice the amount of time to find one!
---
The Buffet
Letting people know what they're going to be eating is always a good idea! If you're going for a plated or family style meal then menus on the tables are generally the best option but if you're having a buffet then signage by the buffet table is not only the most practical, but will often save you money overall. Remember to include allergy info to cut down on questions and help keep that line moving.
---
The Guest Book
Last, but by no means least, in our round up of signage essentials is the guestbook sign. Whether you're going for something traditional or something a little alternative (stay tuned for an upcoming blog post!) getting all your guests to sign is always an uphill struggle. Amidst all the fun and frivolity it so easily gets overlooked so having it stationed somewhere easily accessible and clearly signposted will up your chances tenfold!