December 19, 2018
We first met Kev & Steph last year, shortly after their engagement, when they answered a model call and ended up modeling for a styled shoot at Mount Rainier. The camera loved them, and so did we, and it wasn't long before we had an encore in Vegas in the Spring! Wanna see more? You can view the shoot on 100 Layer Cake.
We didn't know it at the time but the Vegas shoot ended up being a pretty big influence in the overall color palette for the wedding after they fell in love with the tropical neon acrylic stationery created by Love Fern Design. When we first sat down to discuss their wedding vision (over poolside cocktails in Vegas!) there were two distinct elements they wanted to incorporate… an adult mad hatter tea party theme and all the tropical neon vibes, think those things don't go together? Read on!
The lovebirds are huge fans of Disney and even got engaged at Disneyland and it was the teacup ride that formed the basis of their inspiration. We fused these elements with their love of Taylor Swift, and the tropical neon vibes, to come up with a design that was fun, vibrant and a little cheeky, which totally reflected them!
Kevin is a sommelier at the stunning Wrigley Mansion, once built by the family of chewing gum fame! A amazing spot with the majestic house and tropical grounds, it was the perfect location.
There were tons of DIY elements, we made the ceremony backdrop using a canvas drop cloth and hand died the napkins in neon shades to compliment the acrylic place cards. The bride also made the acrylic signage around the venue, how incredibly talented is she?! Thrifted glassware and vases and mismatched lounge furniture all played into the tea party feel, and for cocktail hour we served the signature cocktails in tea cups. We spray painted pineapples for an inexpensive and striking centerpiece option.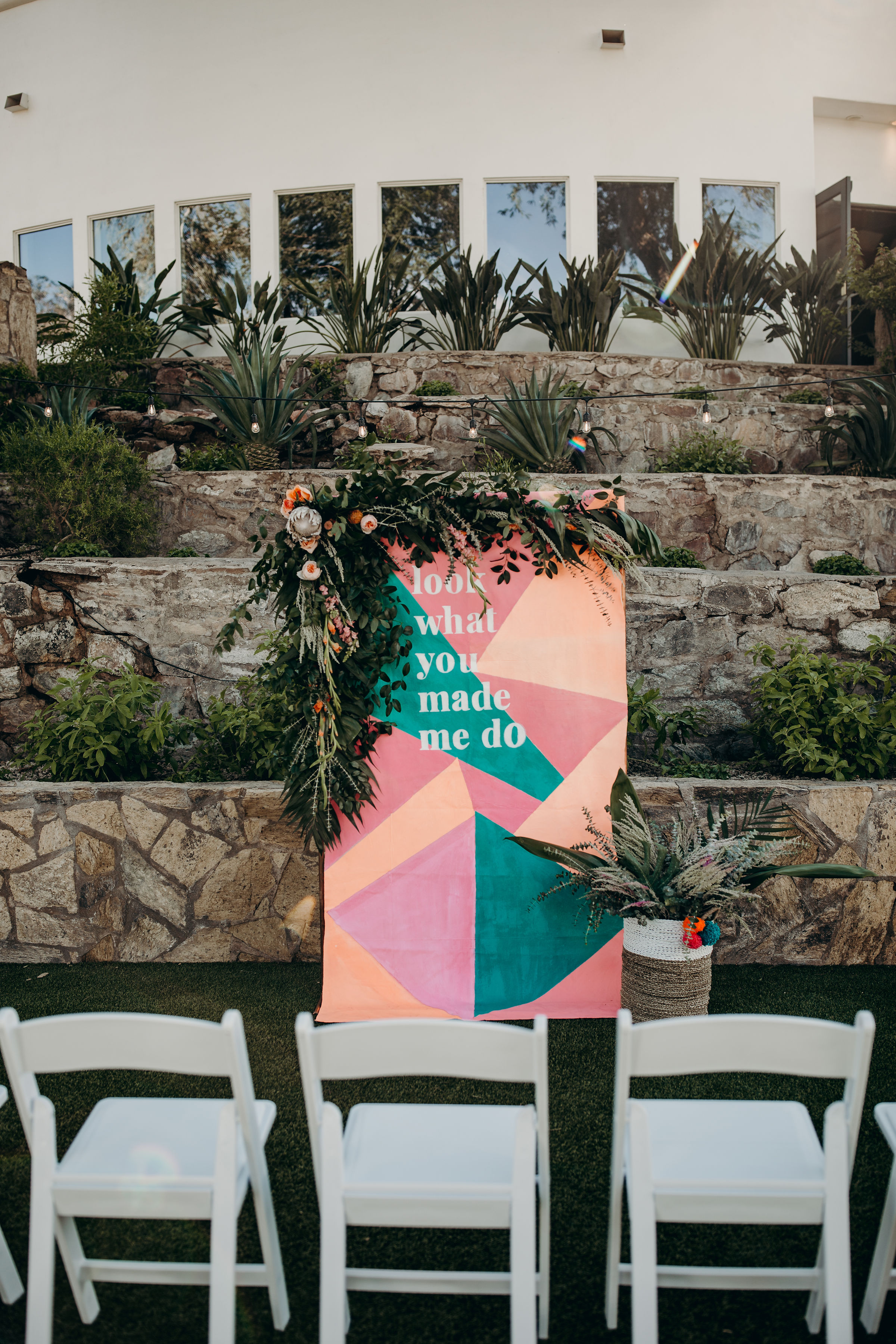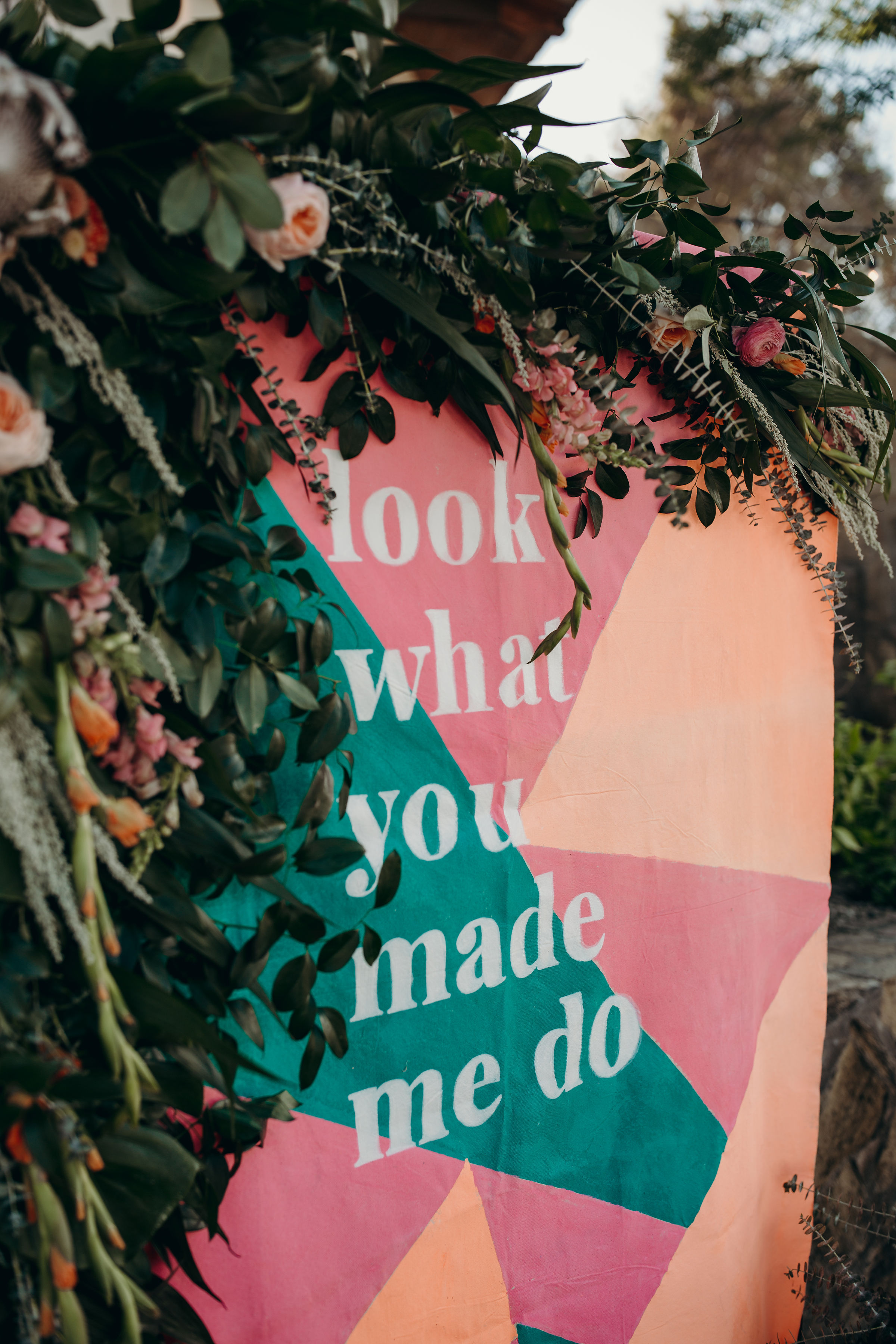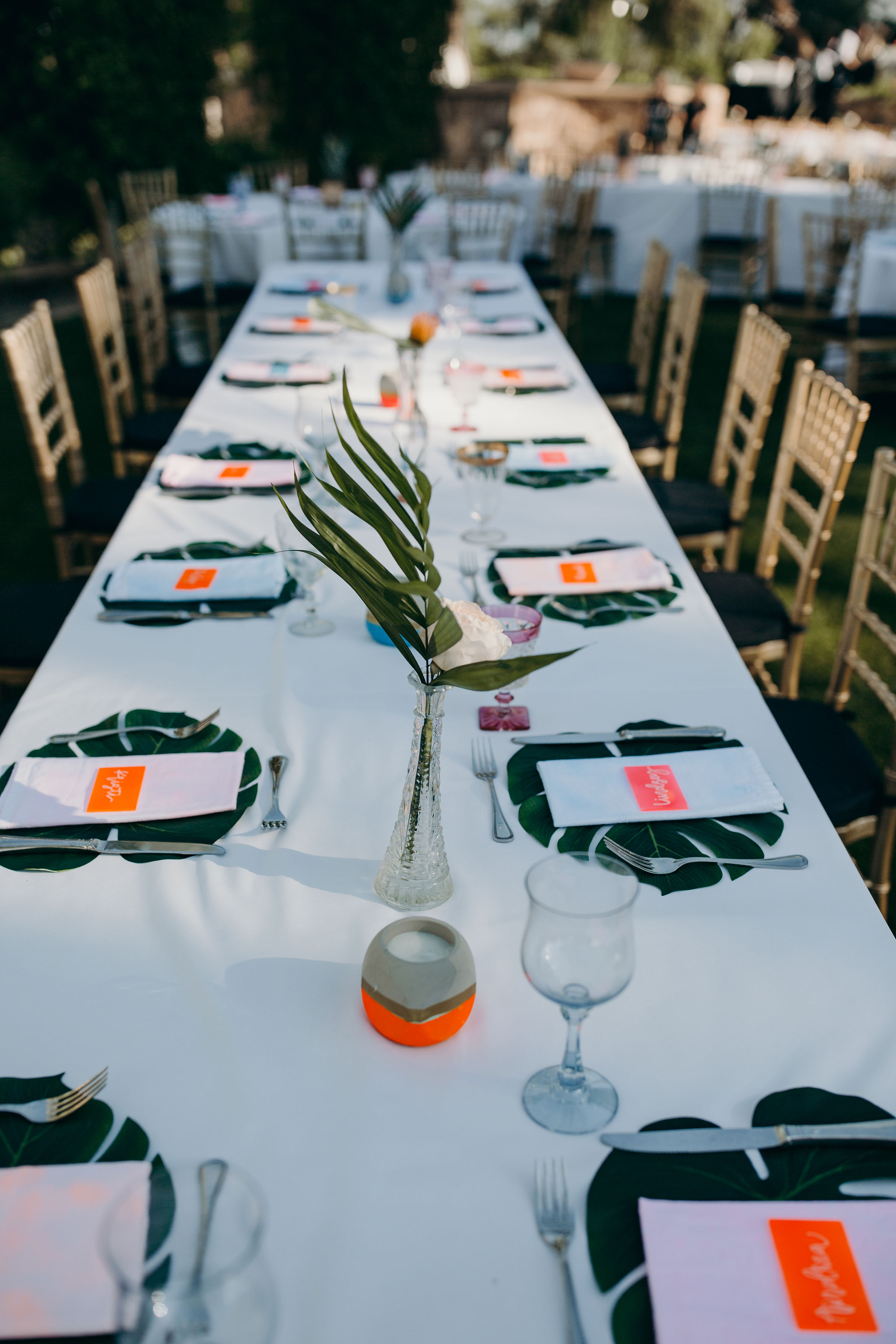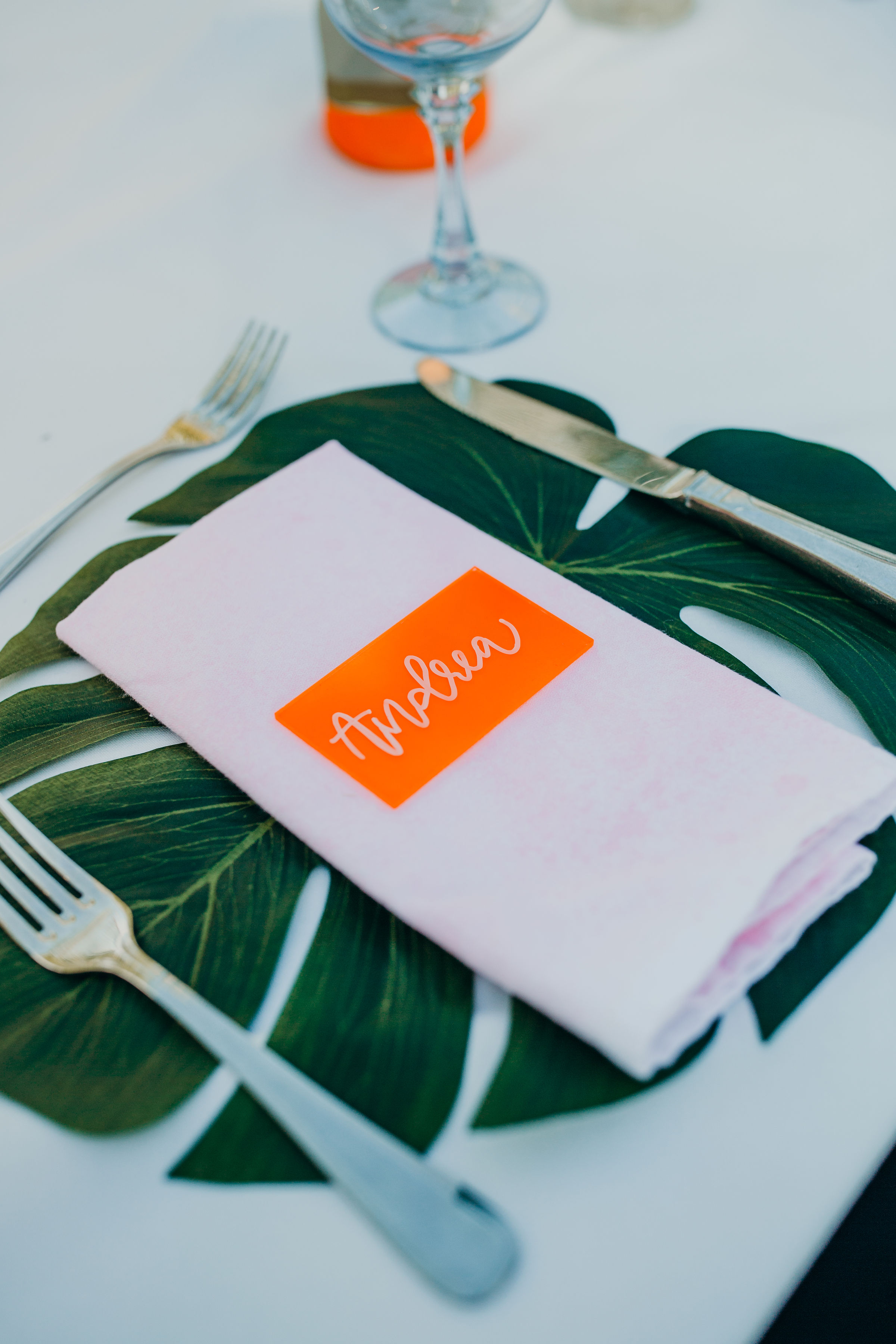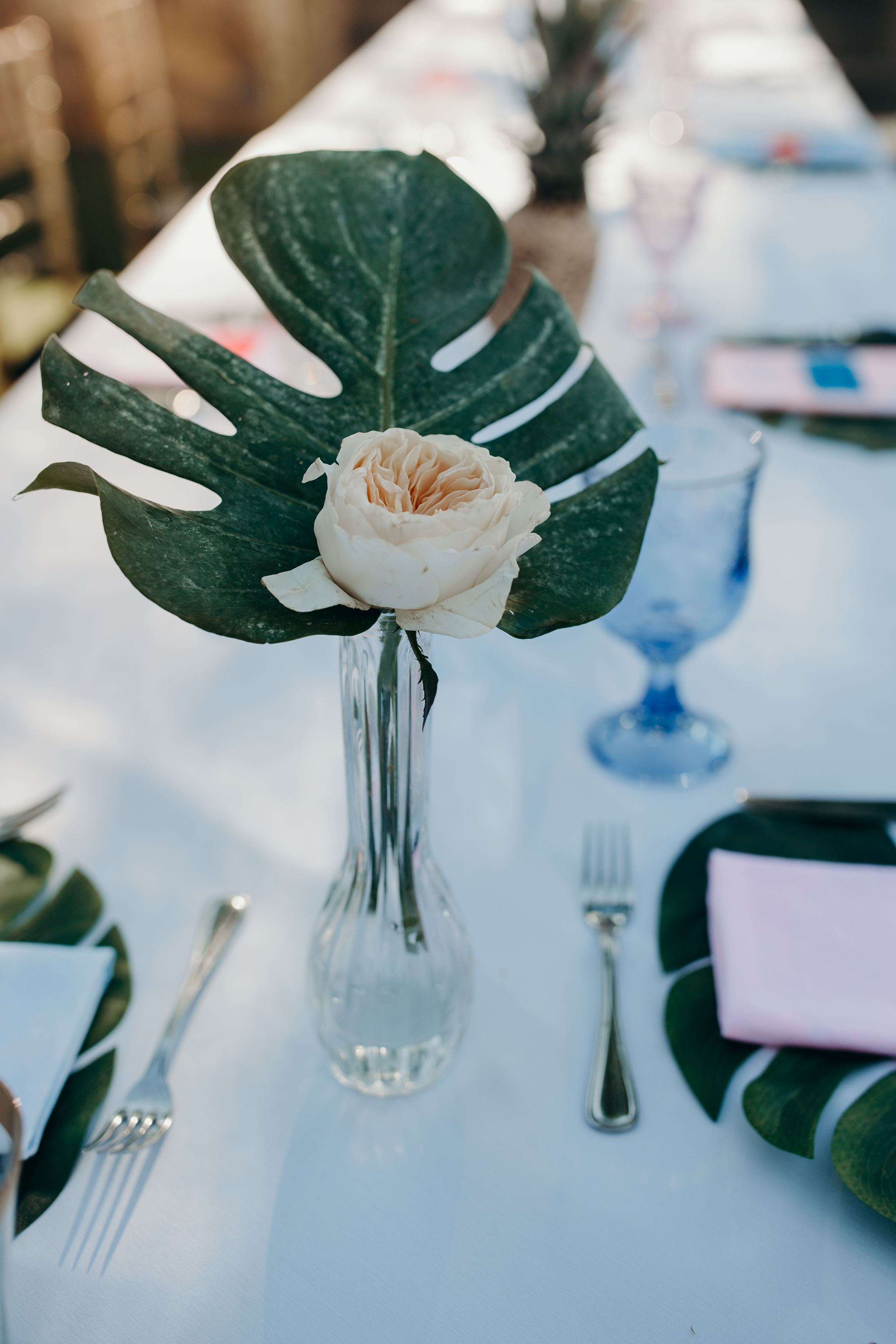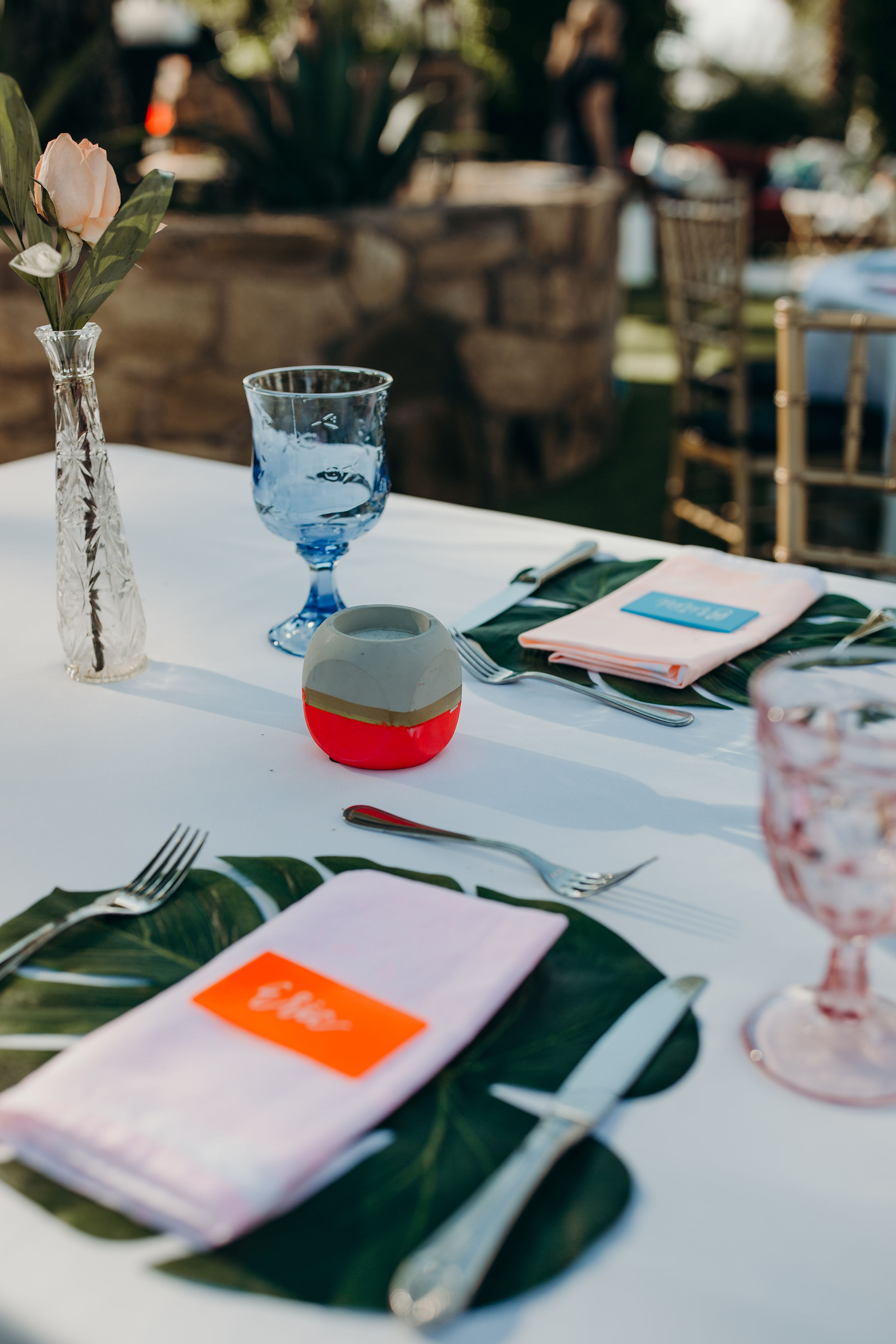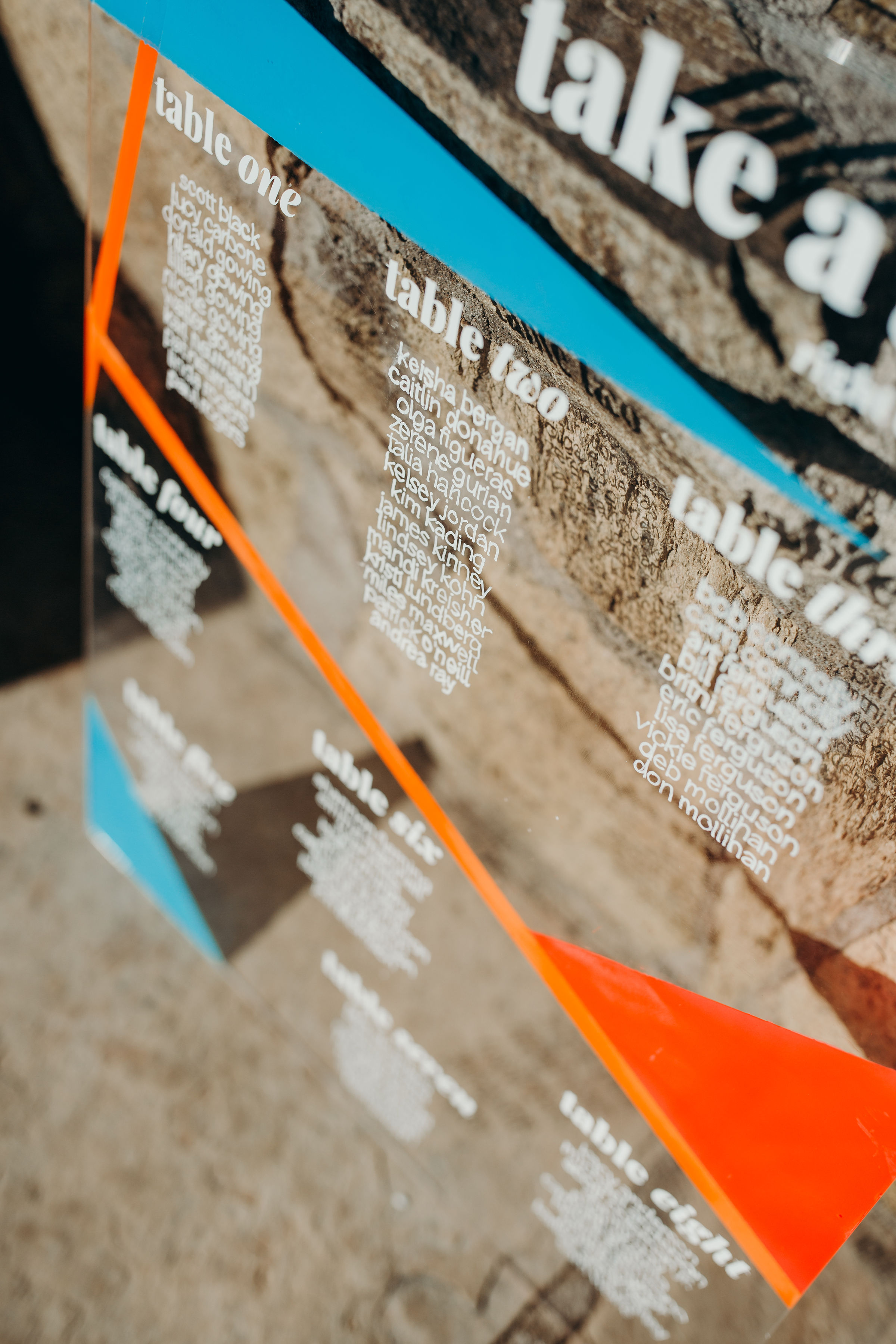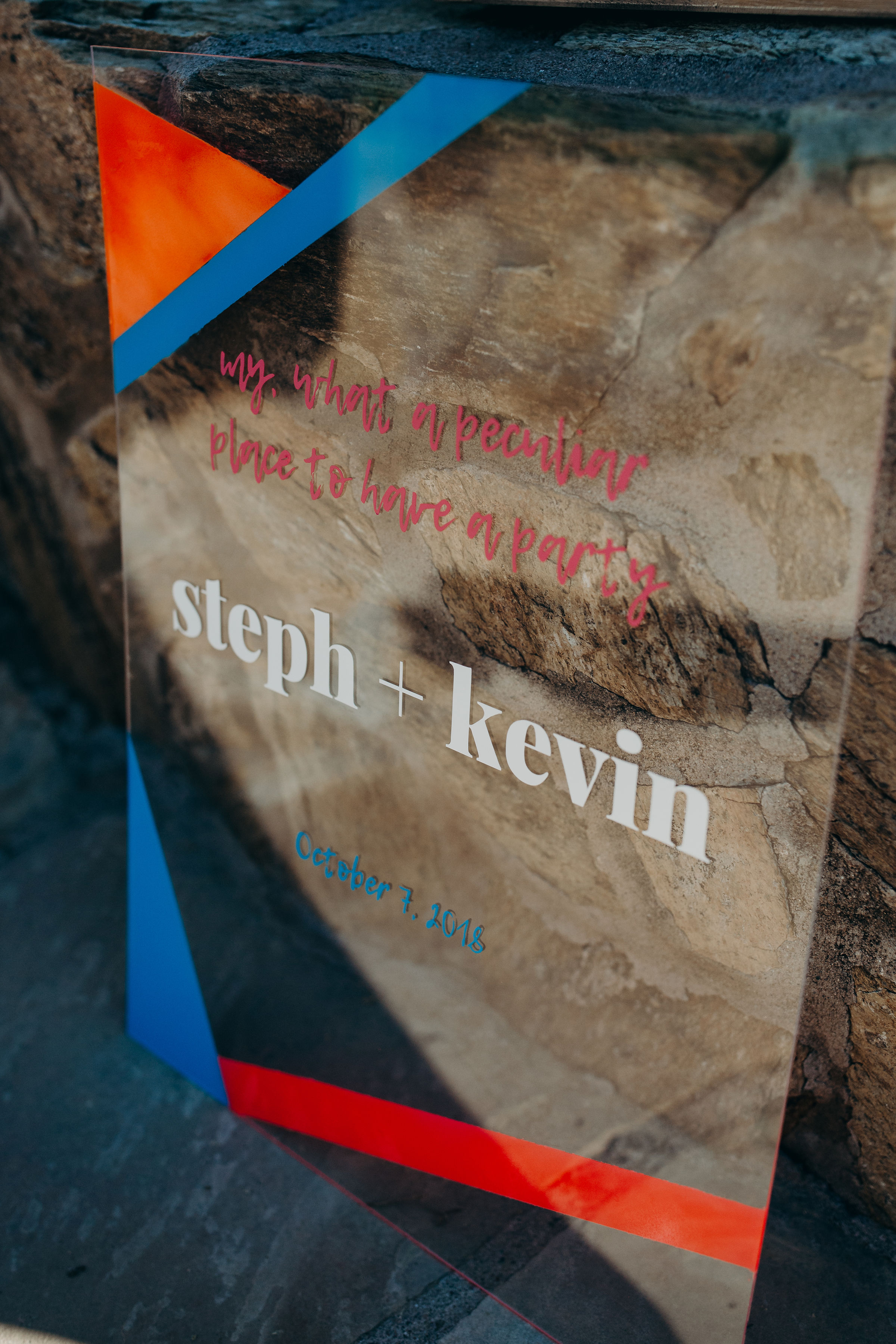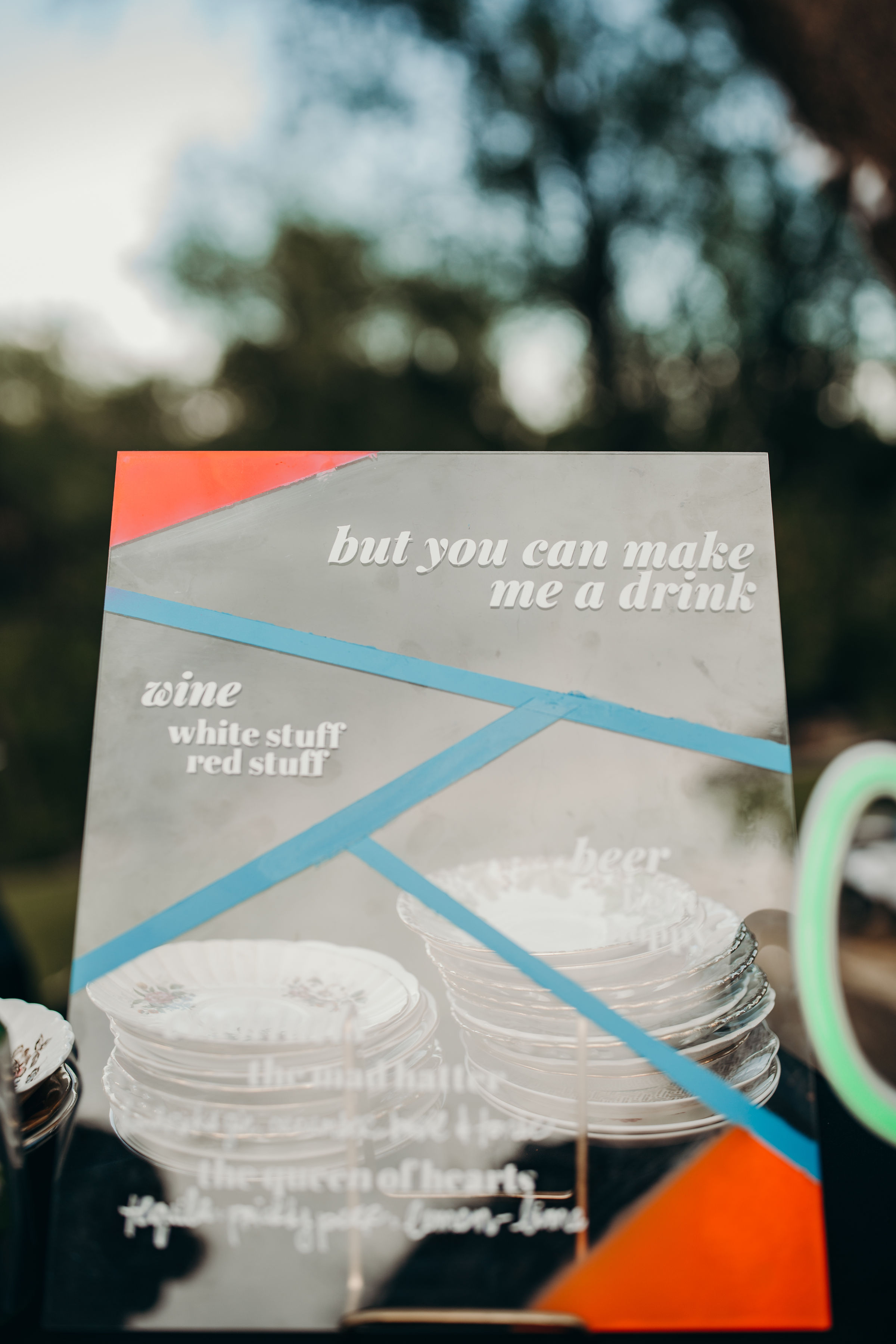 The incredible cake from Sift & Gather was champagne and raspberry flavored and showcased all the surrealism that the event called for!
The bride and groom both descended 3 flights of stairs to their ceremony, to Taylor Swift's enchanted and there wasn't a dry eye in the house! The short & sweet ceremony was officiated by their good friend Andrew.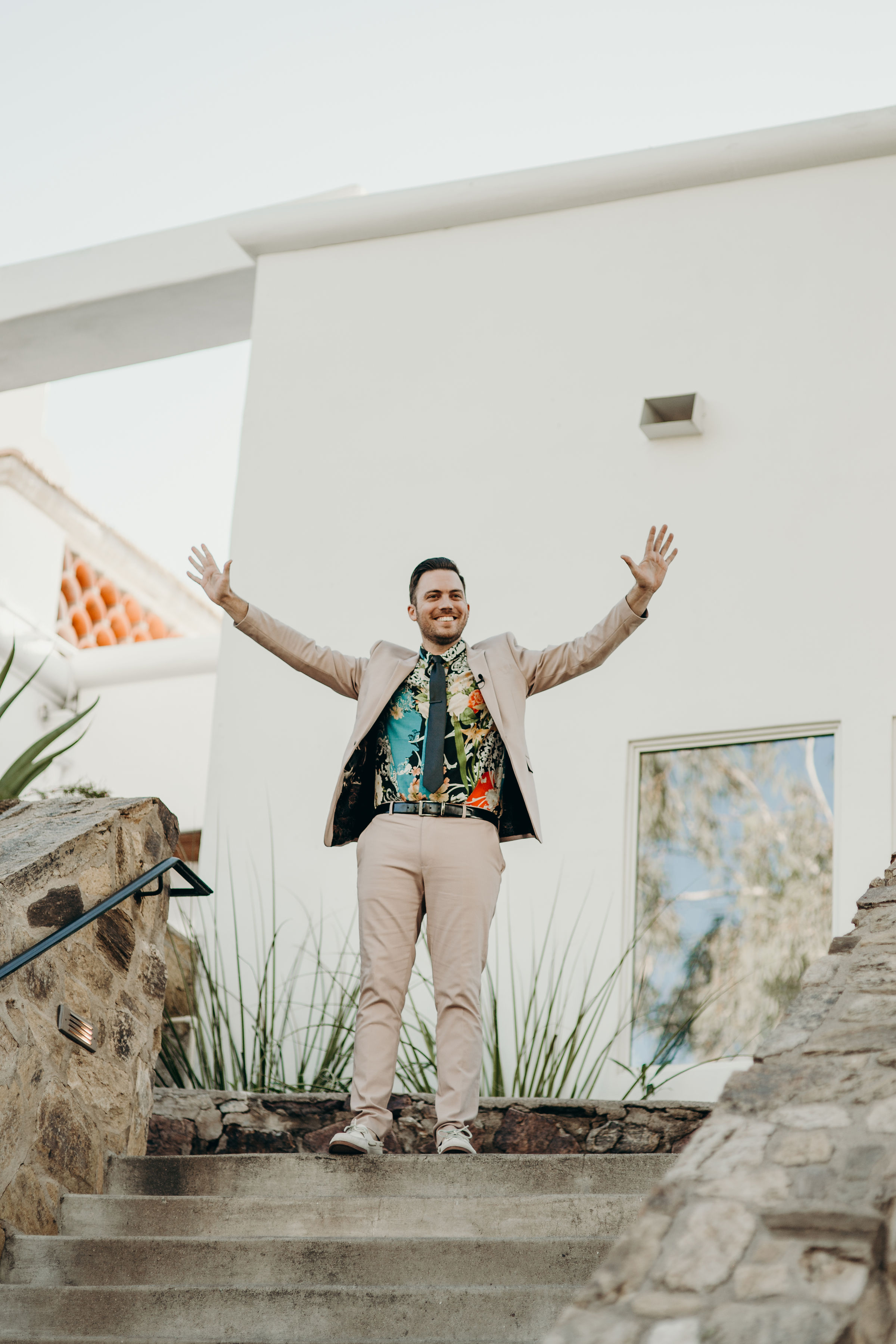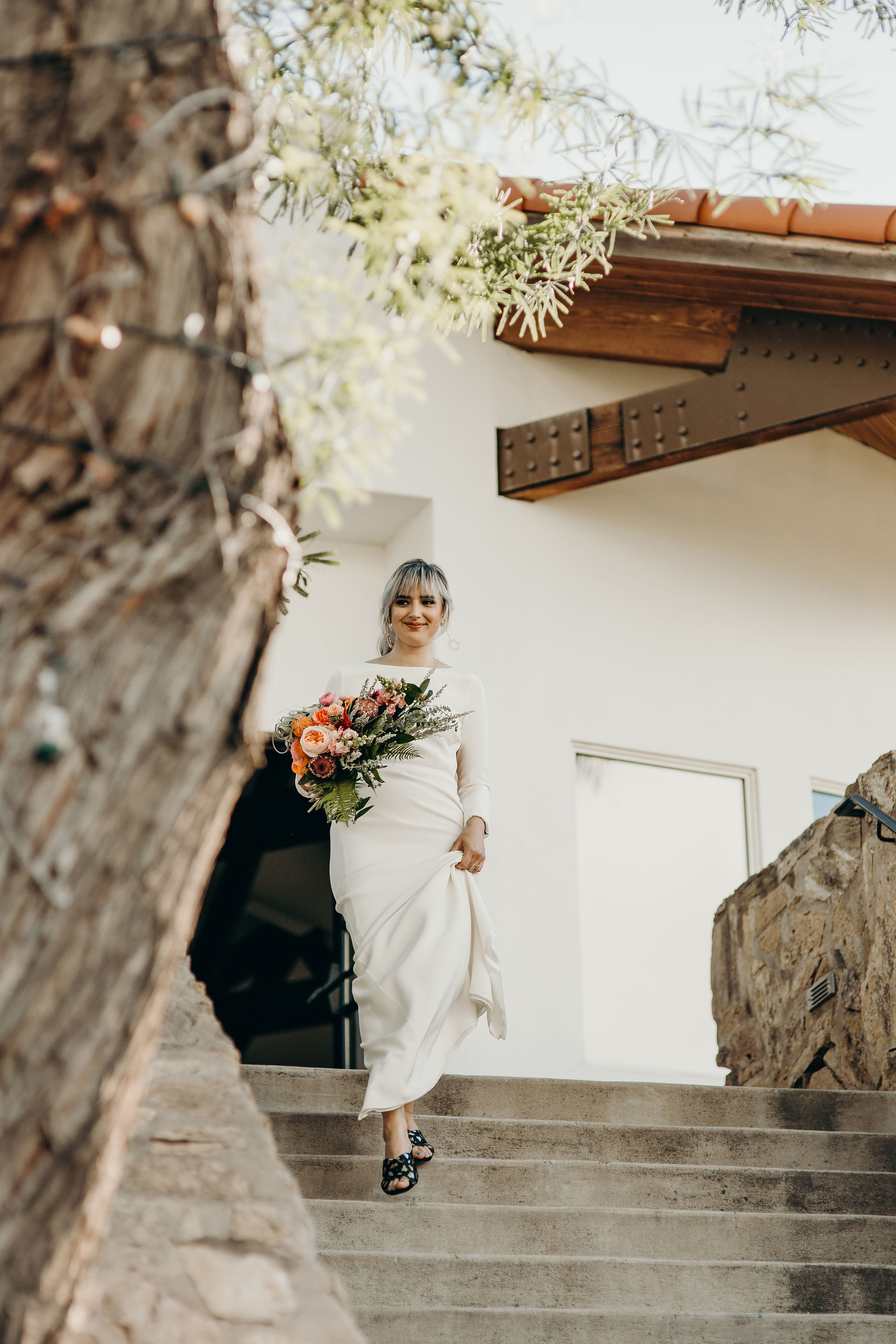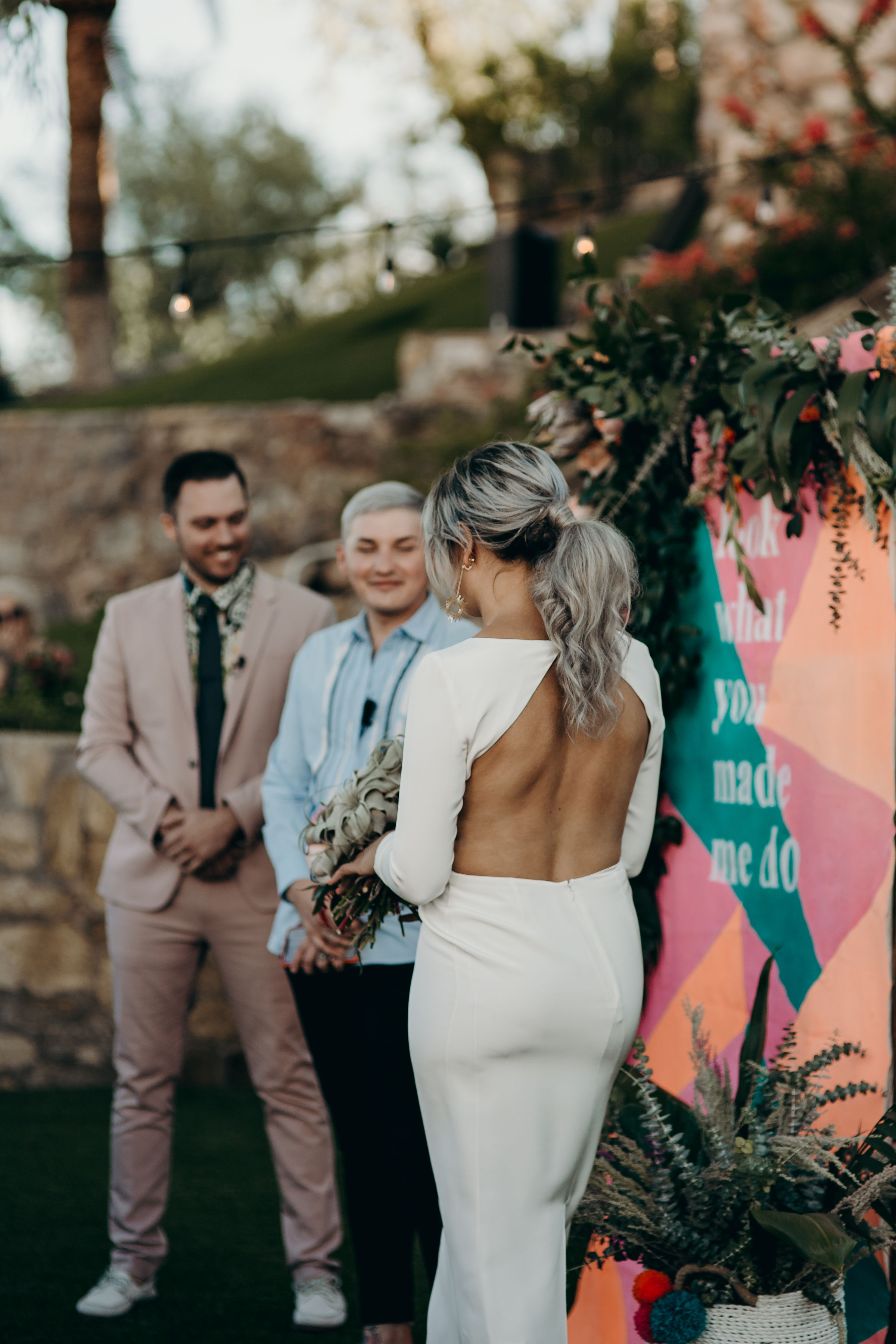 Buster and Henry, the fur babies, made a quick appearance in their dapper neon suits, actually Dumb & Dumber costumes!
Kevin & Steph rocked a total of 5 outfits between them! For the ceremony Steph wore a Houghton NYC dress and Kev a pale pink suit with tropical shirt. For the reception, Steph changed into a crop top and skirt from Noel & Jean and Kev wore a floral suit, and then lastly, Steph swapped out the skirt for pants from Milly and changed her hair to a slick back look ready to party at the after party!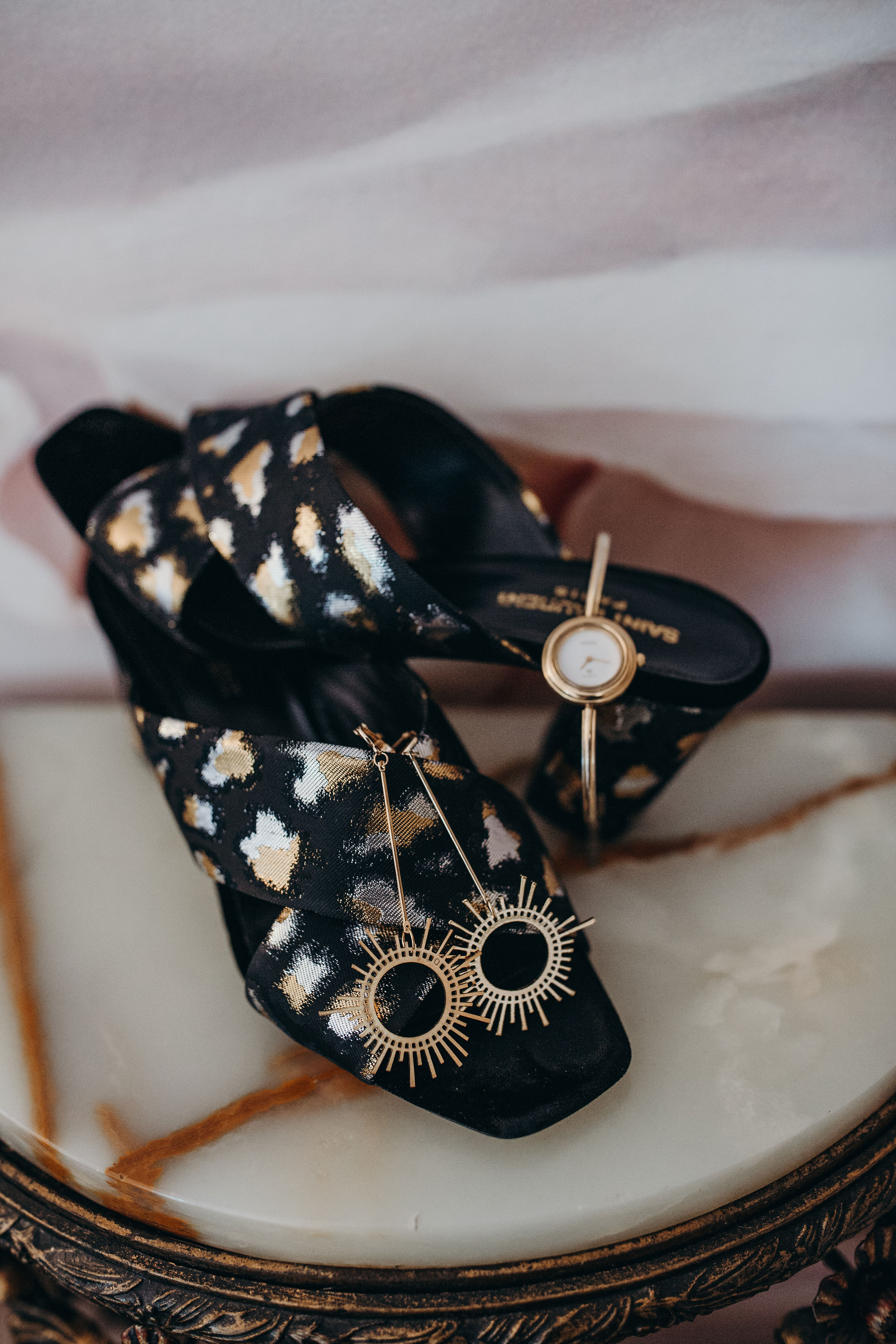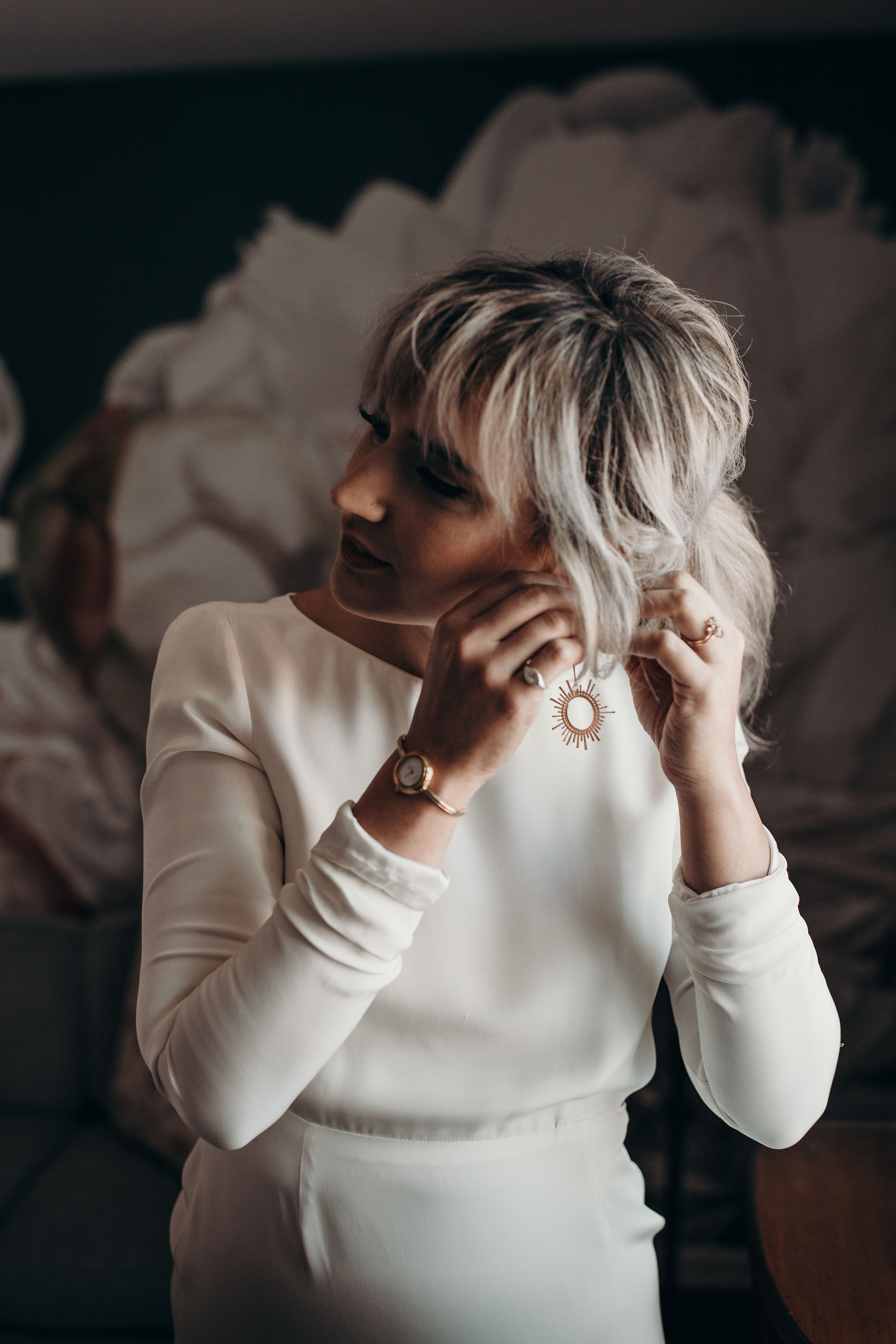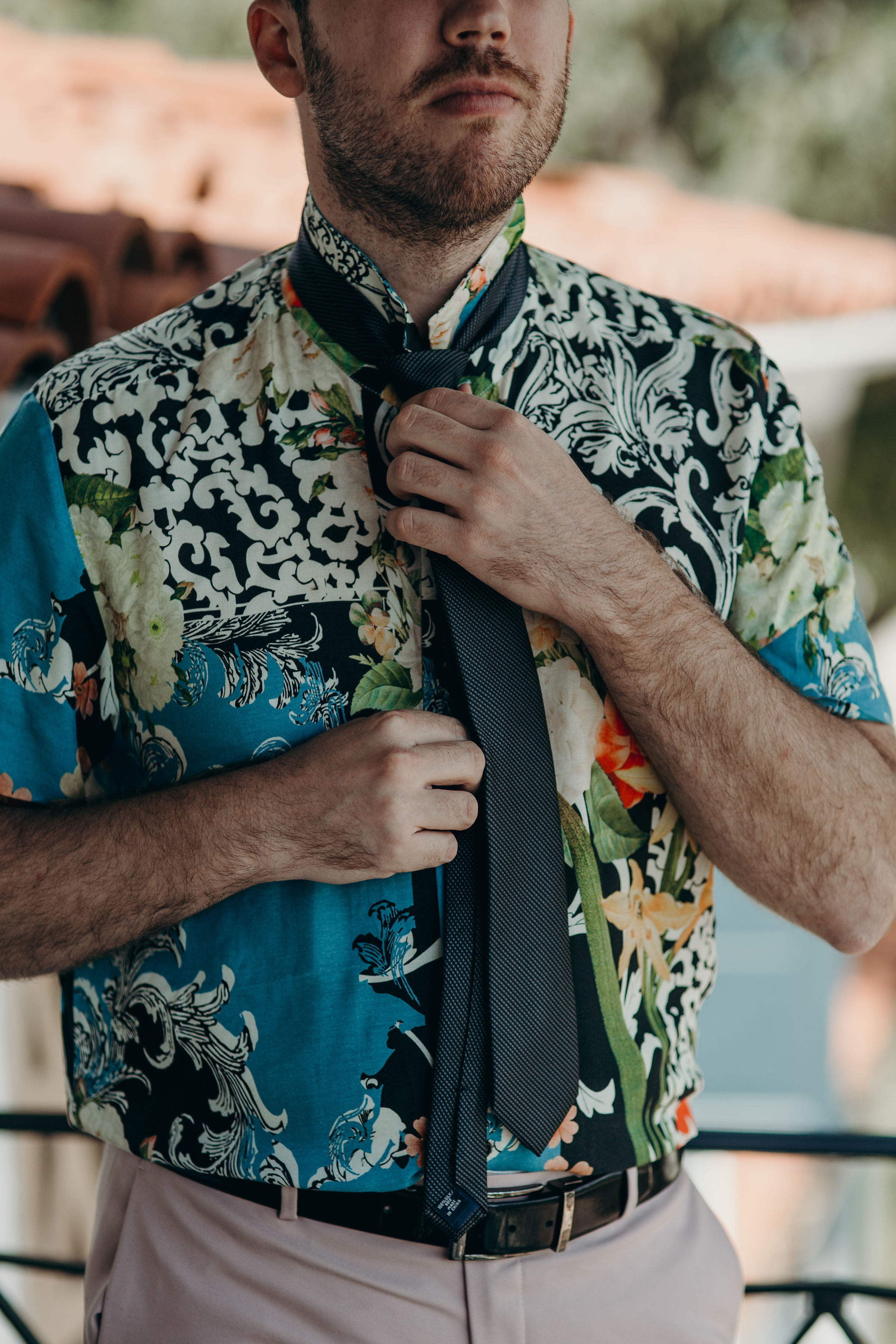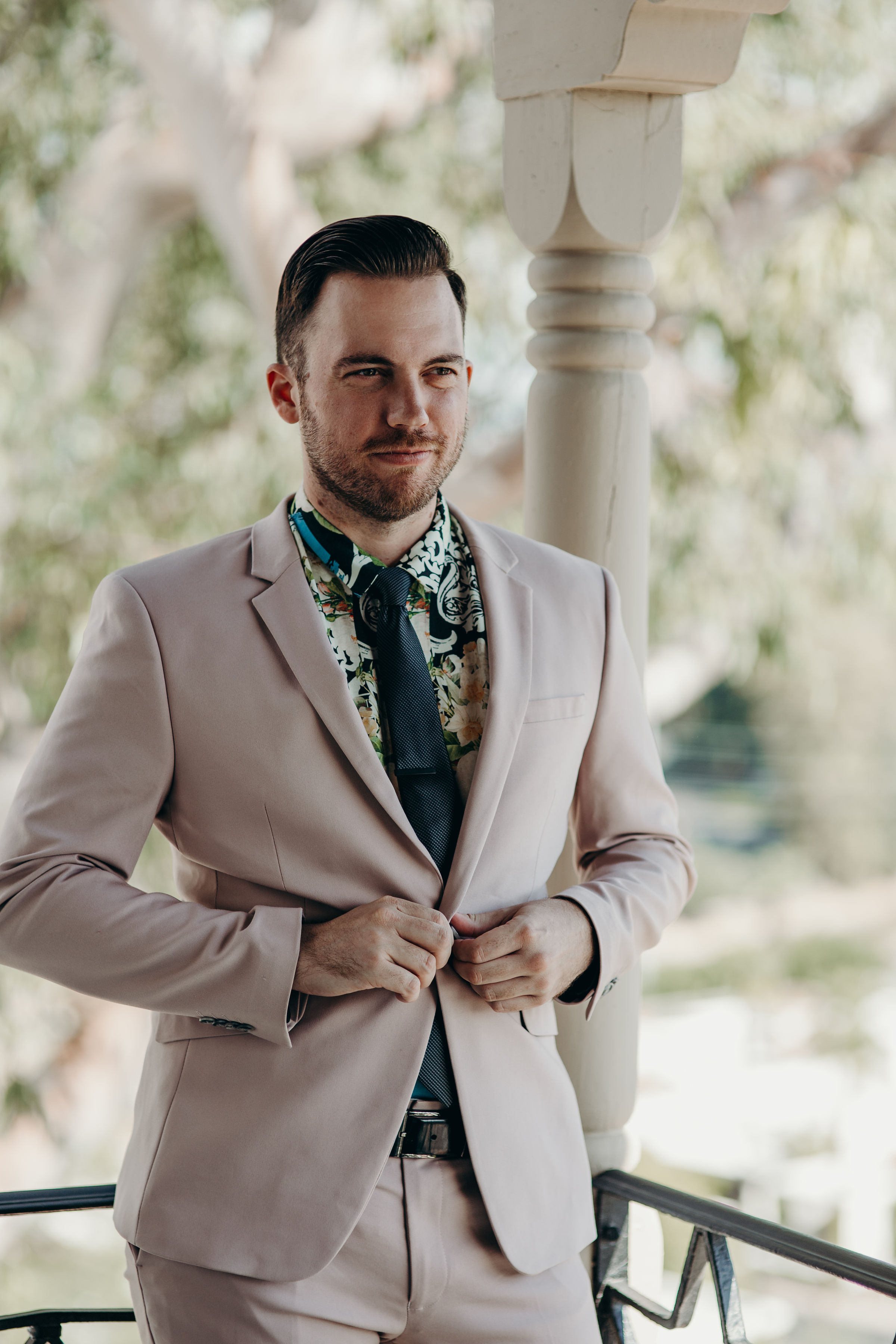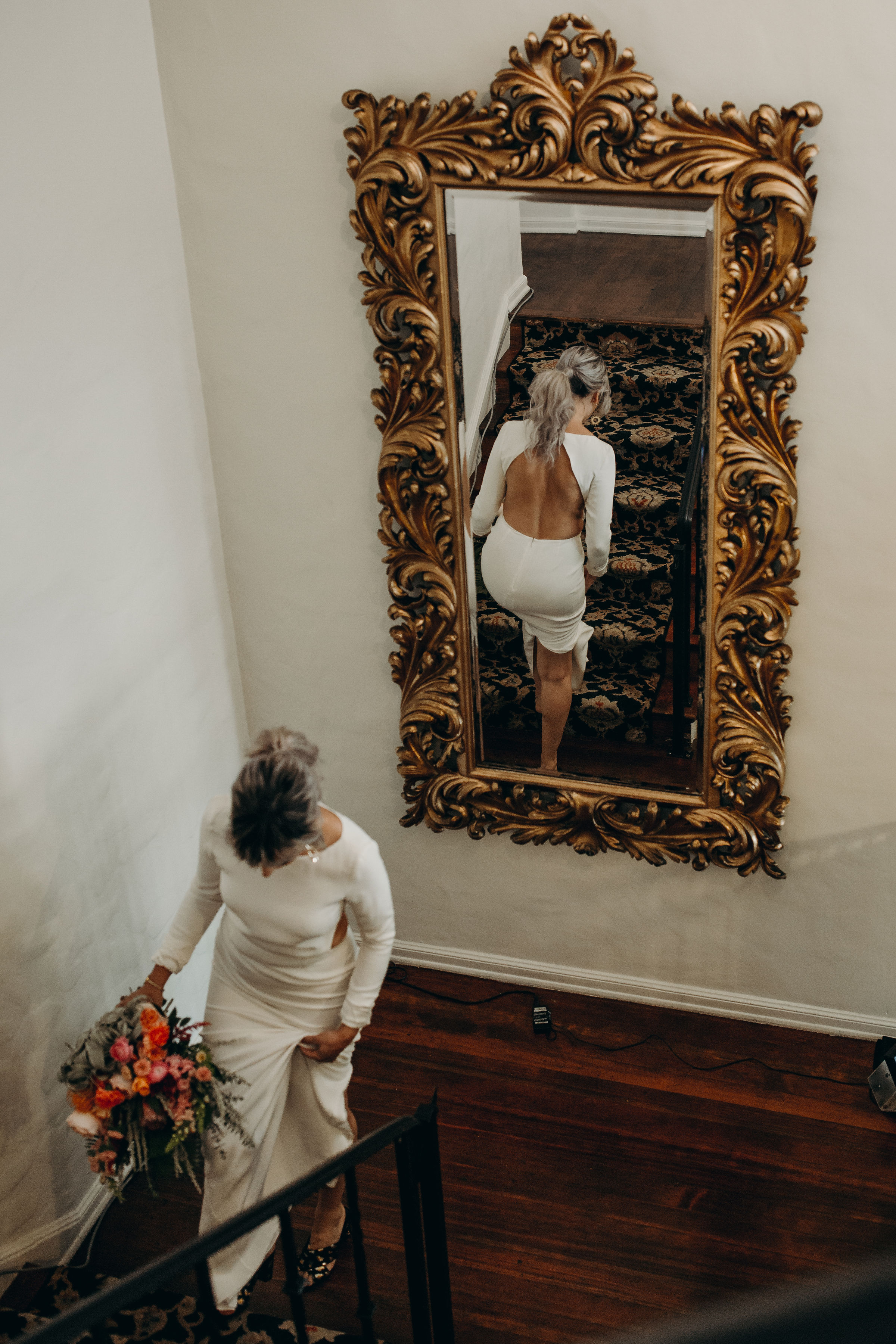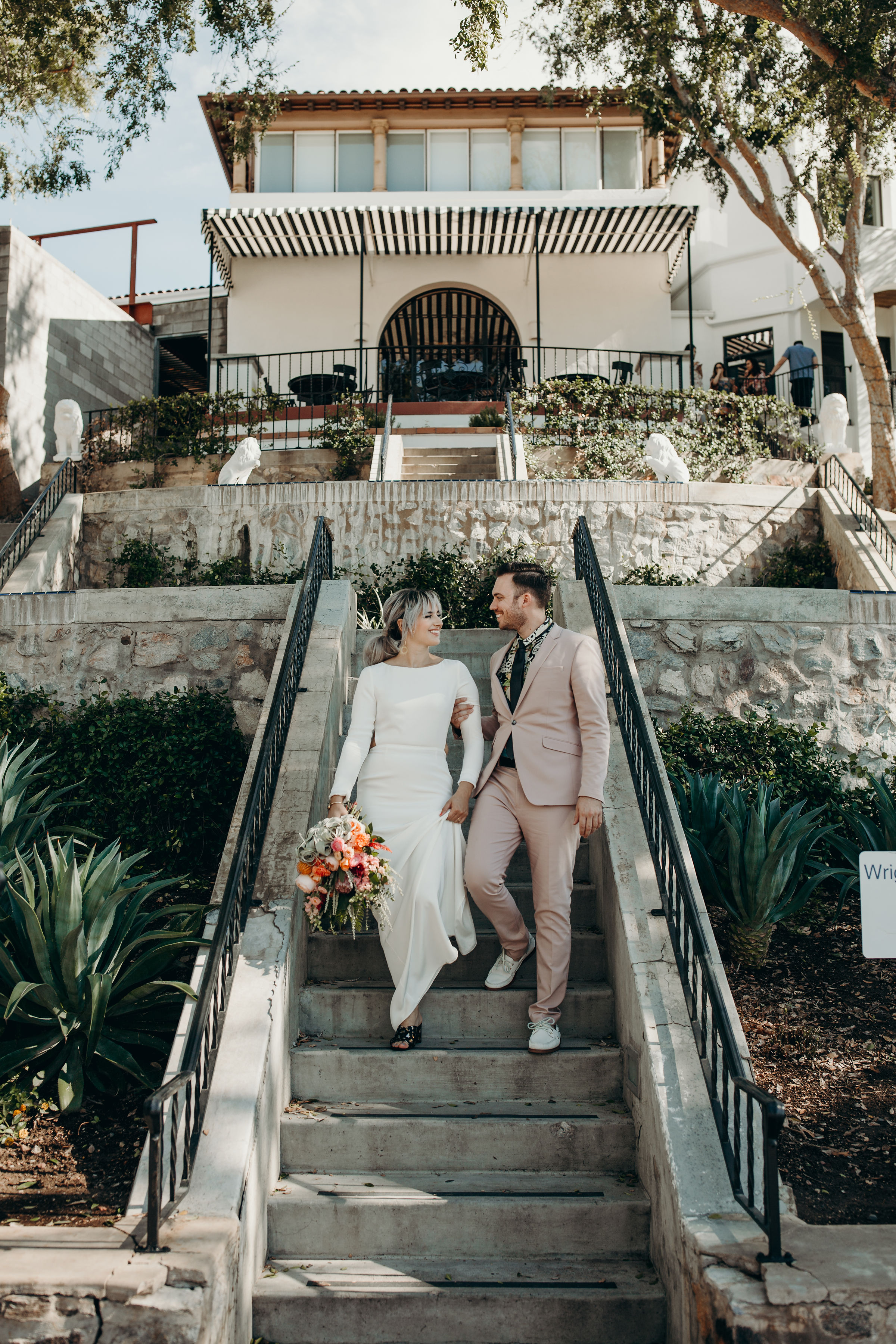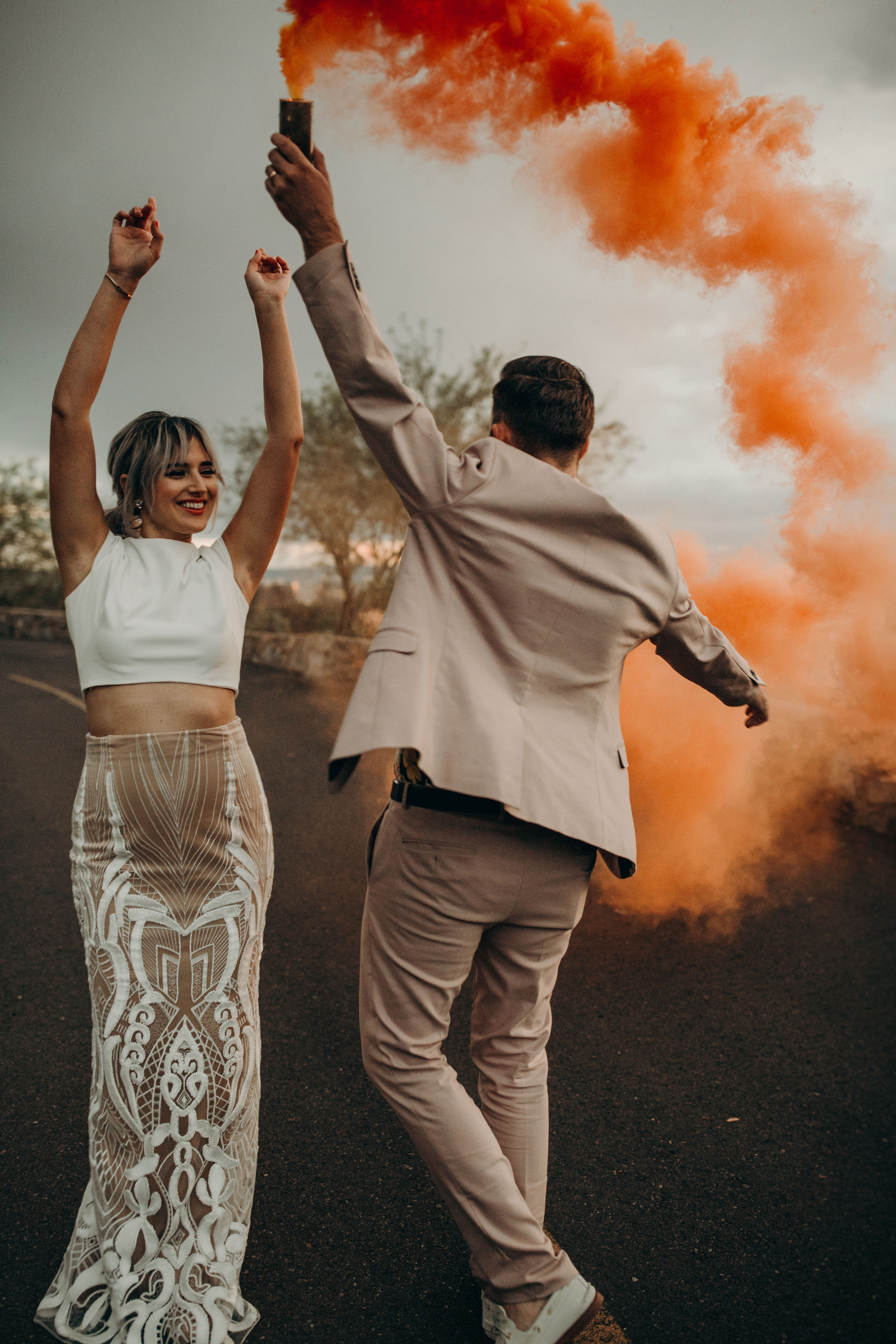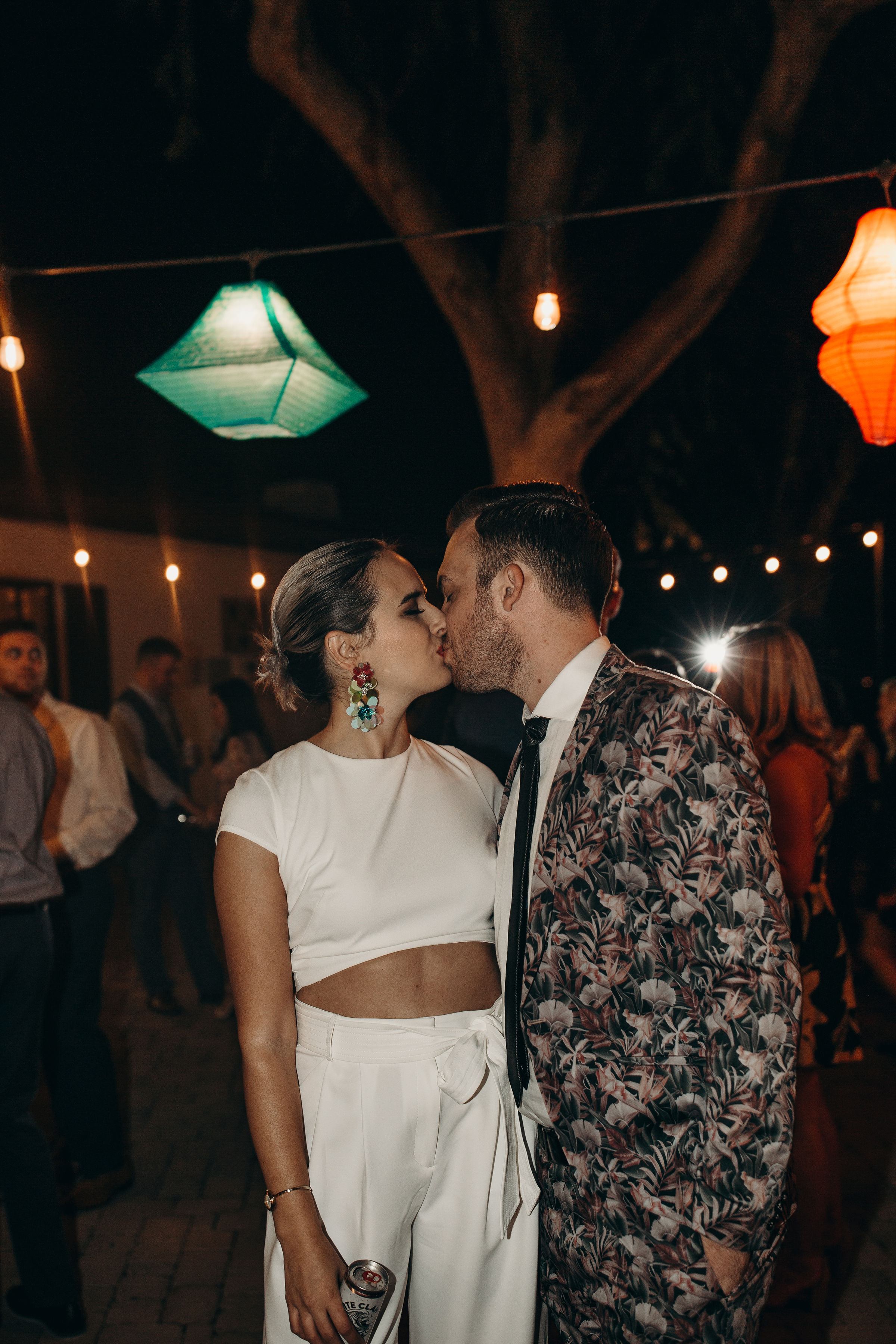 Rather than have a traditional wedding reception, Kevin & Steph planned a late after party for some of their guests and we hung miniature white rabbit lanterns to light the way and the couple handed out cryptic 'follow the white rabbit' cards to select guests during dinner.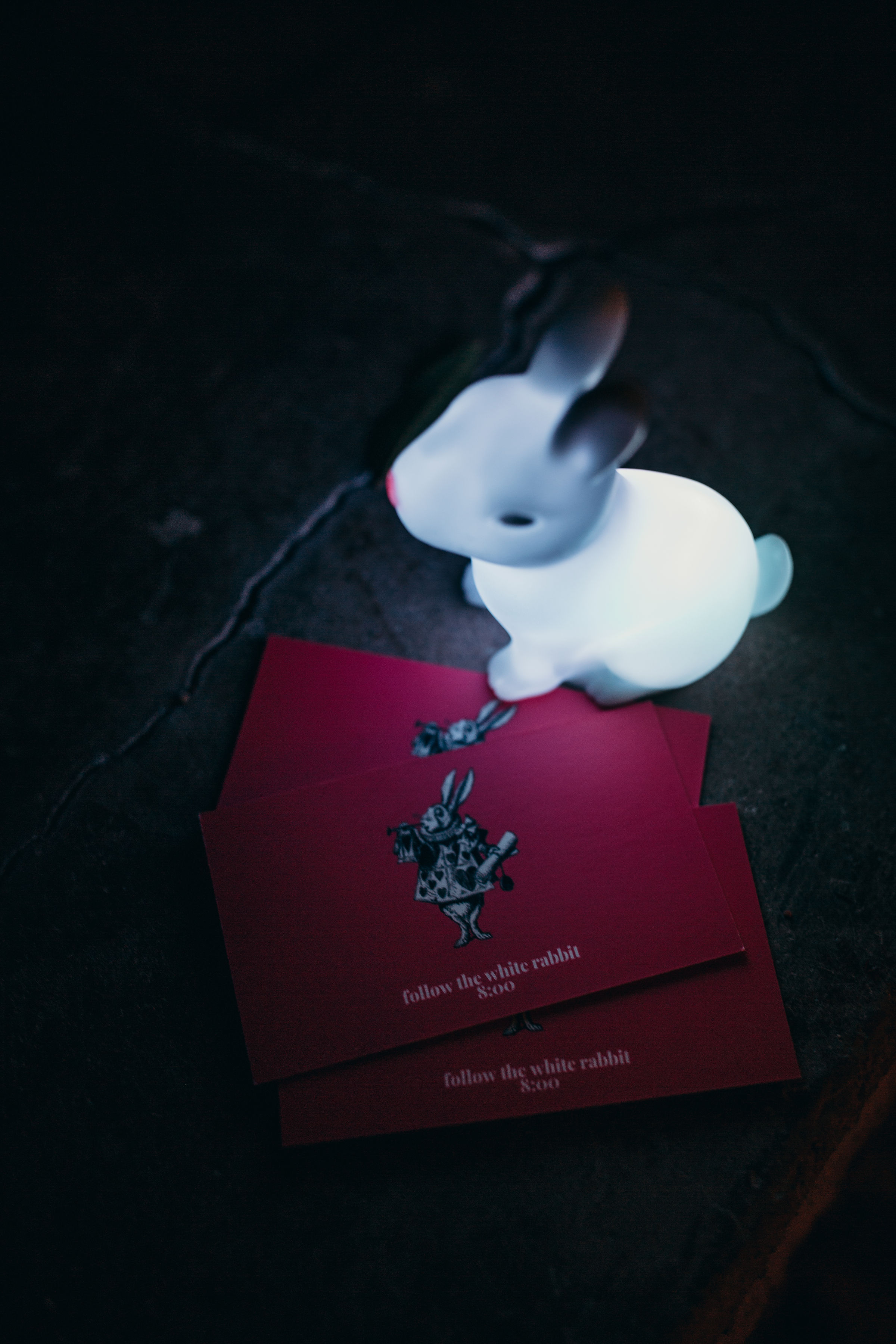 There was a small mishap during dinner, when almost unheard of for Phoenix, a storm came, and it was all hands on deck to sweep the entire wedding inside until it passed! Fortunately by 9pm we were back outside for the after party and mini donuts and the couple and their friends danced the night away.
It was a magical, one of a kind day, that totally reflected the incredible bond this couple have, with each other and their loved ones. Part MTV award show, part Disney fairytale… I don't think there will ever be another wedding quite like it!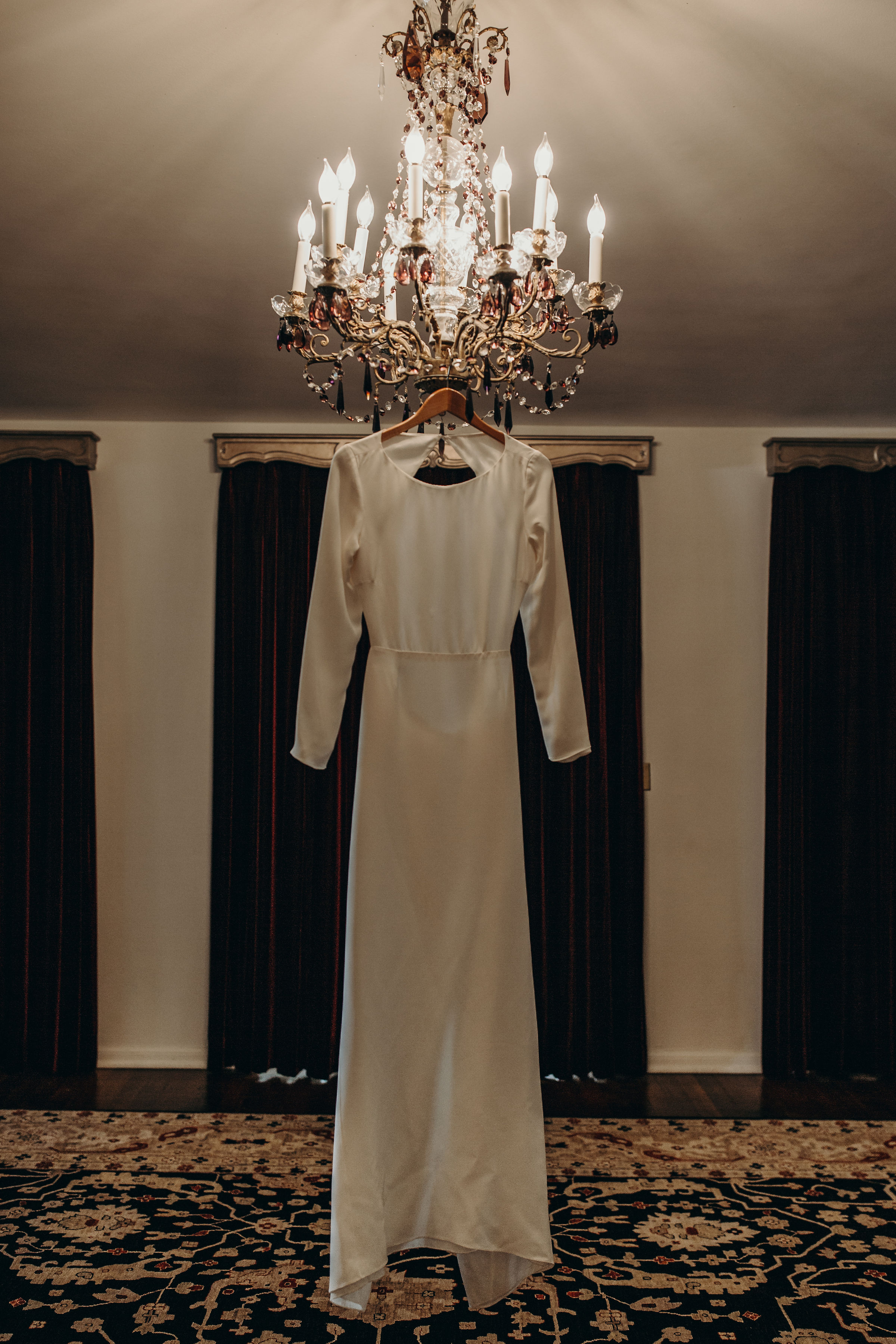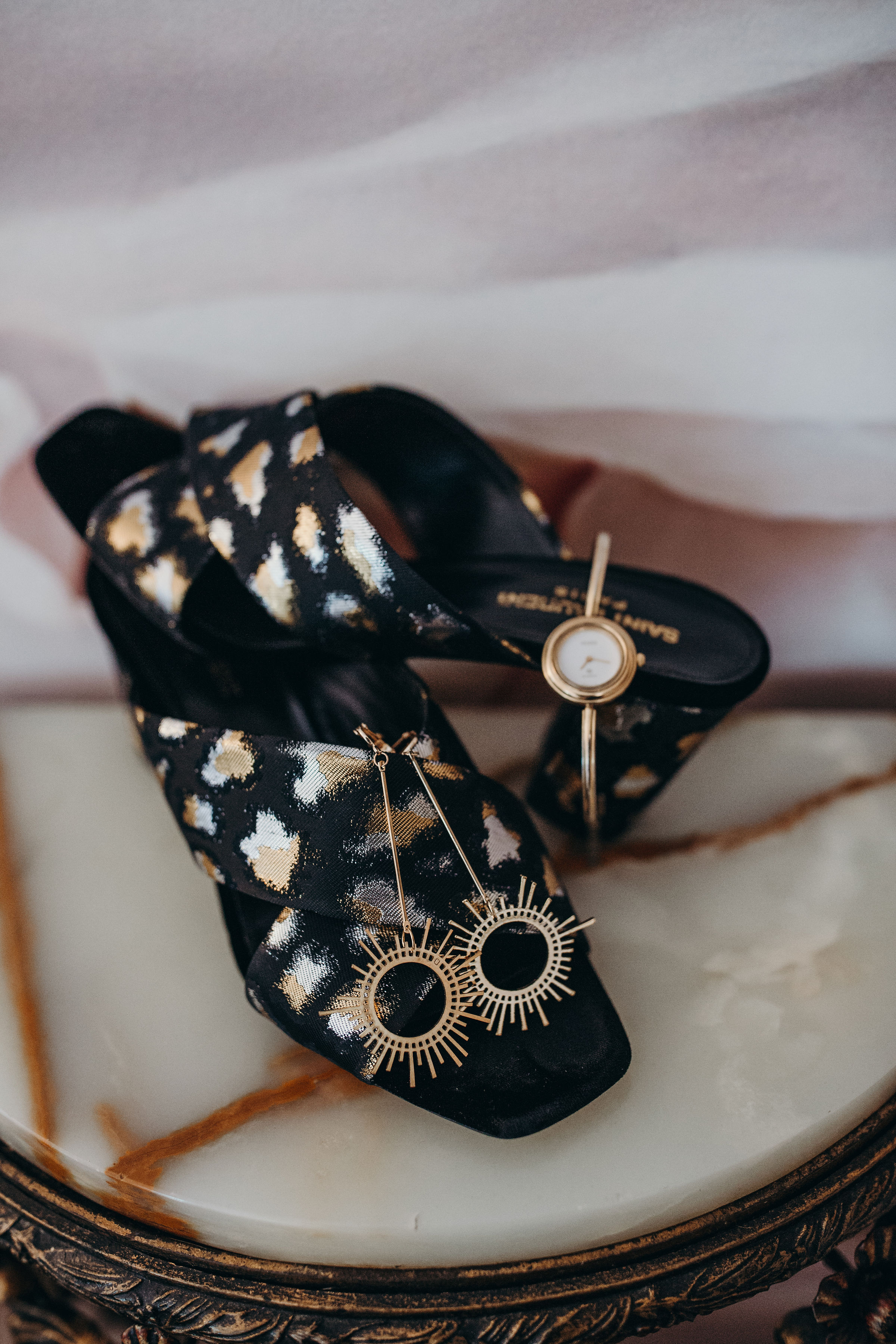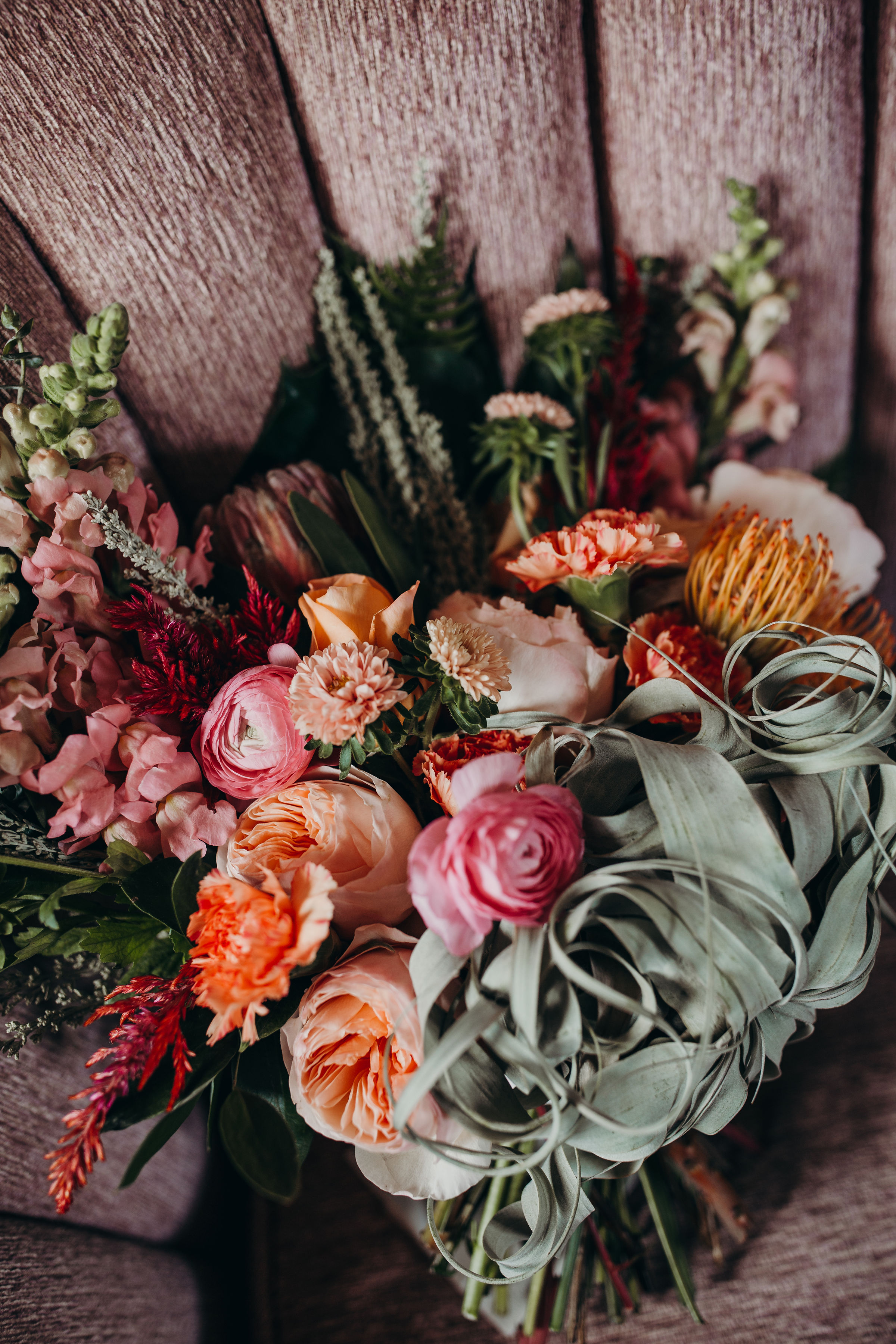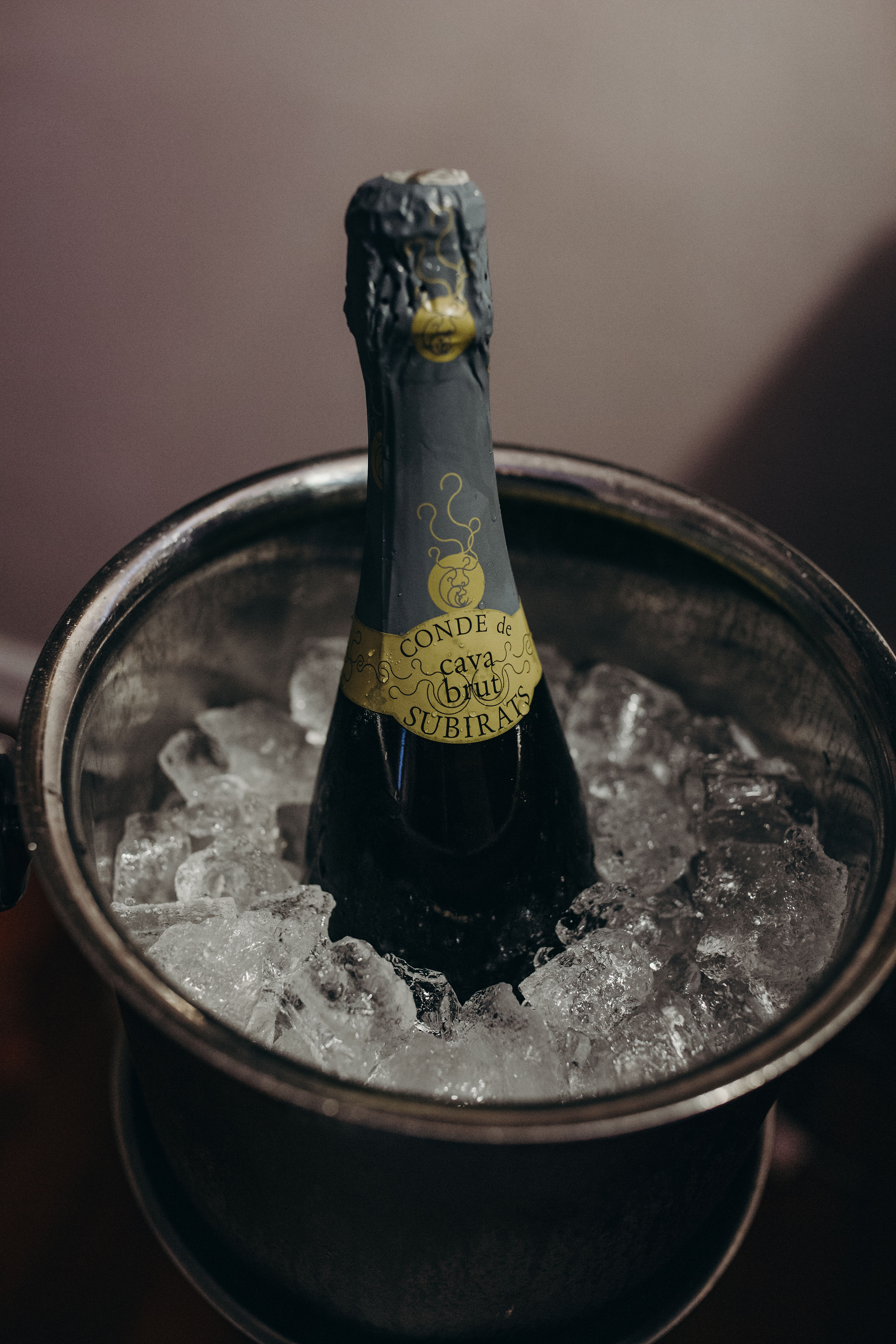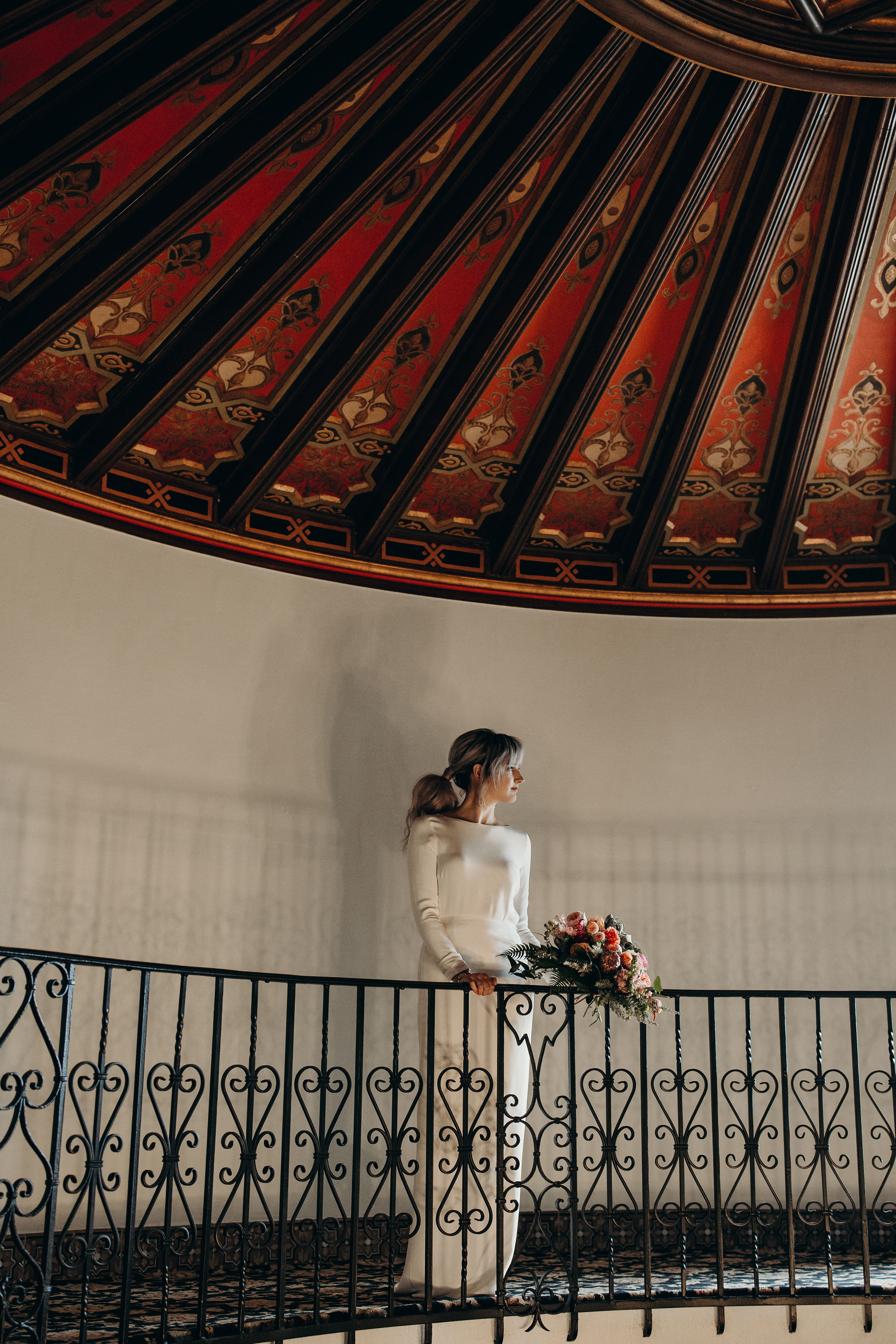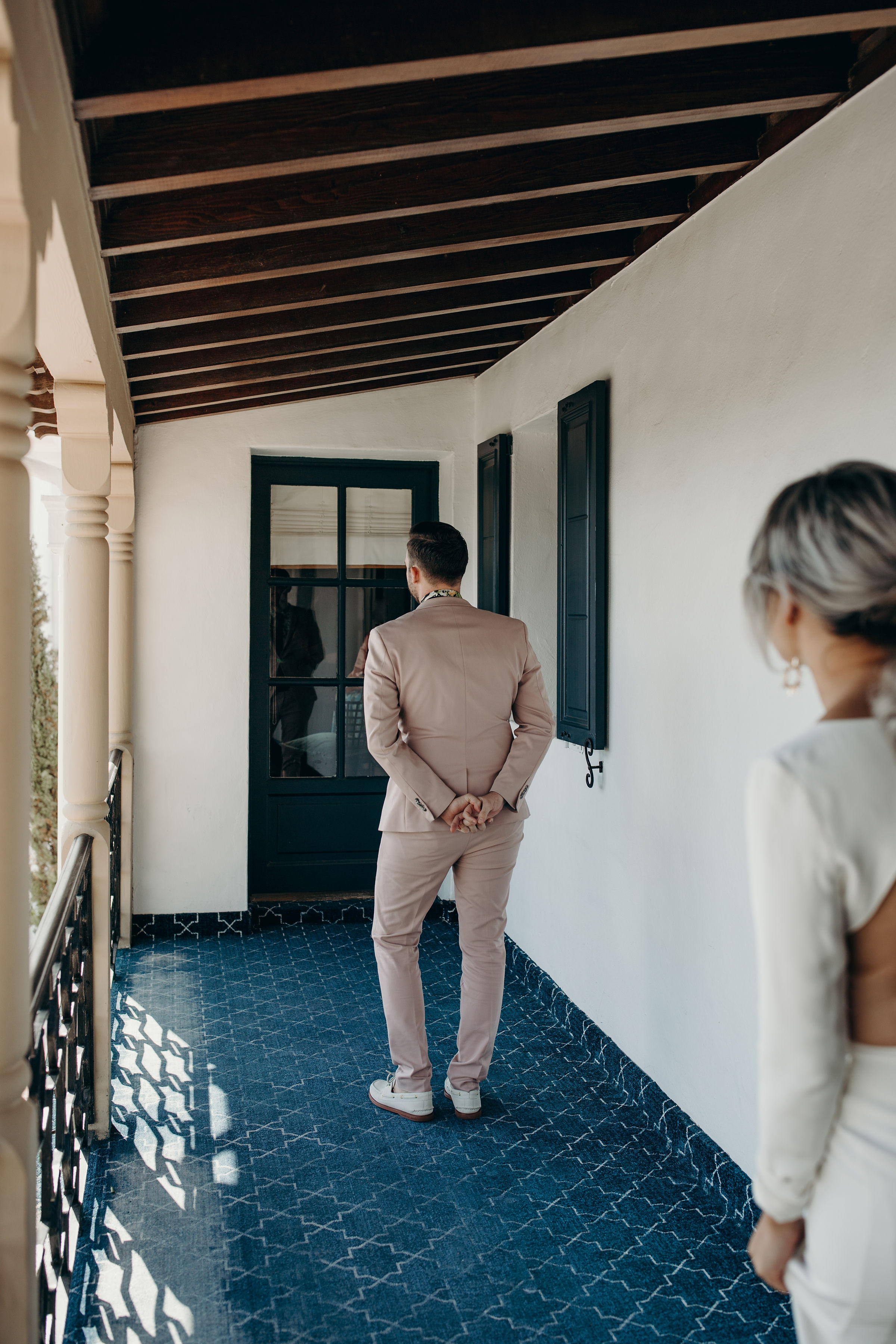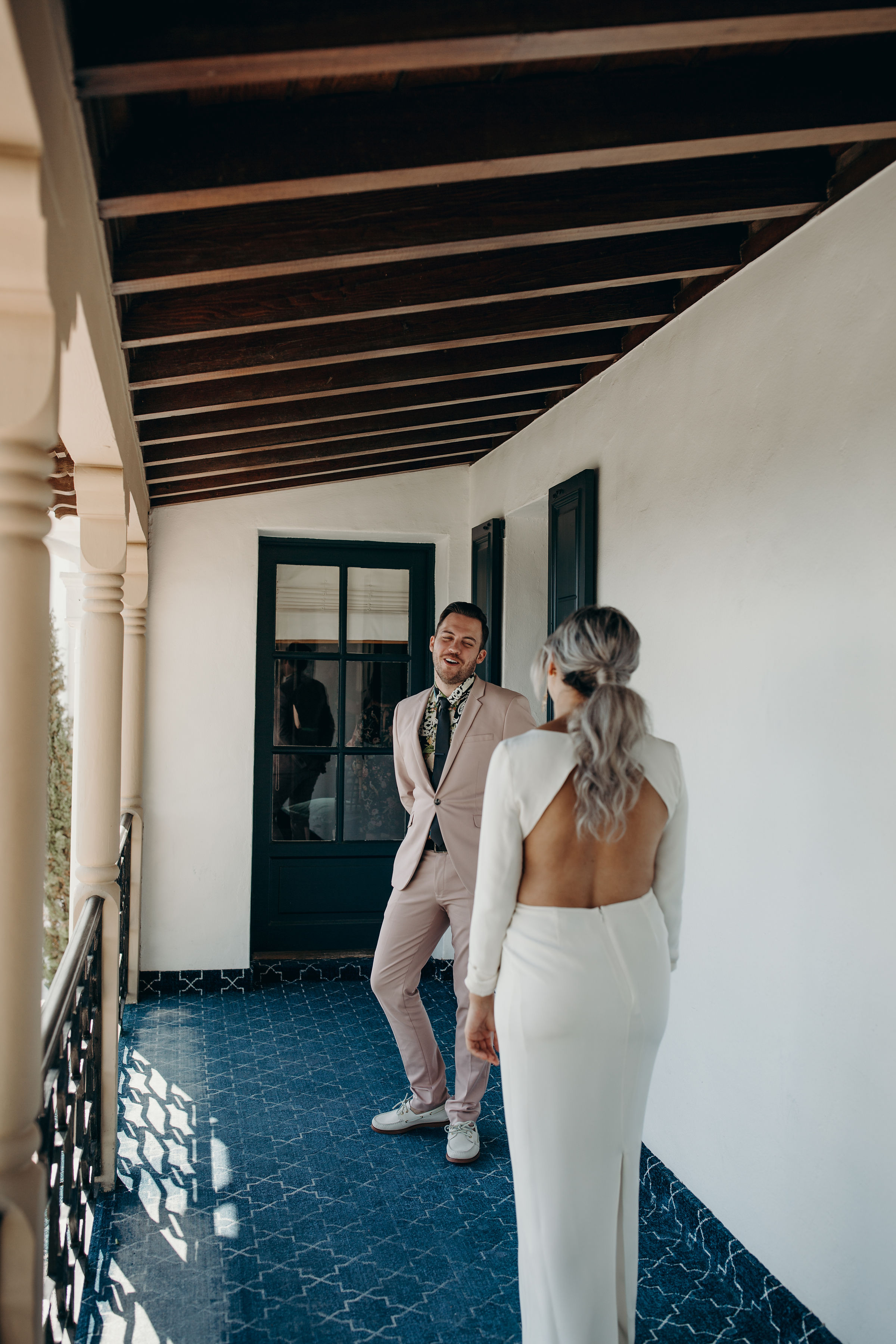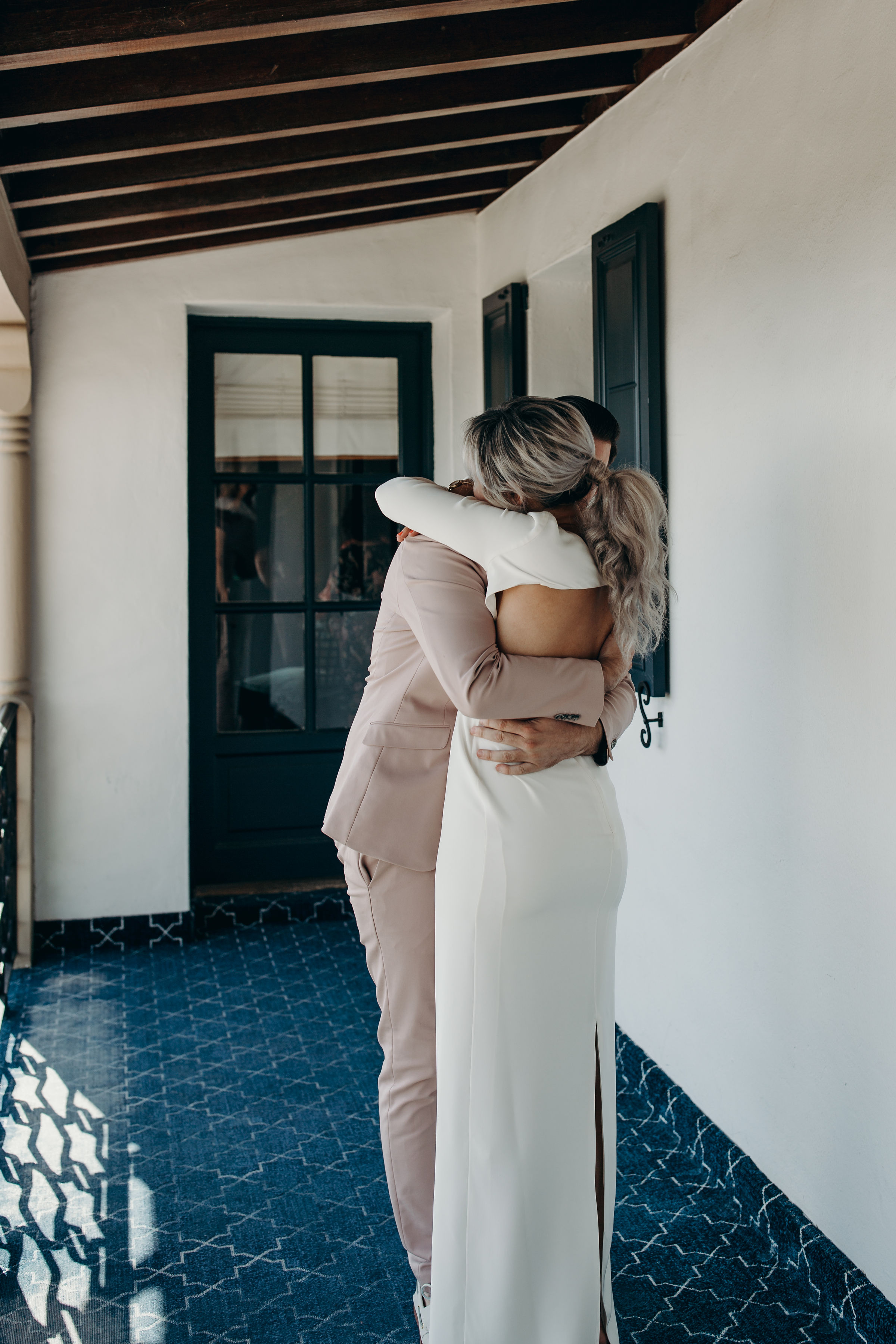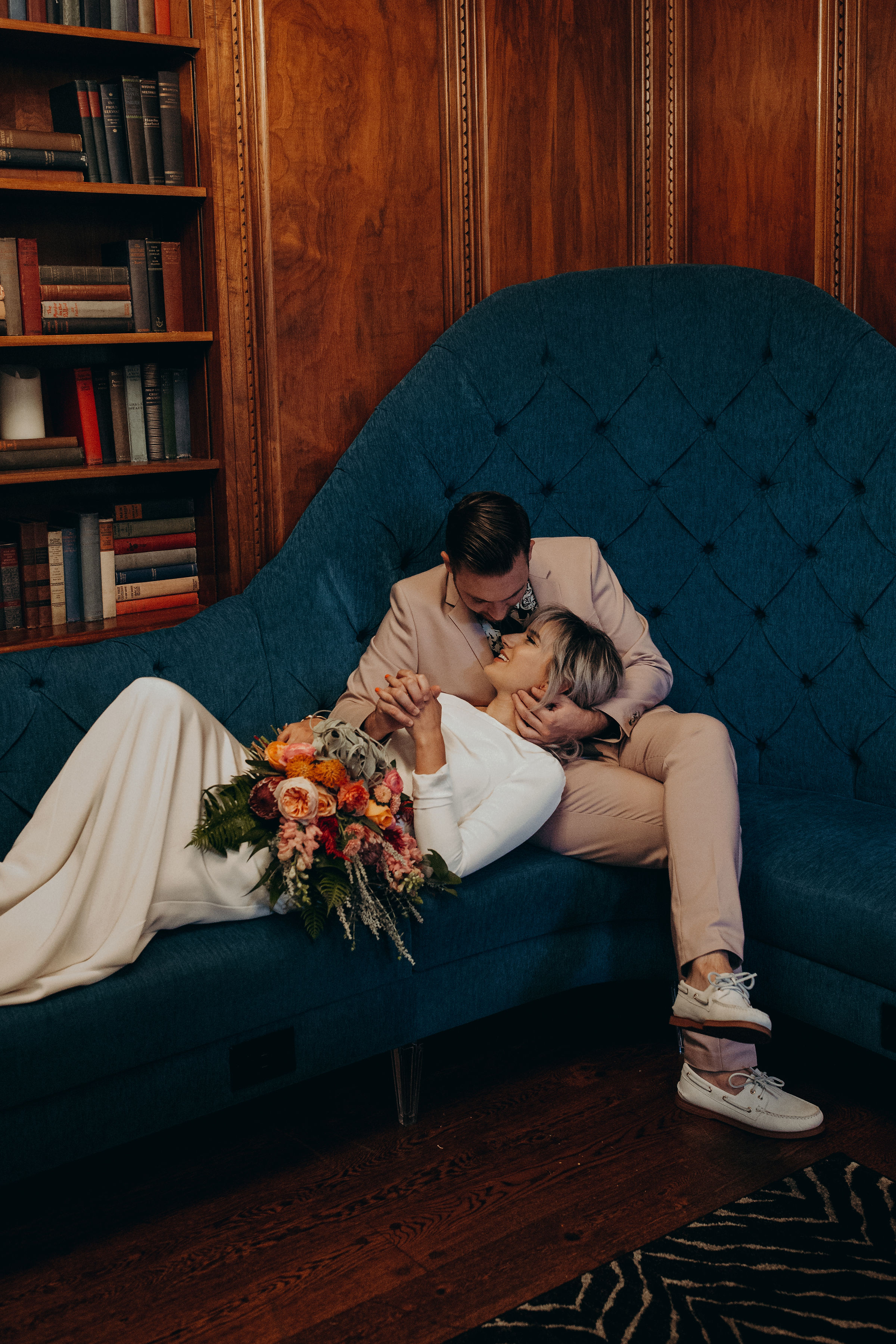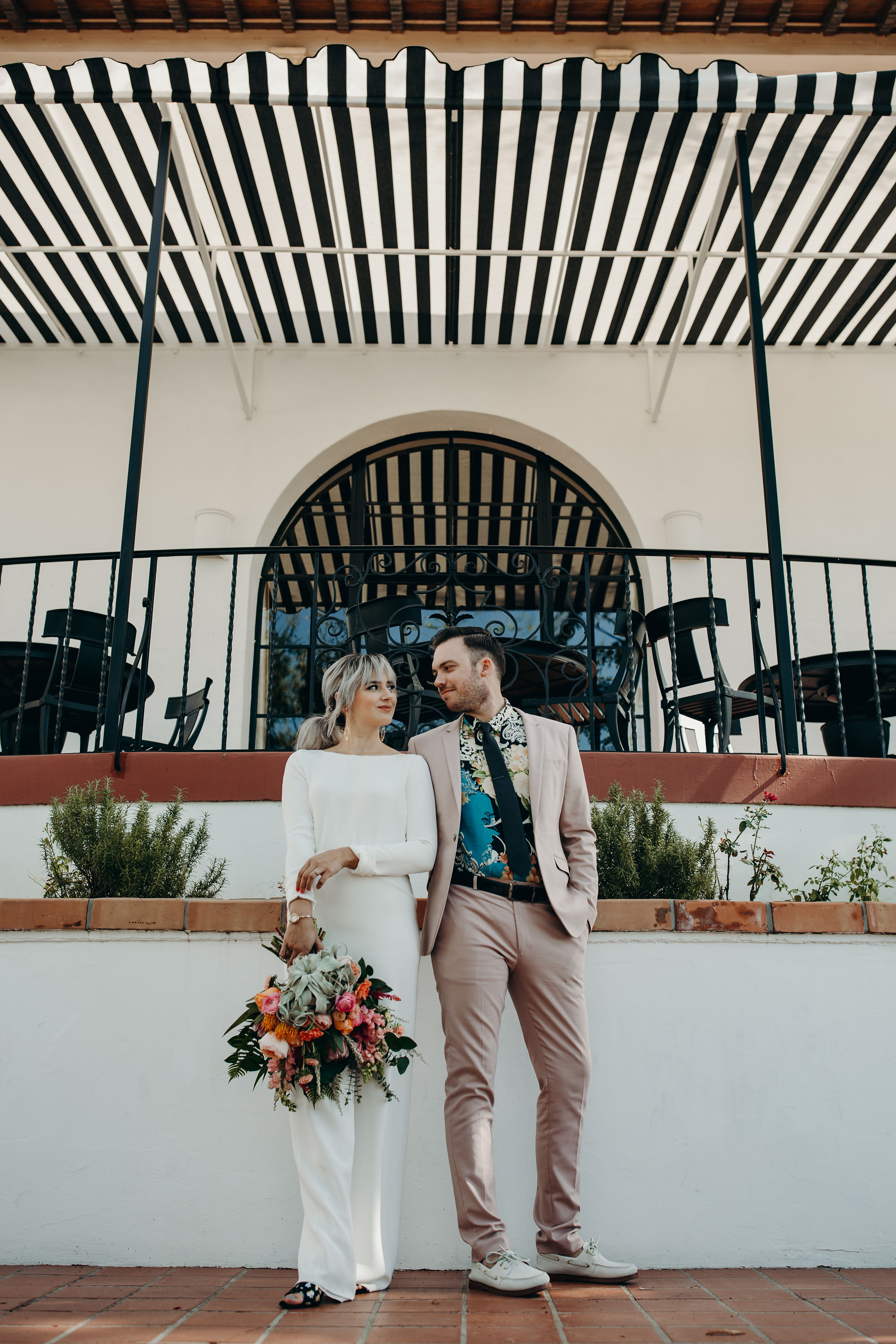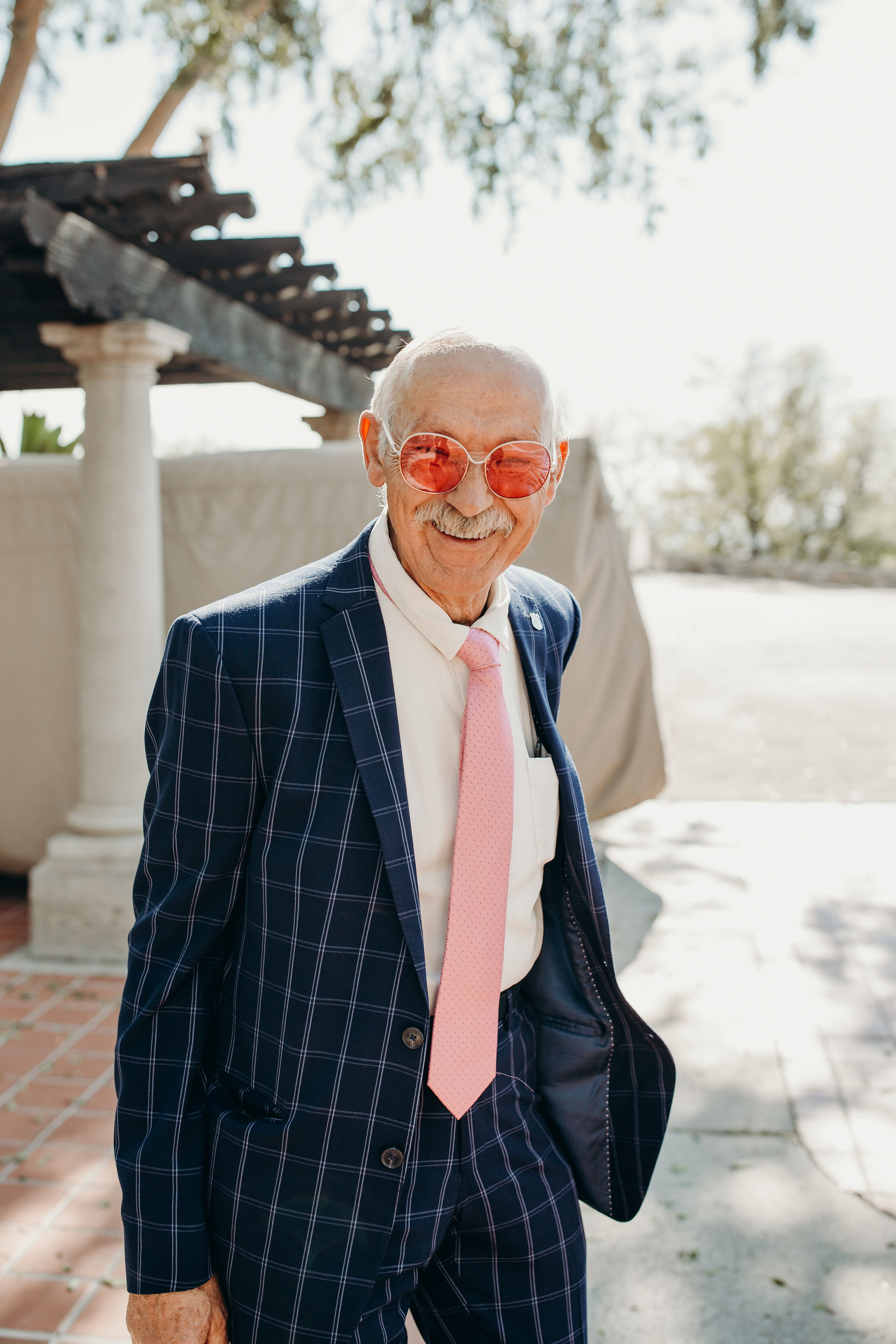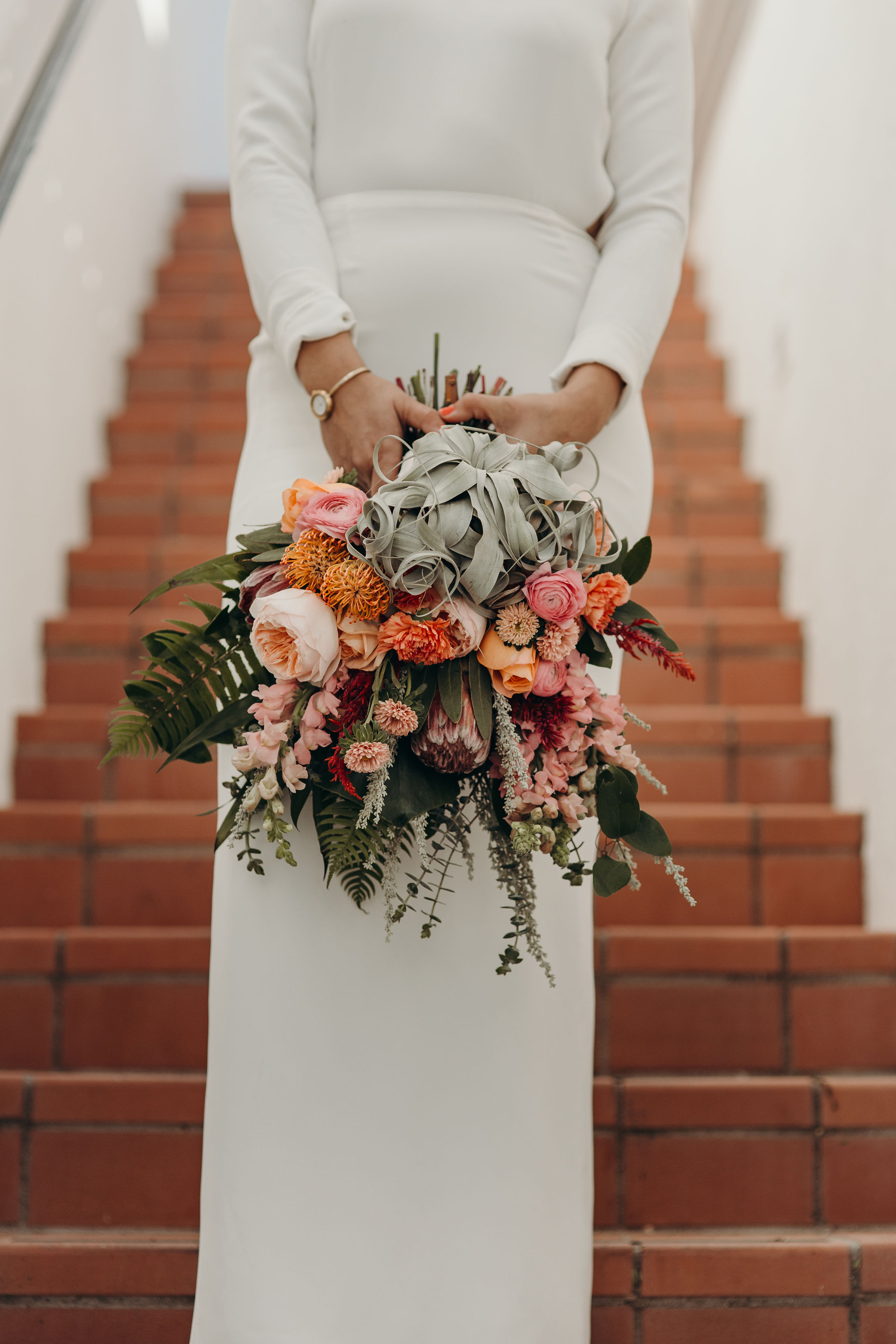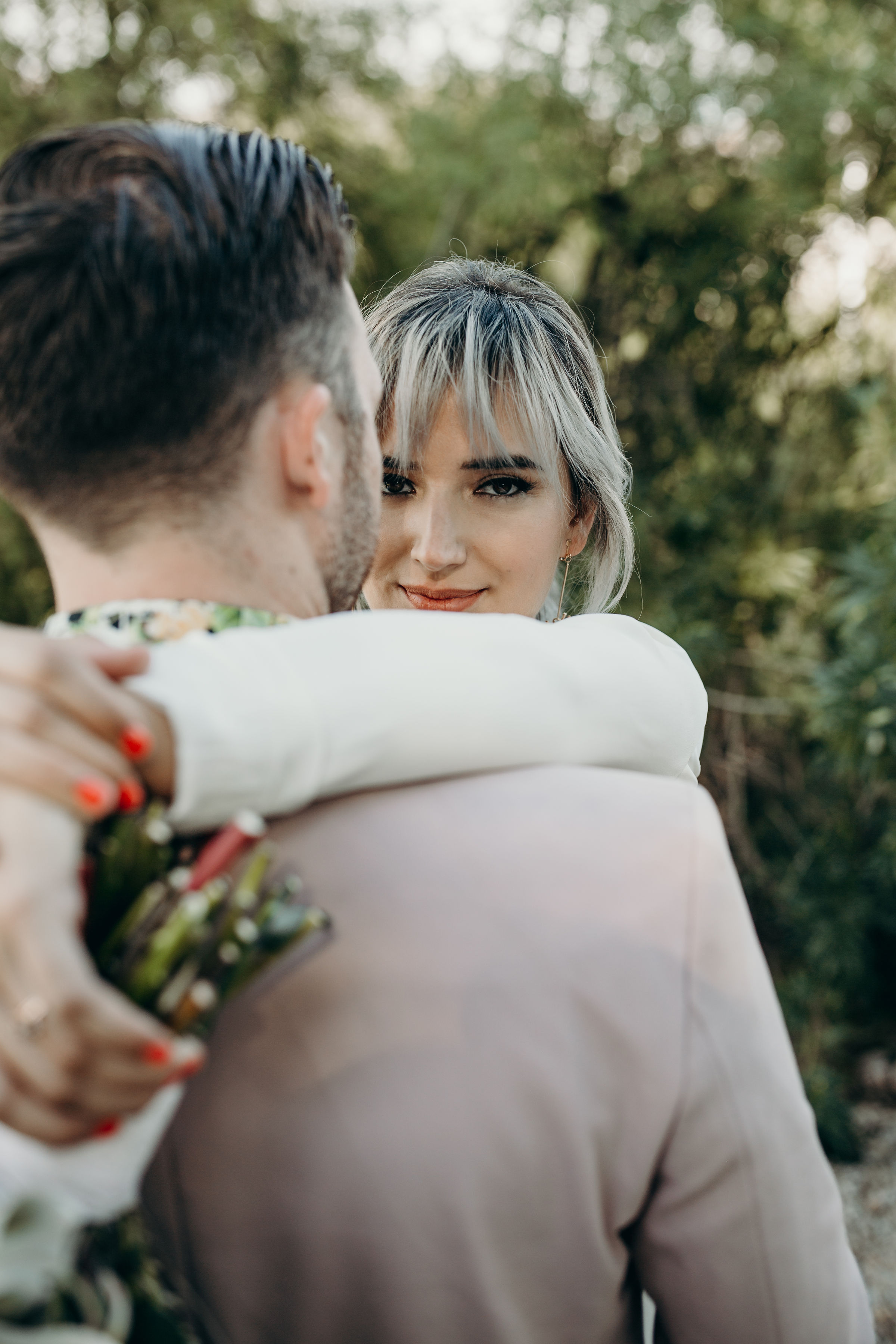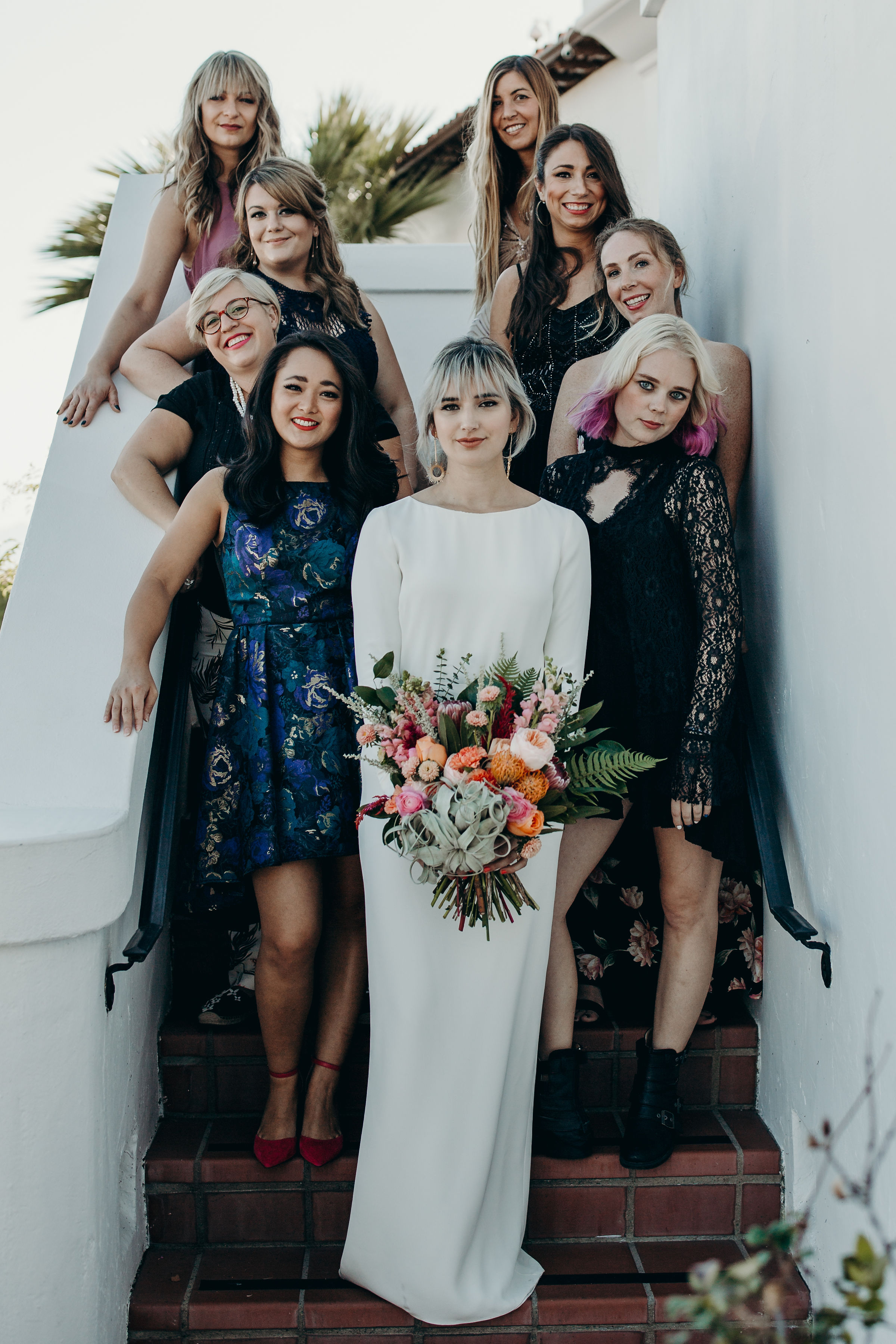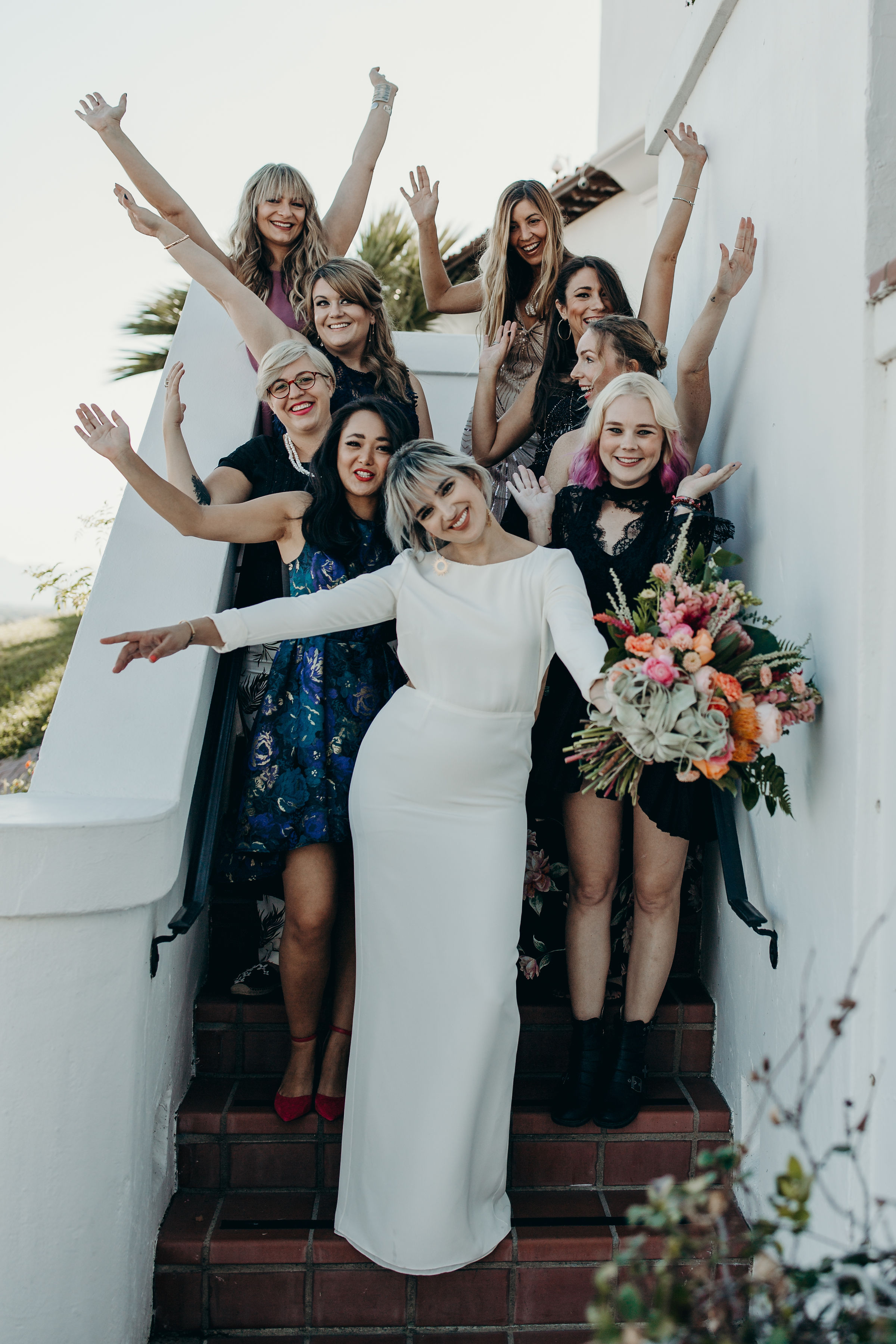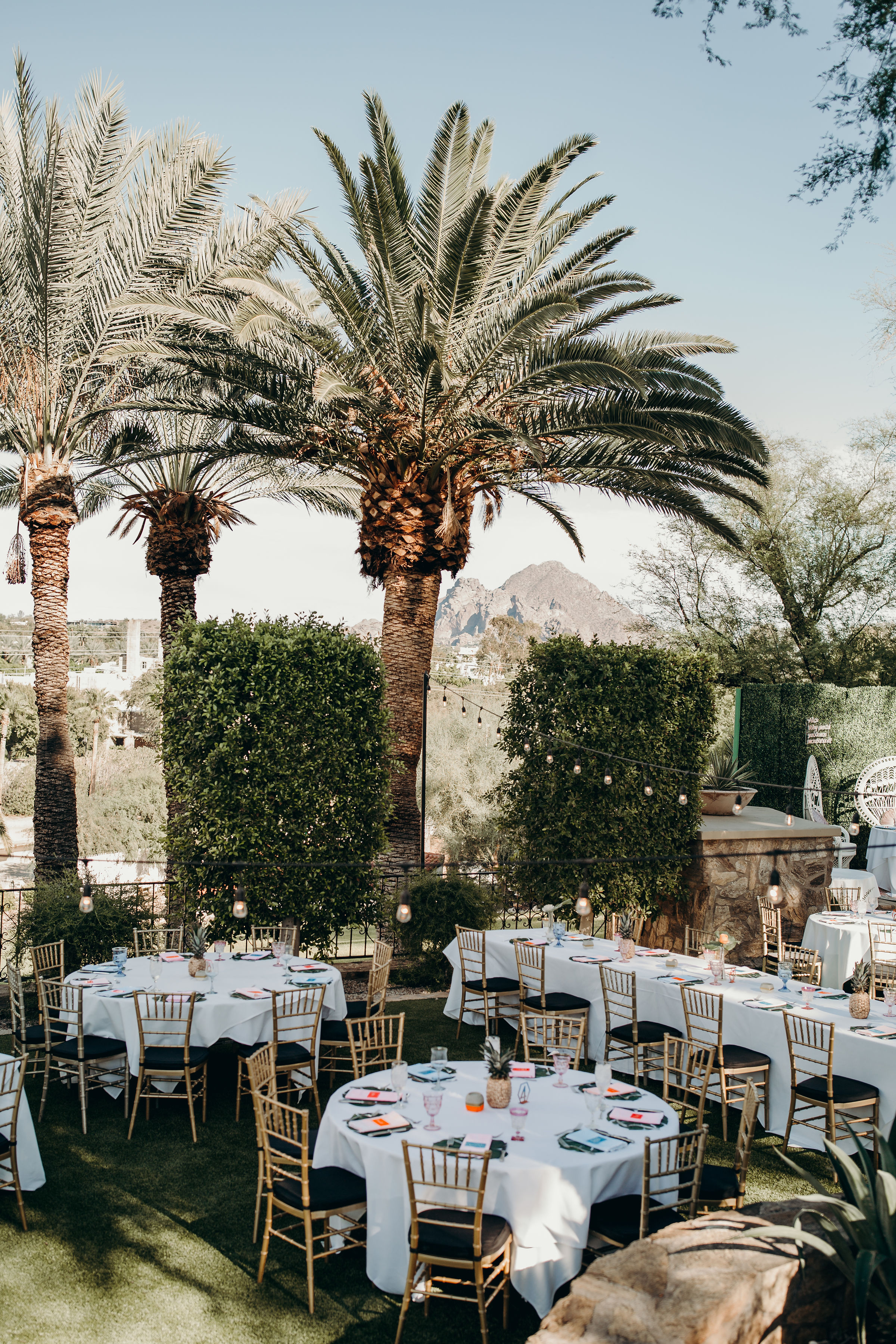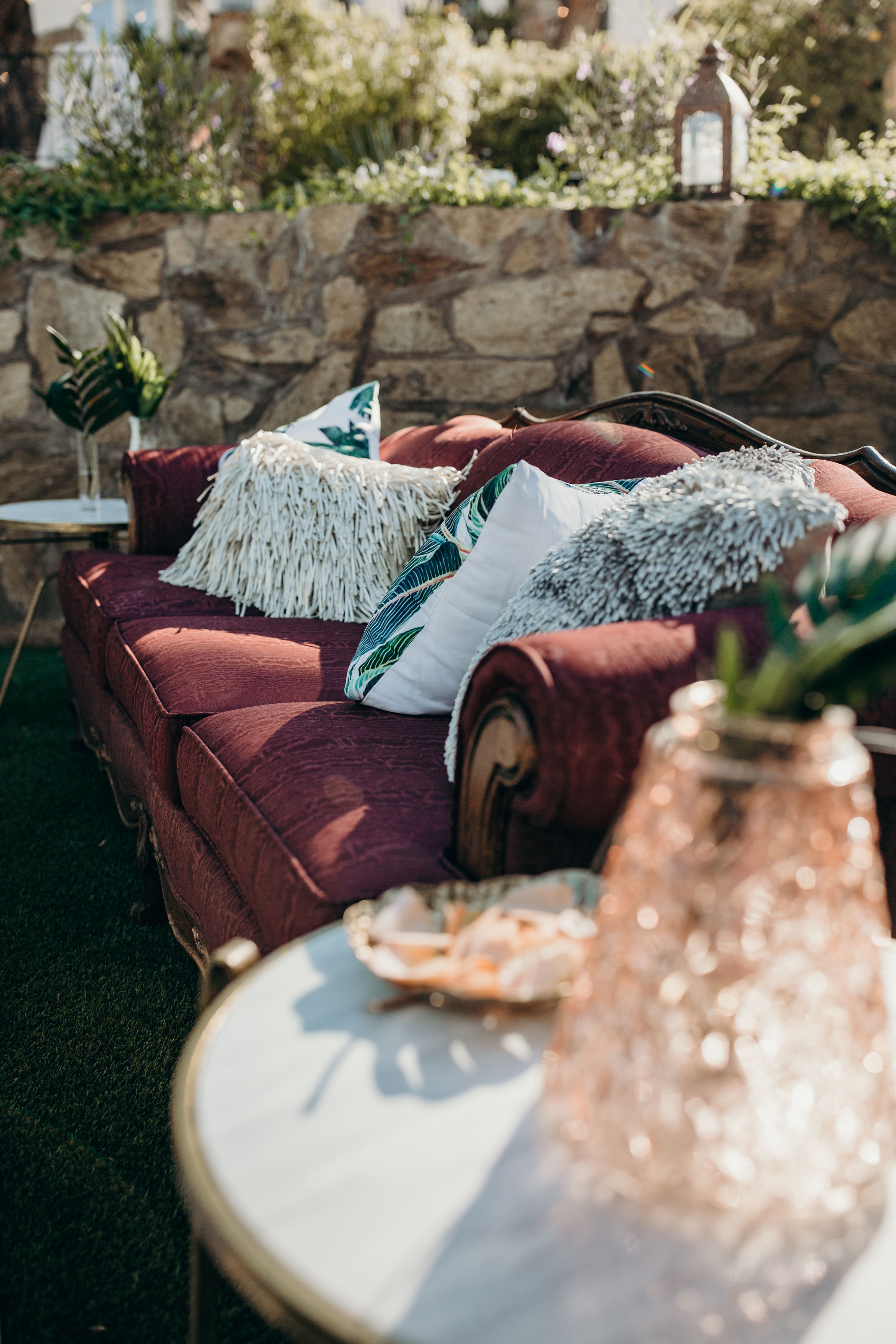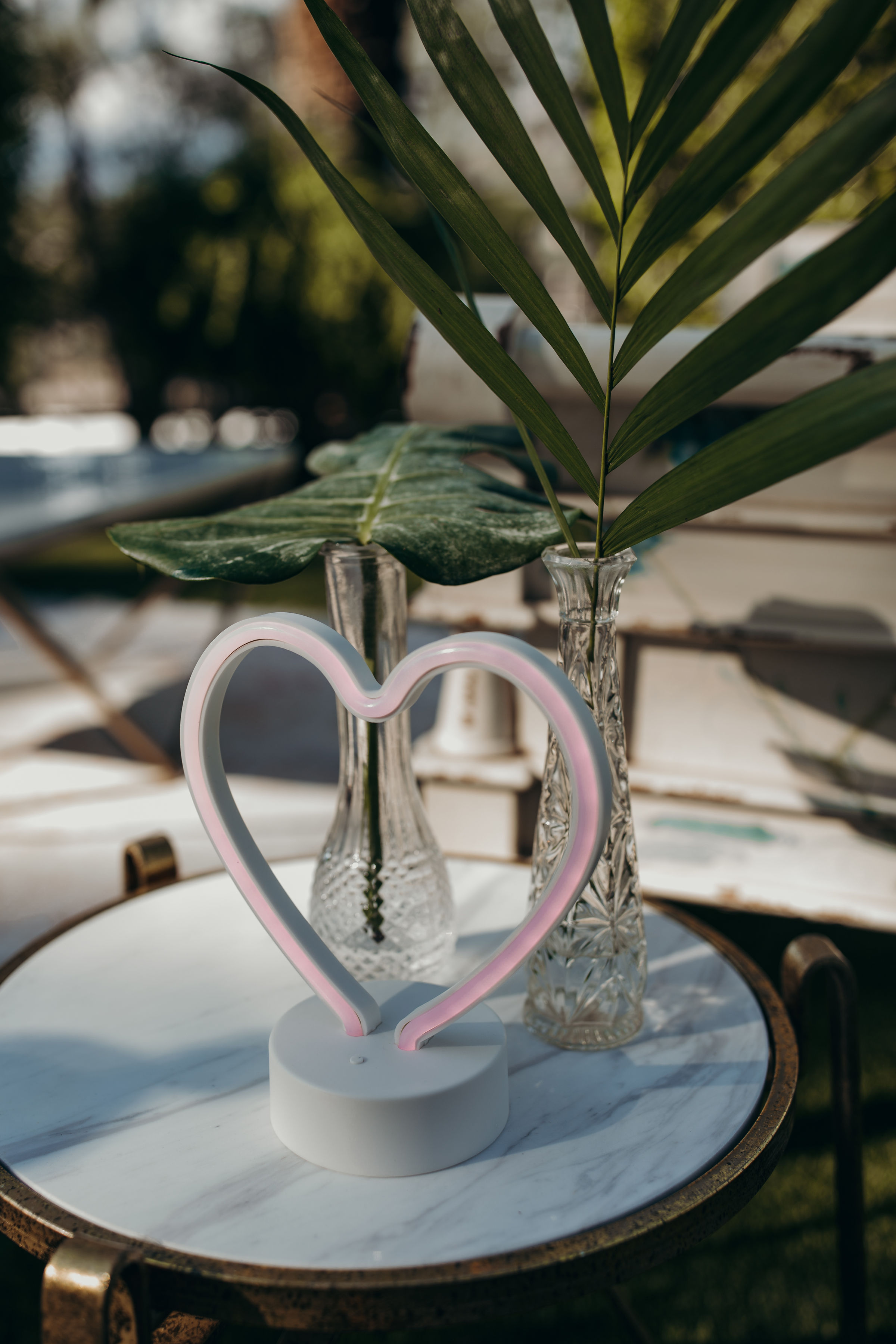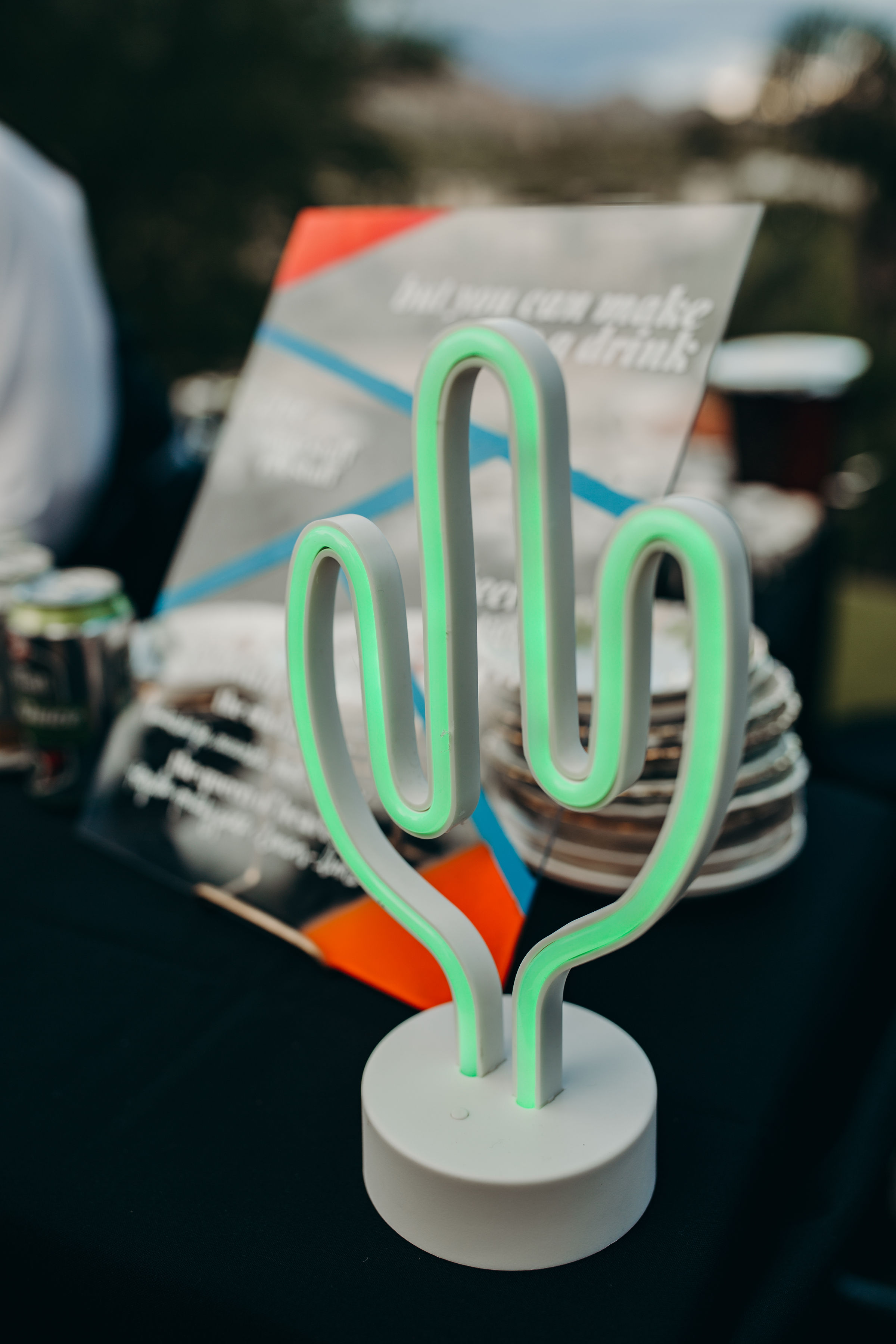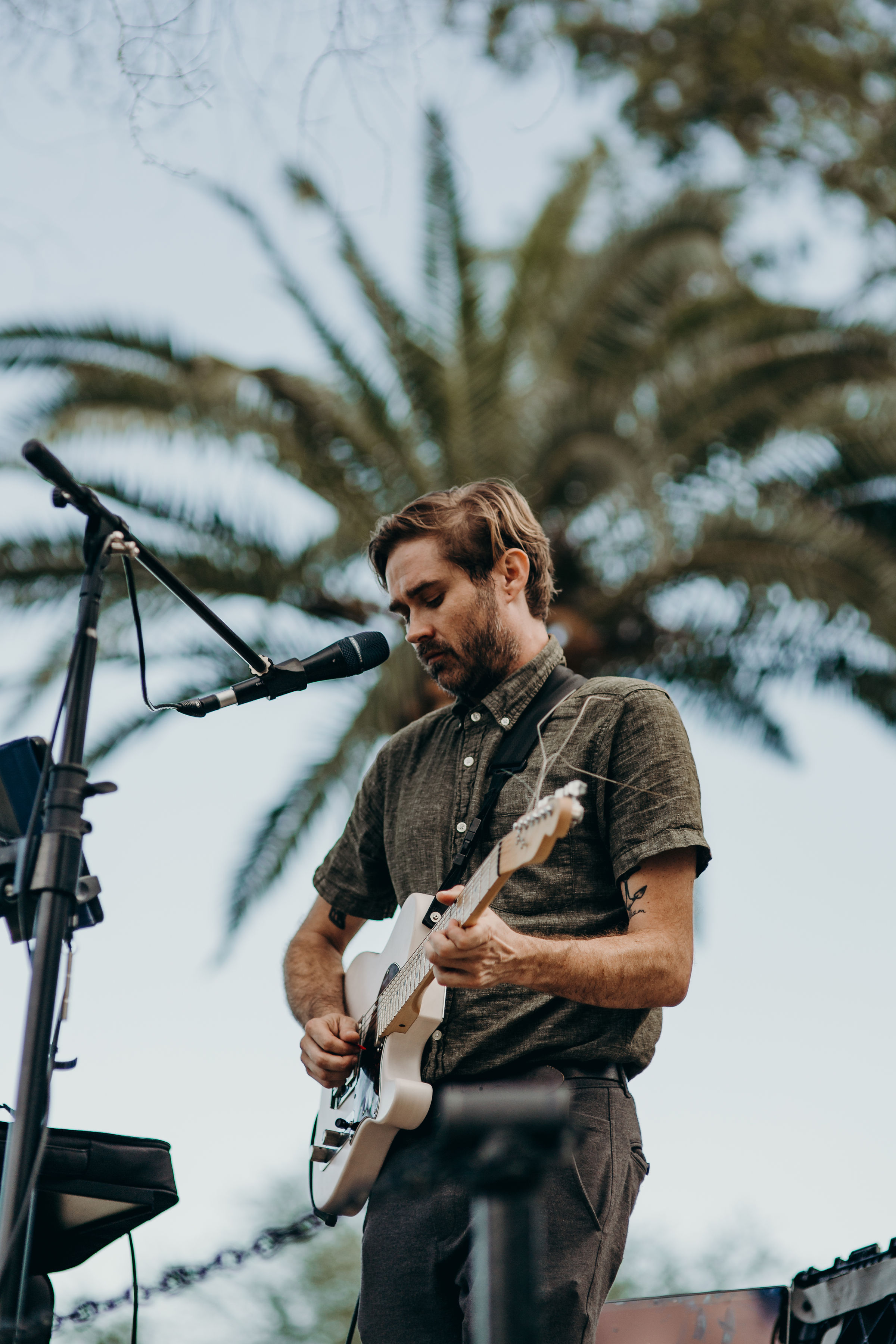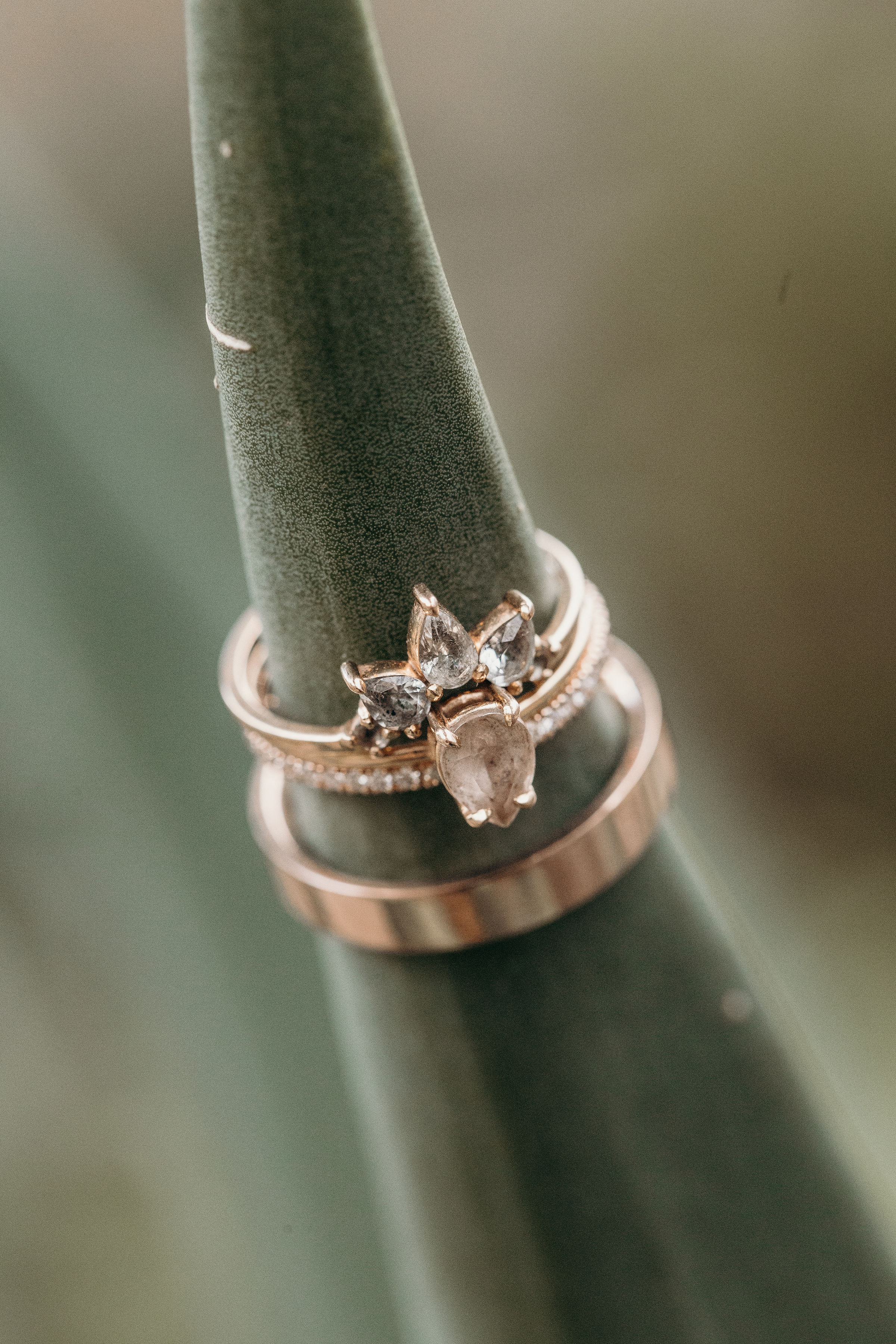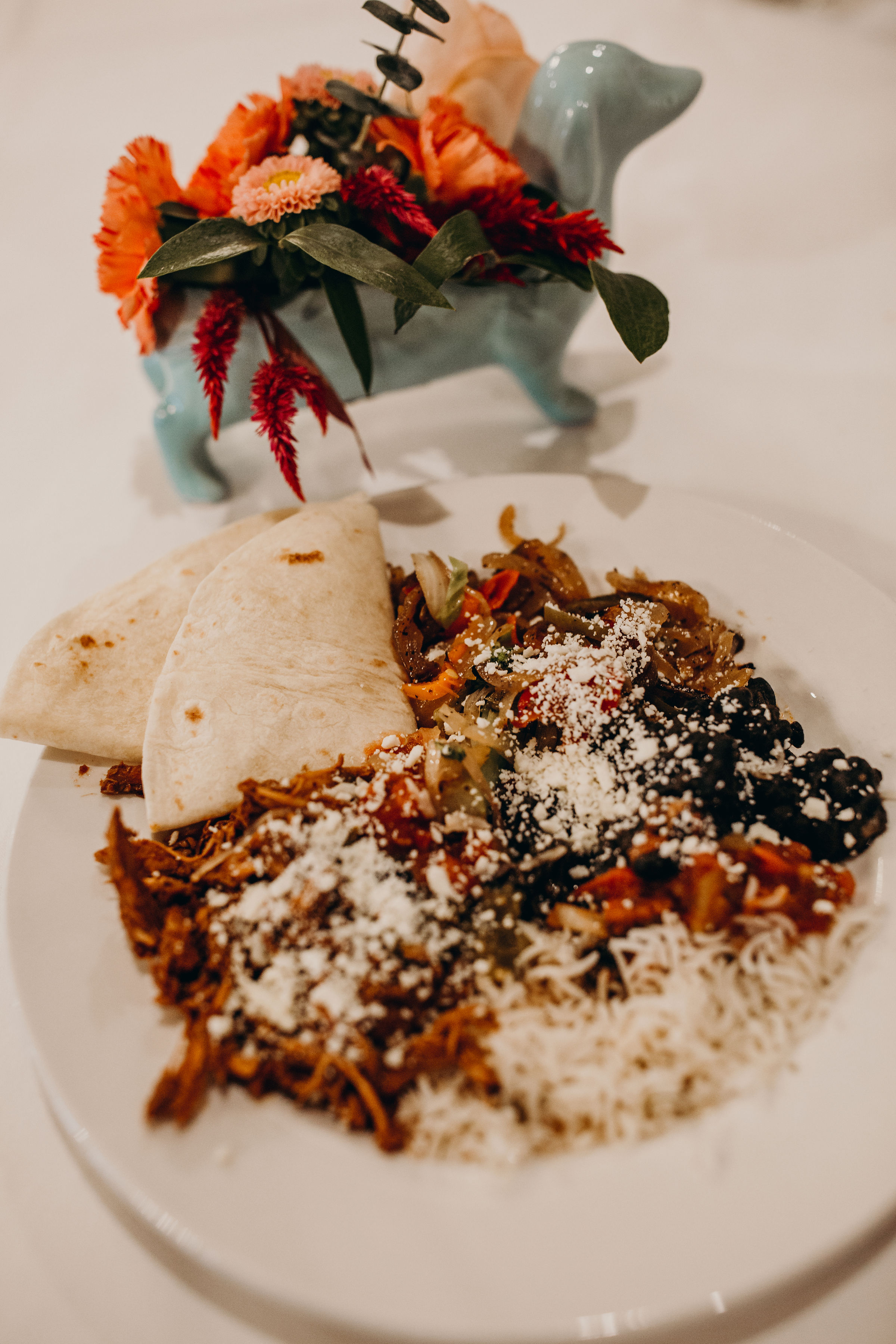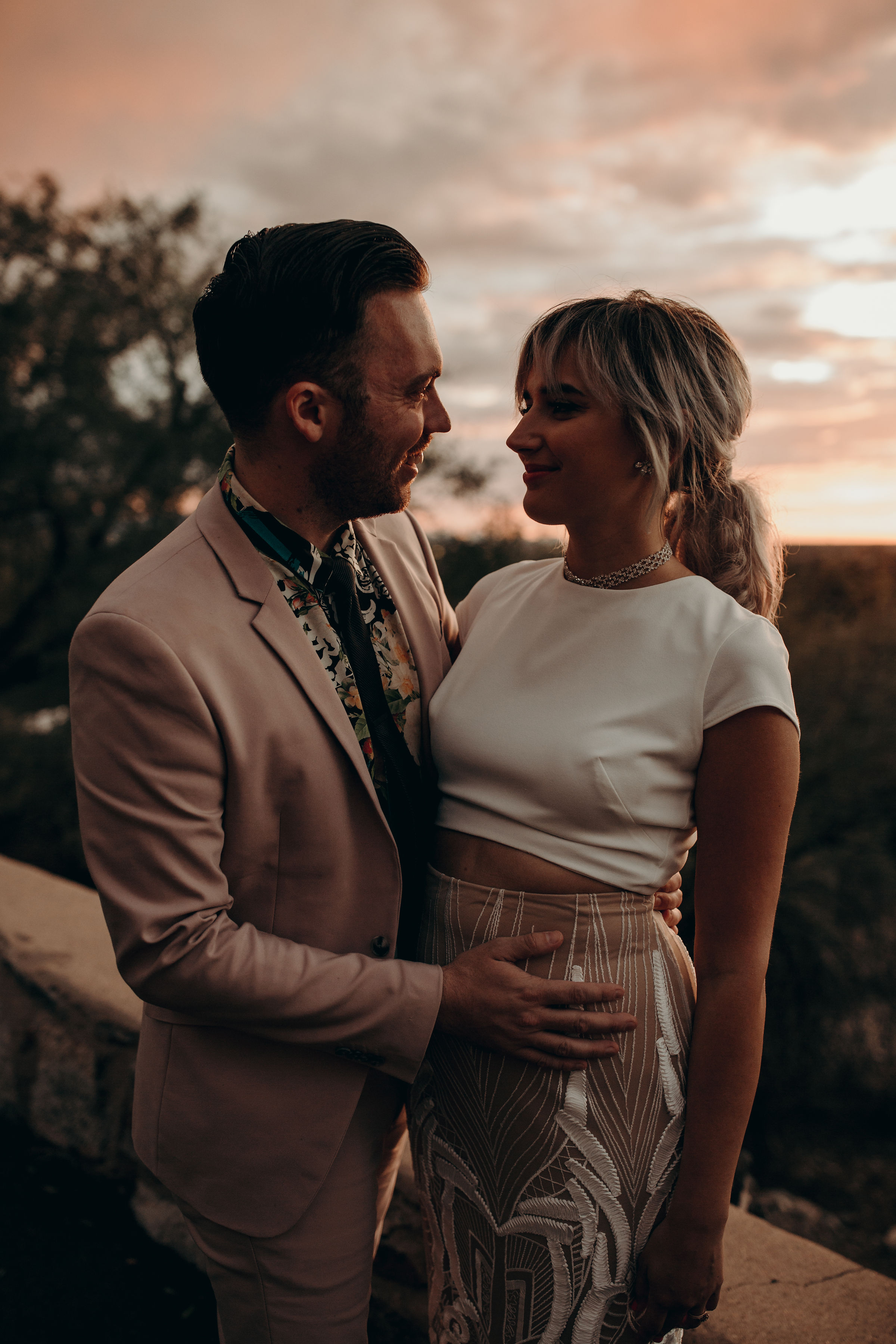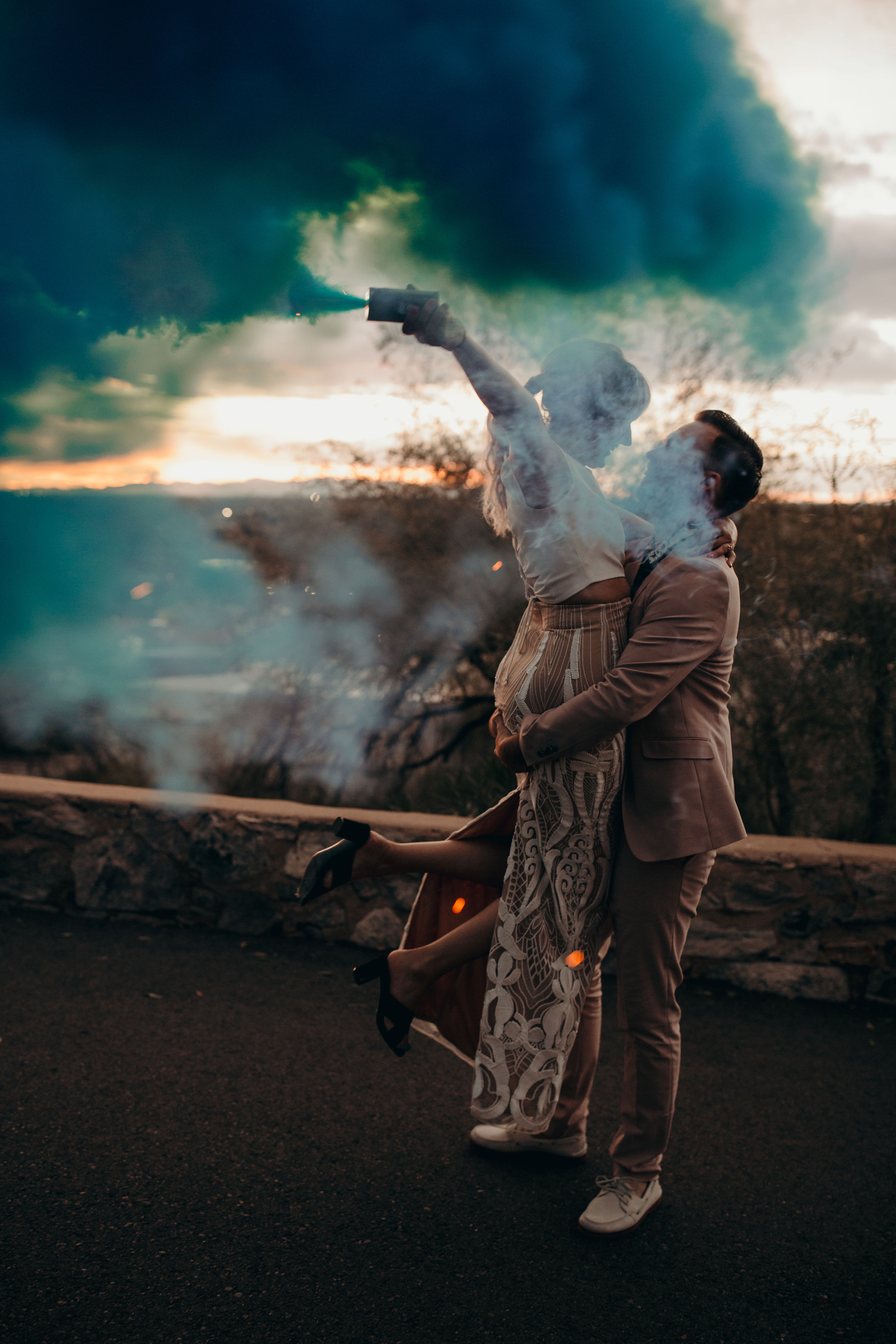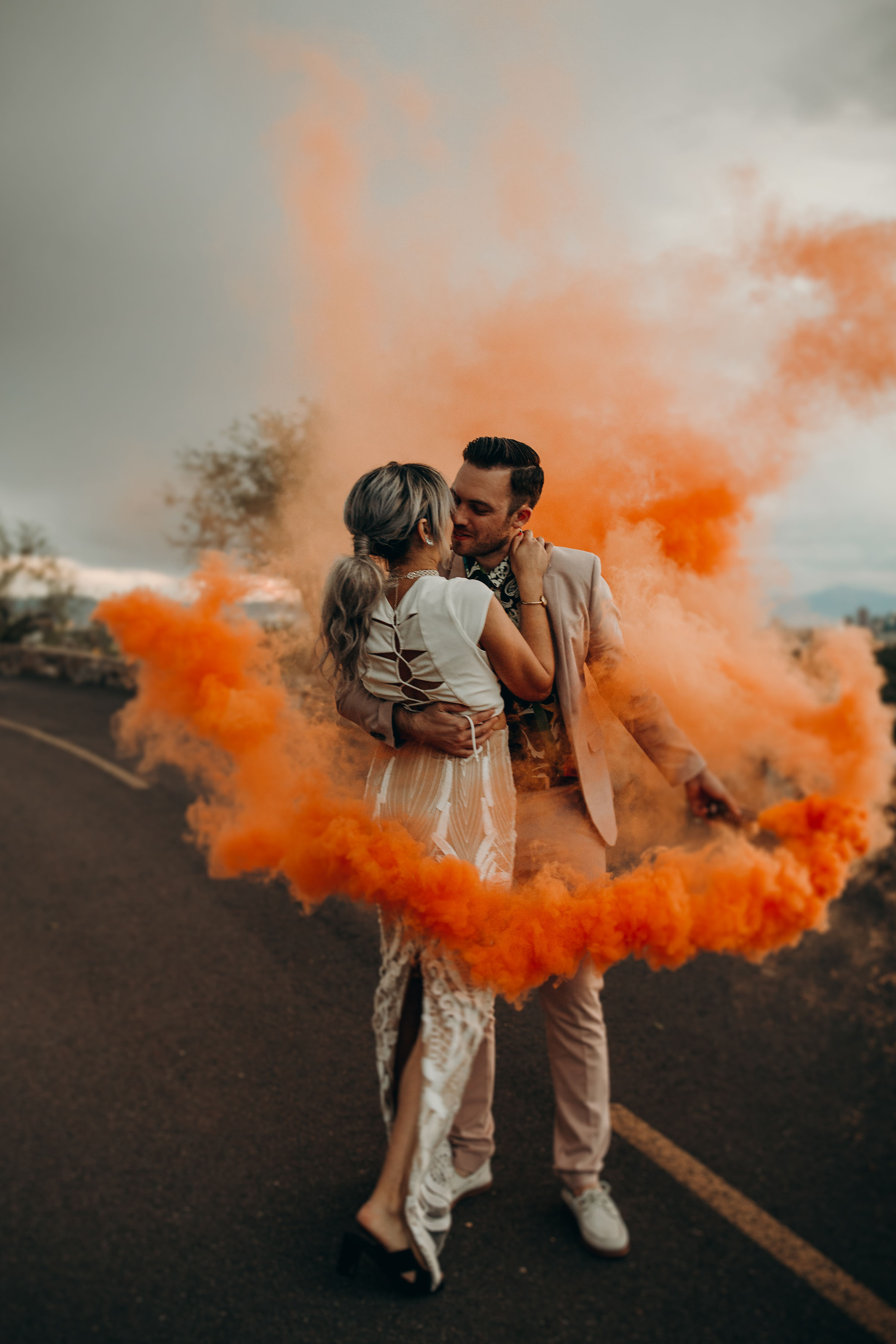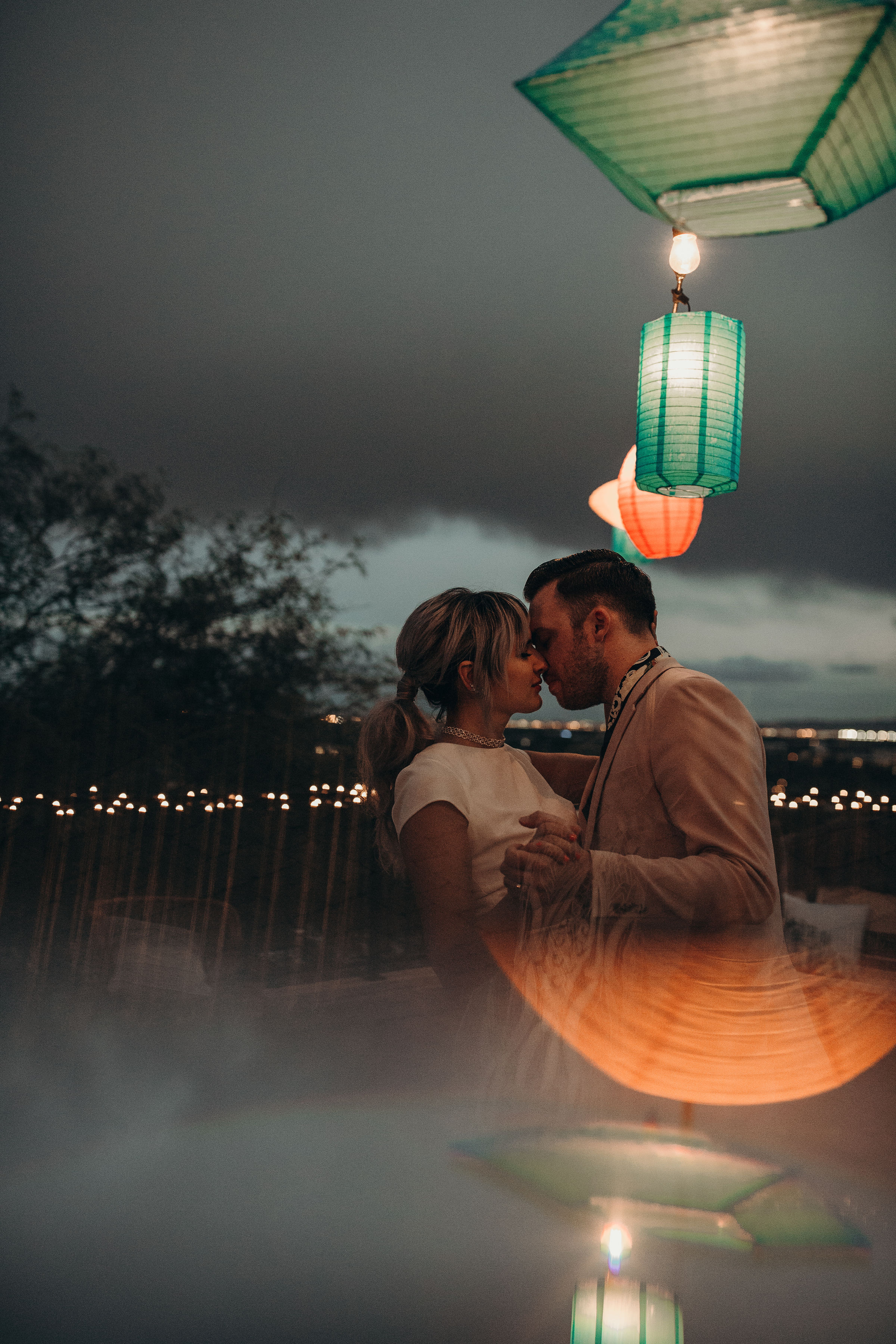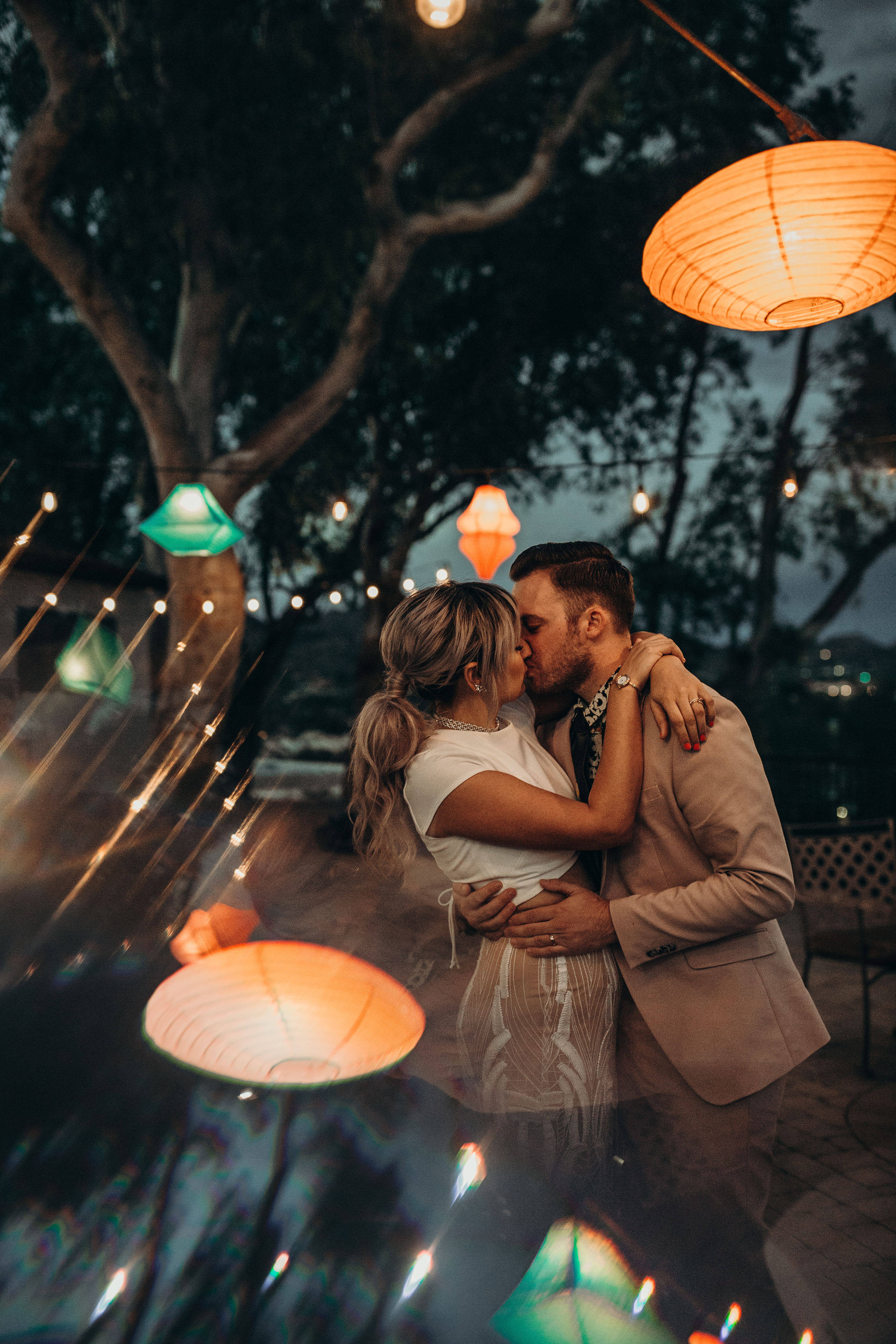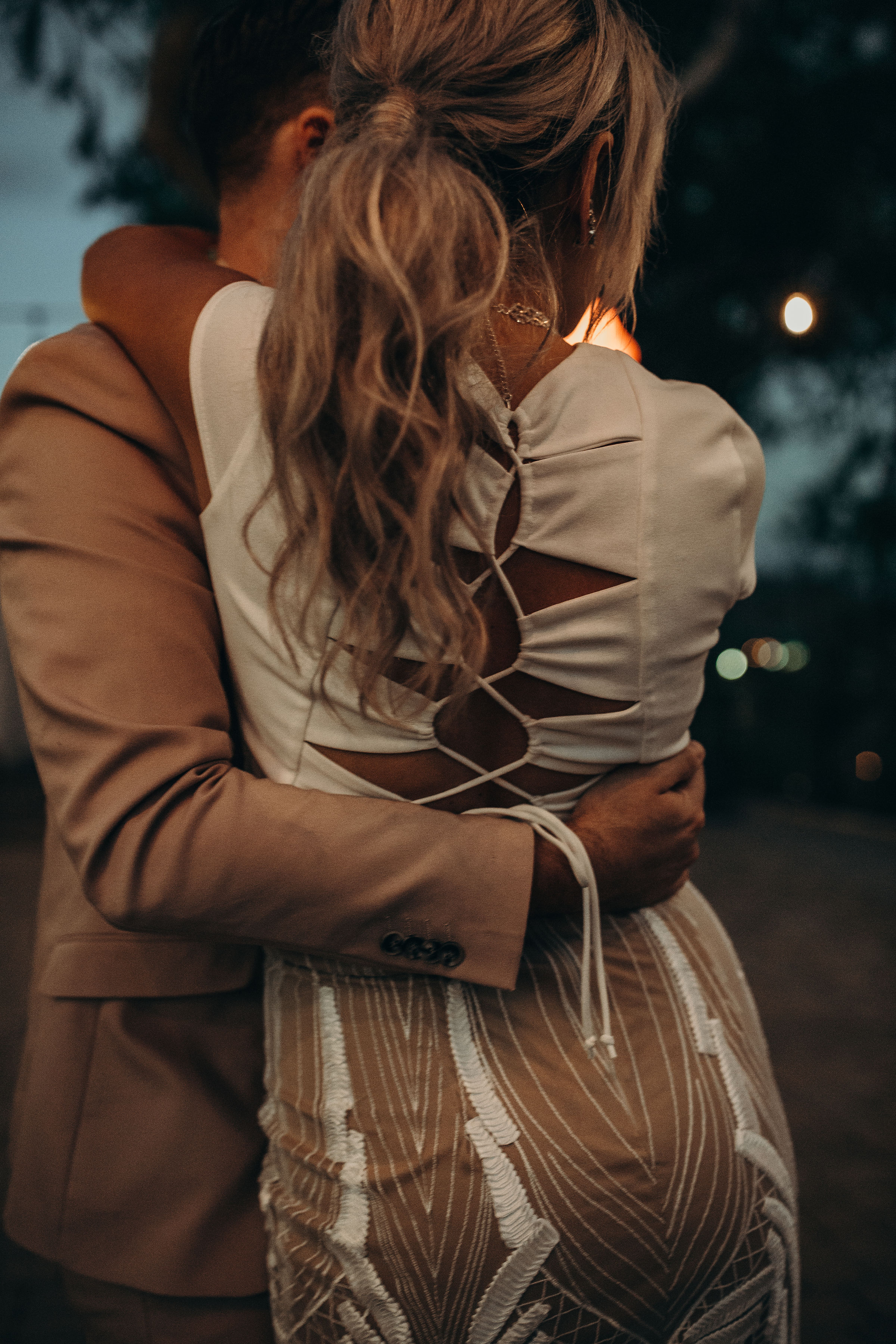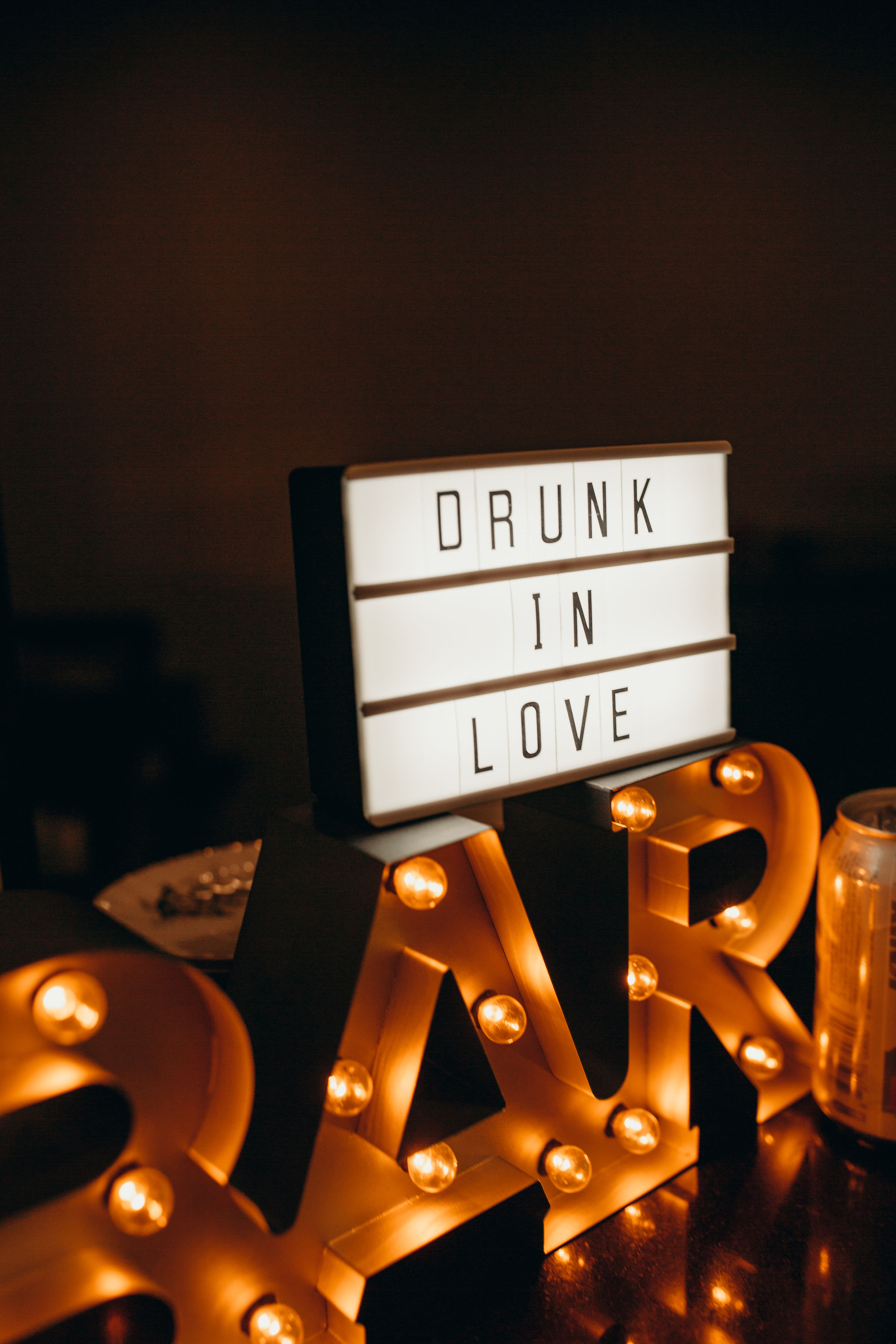 Vendors
Photography @carleyjaynephotography Planning/design @rockandstoneweddings Hair @pacific_brides Make up @lisungoh Florals @brierandivy Cake @siftandgather Stationery @loveferndesign Entertainment @coachtaylor Venue @wrigleymansion Rentals @azretrorentals