February 6, 2018
You know, you hear a lot about the dark side of instagram of late. How it forces comparison, overthinking and just generally eats away time which could be spent on more creative pursuits. I get it, I really do. Although, being a glass-half-full kinda girl I tend to think the positives outweigh the negatives. It's brought me all my wonderful couples, a ton of amazing collaborations and enabled me to make new friends in a new state. Some of whom I got to work with on our Valentine's shoot. We literally threw it together in a couple of weeks and it's definitely turned out to be one of favorites to date.
Carley Azorit and I met shortly after I'd moved to Bremerton (through IG) and chatted about doing a styled shoot together, but what with her busy photography schedule, and second career as a flight attendant, it just never quite happened. We met up for coffee in January and were like, right, let's do this! After an excitable hour and a half of caffeine and chat we'd set three separate collaborations in motion!
We knew we wanted to offer a giveaway for Valentine's Day, but we needed pictures, so the last minute Valentine's shoot was agreed and I went off home to work on the mood board. Our plan, was simple, we only needed one pic for the giveaway so we'd find a couple, head to Fox Island and take a few pics… Turns out simple isn't really my thing and within a few hours I had some of my favorite friendors (vendors turned friends!) on board to help us create something dreamy.
When I think of Valentine's Day, the first thing that comes to mind is red roses, but I knew right off the bat I wanted to avoid red. The holidays are over, in my mind I'm already into Spring, and I wanted it to have a fresh, transitional feel that would still feel befitting of Valentine's Day.
I settled on these French blues, grays and soft pinks, pretty but with a little moody edge! I get a lot of questions about how I make these mood boards so in case you're wondering, this was done in Keynote. Having worked at Apple for 6 years, where keynote was basically my life, it's refreshing to use it for fun purposes rather than business proposals, financials or requests for more funding! Joking aside, it's a super intuitive program, think powerpoint but much more user friendly and better suited for creatives. Hmm, I sound like I still work for them don't I?! I promise, this post is not sponsored by Apple!!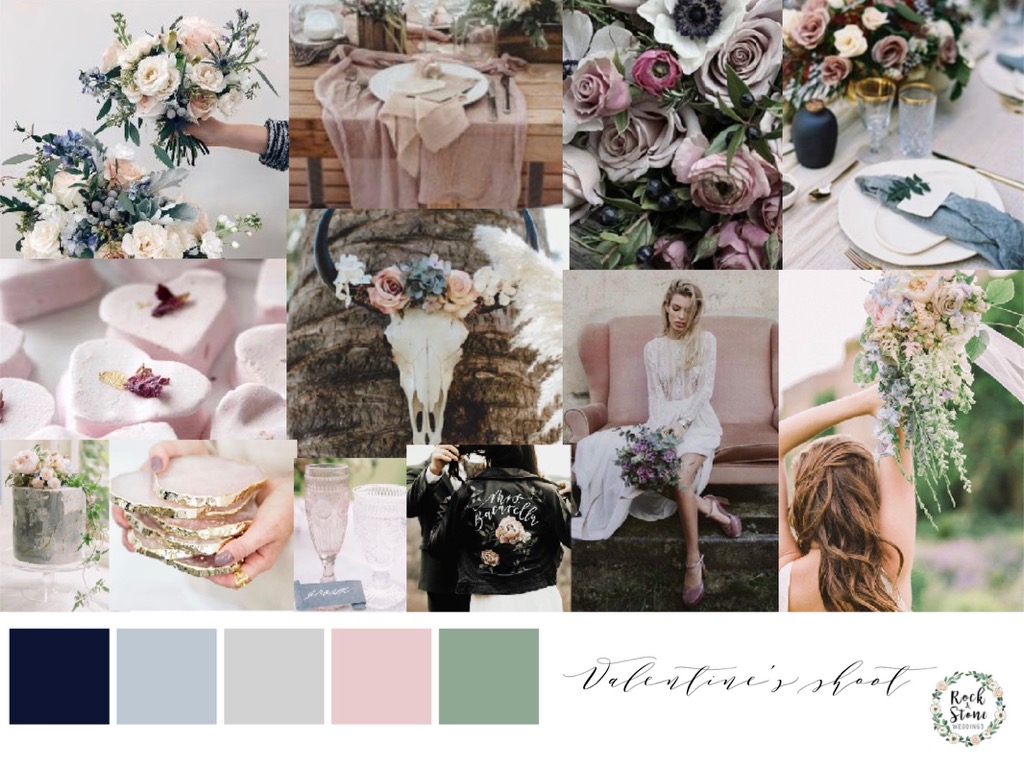 Carley found our gorgeous models, Lizette & Allen, who were serious #couplegoals. While they got married 9 years ago, it had been in a courthouse without any of the trimmings, so it was so cute to see them get excited about having a wedding cake, and for Lizette to wear a wedding dress and carry a bouquet. They laughed, danced and shrieked (ok, that was just Lizette!) through the whole shoot despite the crazy winds and cold temperatures and Carley did an amazing job of capturing all the raw moments of fun and tenderness. If you want to see more of this gorgeous pair go and follow Lizette on IG, her feed is gorgeous and her stories are so fun!
I was pretty over the moon when Katie of Ink & Sable said we could use her amazing painted leather jacket for the shoot. I love that she's renting it out to brides for their wedding day, as they are SO expensive to buy, and like most of your wedding day attire, probably something you'll only use once. Katie also made the most gorgeous faux agate place cards for the table.
My namesake, and the lovely Amber Markland agreed to make our cake and our crack team was complete when Shyn of Pacific Brides signed up to do hair & makeup.
Since the jacket was really the pièce de résistance, I kept Lizette's dress pretty simple with a bargain gown from Love Culture that she absolutely rocked. The finishing touch came in the form of the preserved flower crown I had worn for own wedding a year ago, from Folky Dokey in the UK. They make the most beautiful things, that last long after the wedding is over.
I spent the week leading up to the shoot pleading to the weather gods that it wouldn't rain, ransacking goodwill for cute table pieces and making the floral centerpiece and bouquet. In the end we were blessed with some sunshine, lots of wind (sucky for the models but awesome for making the ribbons float!) and only a little drizzle. For a Feb day in Seattle I'd call that a win!
We met at Carley's house to get the models ready, drink a lot of coffee, and talk A LOT before heading off to Fox Island. It was such a fun day and I'm excited to share a few sneak peeks with you! You can view the full gallery here.