September 7, 2017
Those of you who've been following my Instagram journey for a while, will know that it was my own wedding that sparked my life change; from corporate career girl in Silicon Valley, to running my own wedding business in the Pacific Northwest. Not something I ever would have envisioned on that cold and wet day in Iceland! We were hiking a dormant volcano on the Heimaey Islands when Jonathan suddenly got down on one knee and asked me that all important question. My reply? 'What the f*** are you doing?!"! After recovering from the shock of it all, and staring at my ring, like, a million times we began making plans!
Despite living in California at the time, we decided pretty quickly that we wanted to have the wedding in the UK (my home country) so that there was no risk of my grandparents not being able to make the trip. Given that the majority of Jonathan's friends and family were on the East Coast, London wasn't much further than coming out to California and we figured people would be excited about an English wedding… we weren't wrong! I am still so touched by how many people came so far to be there.
You know how you hear those cute stories, of how the bride asks her BFF's to be part of her bridal party, with imaginative gifts and big reveals? Nah. Didn't happen. Before I could get clued up enough to know that was a thing, I'd already asked my two besties by text and then I asked my sister and sister-in-law when we stopped in London, en route back from Iceland.
I guess you could say spurning traditions became a bit of a thing for us. We instinctively agreed on a lot of them, some required more.. ahem, discussion!?
I had never been one of those girls who'd had my wedding Pinterest board down since before I'd even met the guy. In fact I'd even been heard to say I didn't see the point of Pinterest. Man, how times change! We hadn't even boarded the plane home before I'd pinned my dream wedding and begun my love affair with BHLDN! Two weeks later they had a sale on, and not realizing that this happens quite often (!) I excitedly ordered all 4 bridesmaids dresses, and my own! I had fully intended to do the traditional dress shop with my Step Mom when they were visiting later in the year, but when I sent everyone terrible mirror selfies of me in this too-big-dress with my hair in a messy bun, everyone said it was perfect! So I just went with it! It's totally out of character for me, I mean, I bought 7 dresses for my bachorlette party before I decided on one, for god's sake! I guess some things are meant to be. In an extraordinary stroke of luck all the dresses fitted my maids perfectly without any alternations… there was some concern when my Maid of Honor fell pregnant a few months later, but we needn't have worried. As you can see above, Kirsty carried off pregnancy like a super model and her cute bump only made the dress look better!
I paired my dress with jewelry from Les Nereides, a little wedding gift to myself (!) and the most dreamy blow-the-budget shoes from Valentino. I'd saved so much money on the dresses though guys, the shoes were practically free! No? Yeah, didn't work with my husband either! The pièce de résistance came in the form of my flower crown from Folky Dokey which was just so gorgeous and made me feel like a million dollars.
As for Jonathan, the man who is usually not at all fussed about clothes, he had very specific ideas about what he wanted to wear! Taking full advantage of the location, he fell in love with the English country gent look, and went for a custom made, three piece tweed suit, from Room Ten. I drew the line at the flat cap and shot gun! Someone had been watching a little too much of The Queen on Netflix!
Being 6000 miles away from our chosen location made the venue search challenging to say the least! Before I had really gotten started, my Dad mentioned that there was a wedding venue in their village. They'd lived there almost my whole life, I have no idea how I didn't know this! Given that it was a working farm, website maintenance was not top of the priority list so I dispatched my parents to get some decent photos. Two weeks later the deposit was down!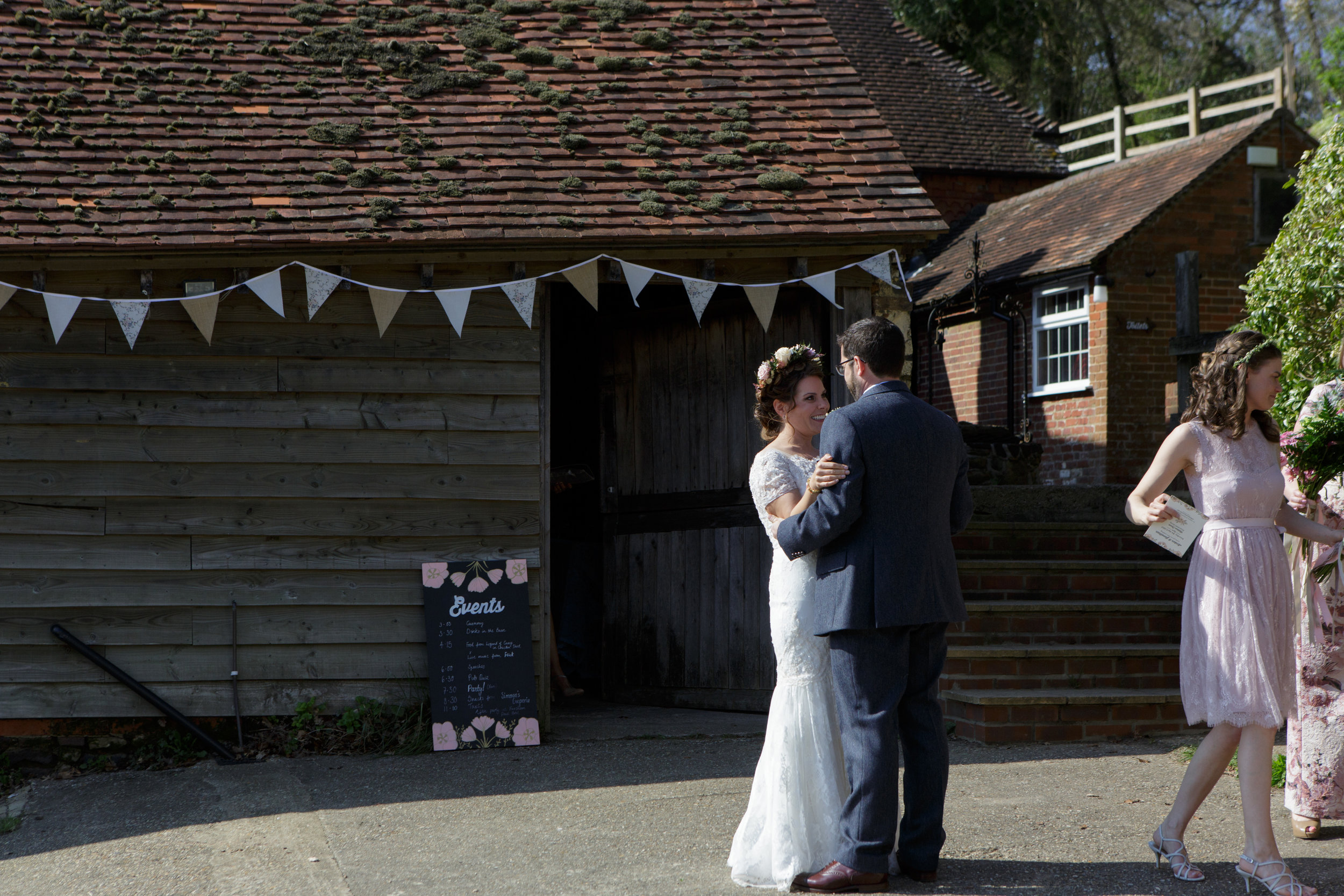 The venue was rustic, to say the least, but had a lot of potential and served as the perfect backdrop for the DIY signs and personal touches I had spent months researching, and making. We also hired beautiful vintage furniture from the Classic Crockery Company.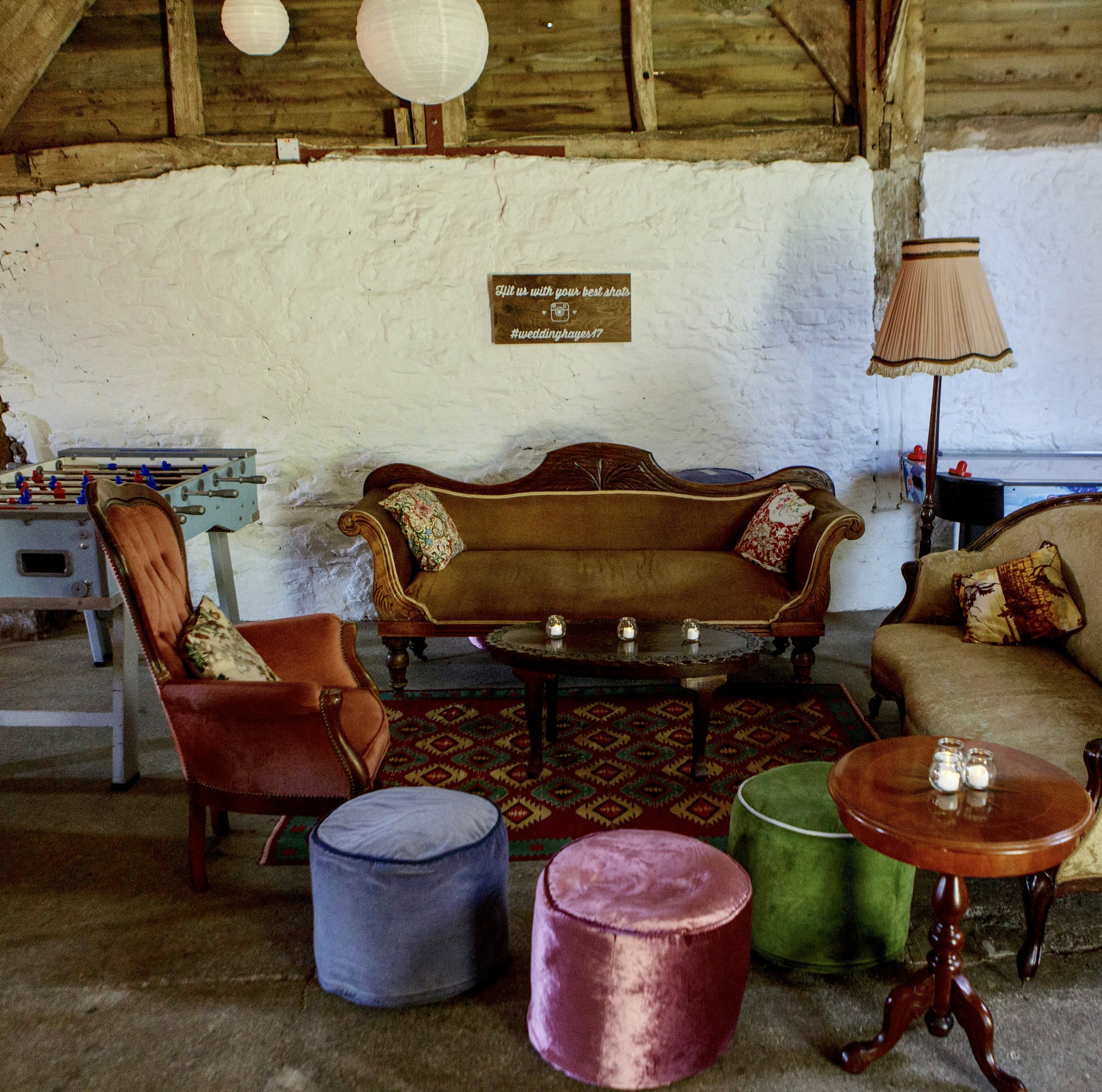 We'd planned two trips back to the UK, one at Thanksgiving and one at Christmas, before our wedding in April, and aimed to get as much sorted as possible during those weeks. We had two jam packed vacations full of hair and makeup trials, engagement shoots, wine tasting, food tasting and sign making! That said, I had to do a lot via Skype. Including selecting our wedding photographer, although I'll be honest, it was a bit of one horse race! When googling local wedding photographers, Charlie Davies popped up and I loved his pictures. I showed Jonathan who'd previously questioned whether we needed one at all (men!) and he said if it made me happy then fine. You guys! He didn't even ask the price! I knew I was on to a winner! One quick skype call later and I felt like I'd known Charlie forever, and we had a blast at our Christmas engagement shoot.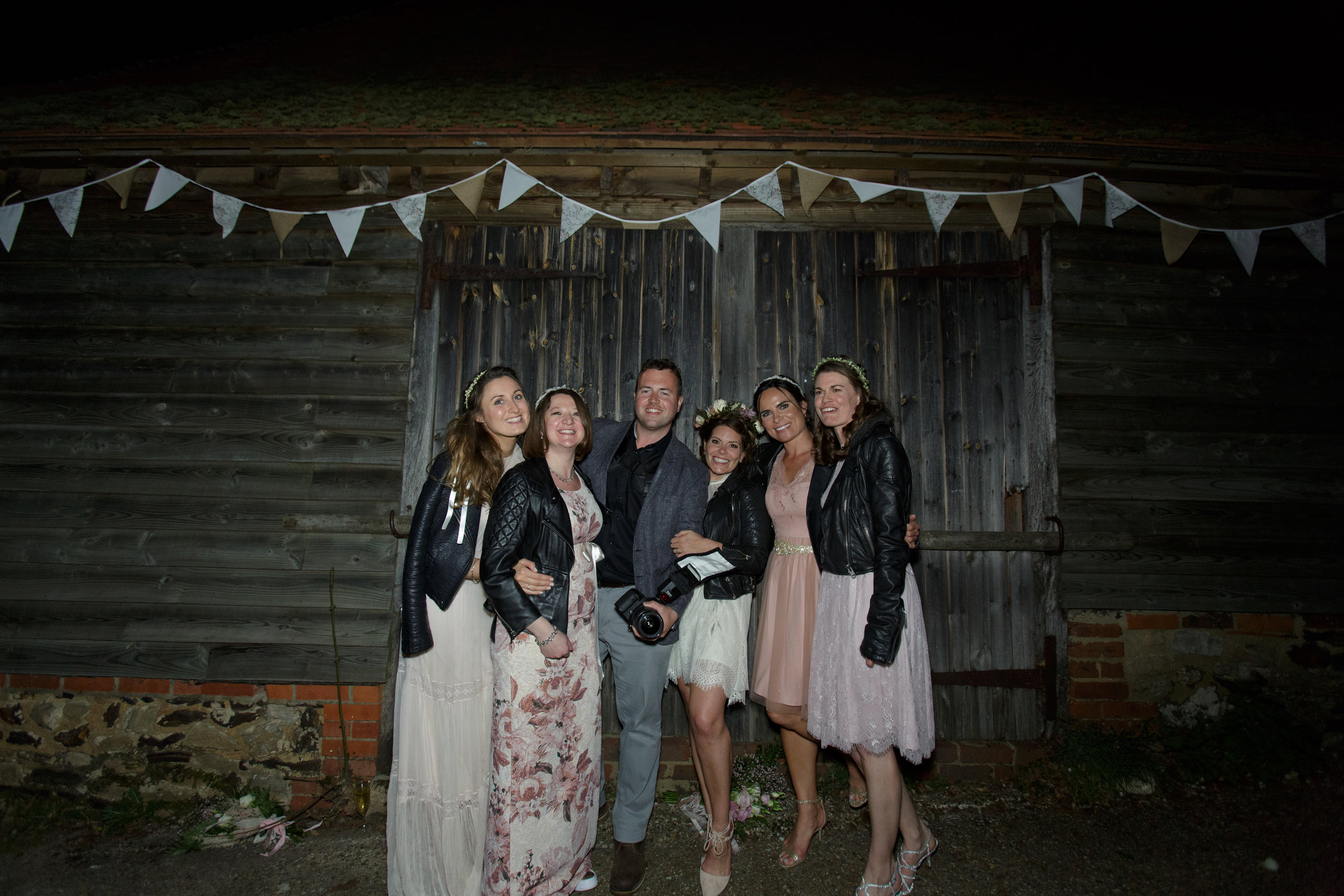 On the day he was just incredible, wonderfully calming and sweet, and when he let slip during the morning that he was an occasional wedding singer I asked him if he would sing with my friend Flick who was playing an acoustic set during dinner. It involved a little coercion but he did indeed get up on stage and they did this flawless version of U2's One Love that sounded as though they'd been singing together for years! Later, when the venue cut the power at the end of the night and the music went out, Charlie led everyone in an acapella version of Oasis's Don't Look back in Anger. Having all our guests standing by candlelight belting their hearts out, is an ending I will never forget, and couldn't have been more perfect if we'd planned it.
The videographer was somewhat of a last minute decision, I hadn't planned to have one and it definitely wasn't in budget, but I had joined a wonderful Facebook group that was associated with the Love My Dress blog and had seen so many people post theirs. I loved the idea of having all the speeches captured. Ben Walton was recommended to me by one of the women in the group and I couldn't believe when he was available! I absolutely love the video and whenever I'm having a bad day or feeling homesick it cheers me up! Well worth the investment!
We knew we wanted to keep the ceremony short and sweet, having already completed the legal bit in California. My Dad walked me down the aisle to Nina Simone's Feelin' Good and we managed not to fall down the steps, which had been one of my pre wedding worries! My brother did an amazing job of officiating the wedding, both touching and hilarious, and my sister read 'To Love is Not to Possess' by James Kavanaugh, recovering like a pro when my step dad's phone went off half way through, blasting in with Pink Floyd! My parent's dog, usually known as 'my little brother' stepped in as ring bearer with a collar made in the same tweed as Jonathan's suit. Too cute!
It was important for us to keep the meal informal. We didn't want a top table as our families are complicated (who's aren't?!) and we didn't have the patience to try and figure that out, so we went with long tables and mixed everyone up which was great. People got a chance to catch up with friends and make some new ones and I still love it when I go on to Facebook and see that an old school friend of mine has commented on a college friend of Jonathan's, post. One of the best things about the day was having all the people you know and love, together, and having a blast.
We decided early on that free flowing and delicious food and drink was a big priority, and that we wanted it to be relaxed. Inspired by my Maid of Honor's birthday party a week before we got engaged, we loved the idea of food trucks, and spent ages researching options. As Jonathan is gluten free and his sister has a serious allergy we wanted everything to be GF, so no one had to worry about what they could, and couldn't, eat. In the end we settled on the most amazing curry for the afternoon meal (sadly they have since closed the business) and Simmon's Creperie provided sweet and savory crepes in the evening. I was too busy on the dance floor to try one, but am told they were to die for! We also had a wedding cake made by my mom, muffins and flapjacks from my Maid of Honor and Jonathan's sister made the famous (in the family!) peanut butter balls which I suspect contain crack, they're that addictive!
Since Jonathan had spurned the idea of groomsmen (still no idea why!) I asked a few of his friends and one of his sisters to do a short speech as I didn't want all the speeches to be about me! Never being one to stay silent I was also adamant that I wanted to do one. What started as a joke with friends.. 'you should do a rap'… developed, over time, into a parody of the Fresh Prince.. Although some of the older guests were confused.. my step mom later queried the line 'we went on one little date and my step mom got scared' saying she didn't remember that happening! I was a little terrified that I'd forget the words, despite practicing daily for the last 6 months, so I took it easy on the champagne up until that point!
After the speeches, it was party time! Charlie whisked us off for some golden hour shots, before our good friend Elliott ran a pub style Quiz, which got guests very competitive! There was a weird British and American laws round (in the UK it IS in fact legal for a pregnant woman to pee into a police officer's hat in public and in the state of Hawaii, you can break the law 'just a little bit'), a 'How well do you know Amber & Jonathan' round and then a blind taste test of some more obscure British & American foods!
Then it was time for me to change into my evening dress, which bizarrely I spent a lot more time selecting than the day one! The Free People bargain was perfect for hitting the dance floor!
Another tradition we spurned was the first dance, we hated of the idea of everyone watching us! Instead I agreed with my girlfriends that they all had to do a first dance with me to Beyonce's Crazy In Love, it definitely got the party started, and kept the dance floor full all night. As everyone who's been there will tell you, your wedding day goes so quickly, I didn't want the night to end and it came around all too quickly! We went back to the beautiful Frensham Pond Hotel and the diehard contingent partied into the night.
The next morning as we lay in bed talking about how amazing it had all been, Jonathan asked me if I really wanted to be a wedding planner, something I had joked about many times over the course of the year; I looked at him, and for the second time in 24 hours replied, "I do". Whilst the name came some time later, that was the moment Rock & Stone was born….